10 Window Replacement Myths You Should Know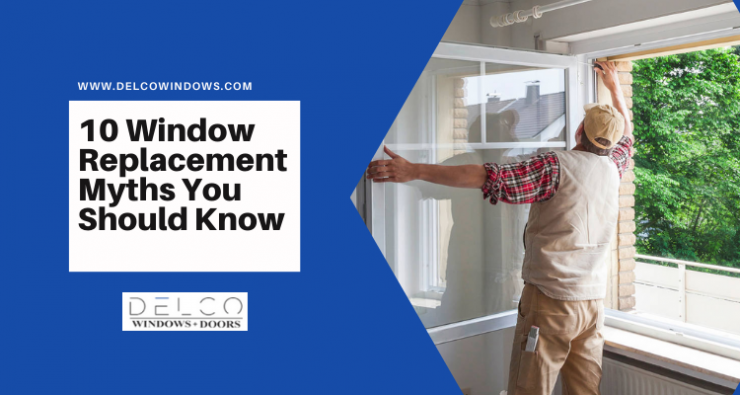 With the explosion of home improvement and house flipping television shows, including books and celebrities, homeowners around the world are jumping on the train of house remodeling themselves. Whether it is for changing the look and style of their home, improving energy efficiency or increasing their house resale value, it seems like every homeowner is trying to find ways to bring a makeover to their house.
Of all of the home improvement projects that gain attention, window replacement is one of the projects with the most options. Unlike elements such as plumbing, electrical wiring, and paint, windows have had a rapid advancement in technology, with a wide range of new options in operability, light manipulation, energy-efficiency, sound hampering and more. The windows of today are highly advanced compared to windows from 20 years ago.
You may be thinking of window replacement as an option for your home improvement, but are confused about the choices, and perhaps, even myths you've heard out there. These common myths have often led to mistakes and poor choices when it comes to replacing windows.
Here are the top 10 window replacement myths you should know:
Myth #1: I should wait to replace my windows until a major remodel
So many homeowners are living with old, outdated windows that are detracting from their house. The loss of energy efficiency over time, compared with what today's windows can perform, are piling up heating and cooling losses and leading to incrementally high energy bills. Think about it: windows can be responsible for up to 20-30% of a home's energy loss. (1) Take your average power bill and calculate what that means . . . You are losing money simply keeping old windows. If your windows are older than 20 years, (which most homes are), it would be wise, simply for energy efficiency sake, to replace them.
However, energy efficiency is not the only reason for window replacement. Sound reduction, ventilation, style / design / colours, added natural lighting, operability; all of these are functions and benefits to consider. Window replacement has many benefits, regardless of how much it saves on your power bill.
Do not wait for a major remodel. In fact, it is better to consider window replacement as part of a phased remodel, which is more smart. Window installers that specialize in replacement windows can design, deliver, install and service your windows, separately from any other remodeling project. There are no major savings in waiting for a large renovation of other areas, to replace your windows. If you replace them first, it will provide the motivation and momentum to complete the remaining remodelling.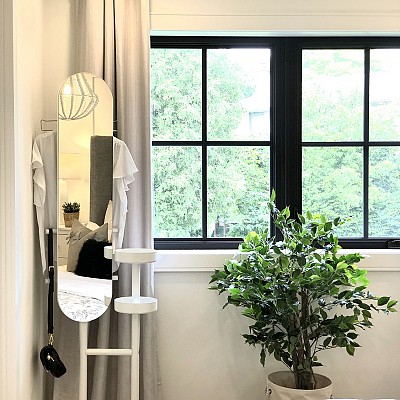 Myth #2: I should wait to replace my windows when I am ready to sell my home
Often homeowners think that window replacement is a nice final project to do to spruce up their house curb appeal in preparation for resale. The problem with this line of thinking is that they lose out on many of the practical benefits of newer windows, yet they still have to pay the same, or even higher prices. The next buyer gets to enjoy all of those benefits, while the seller pays.
Today's advanced window technology allows homeowners to enjoy quiet living from the outside, and create a warm, cozy and comfortable living area that is superior compared with homes with older windows. Many of these windows have advanced films that reduce UV light damage to your furniture, and prevent fading to your home's interior walls and paint. There are so many benefits to enjoy now, why wait until you are selling your home to replace your windows?
Myth #3: I can only replace my windows during the summer
There is a fear that window replacement requires someone to move out of the home and live with open, gaping walls for weeks on end, until all windows are fully installed. But this could not be farther from the truth. Window replacement installers have full teams ready to replace one, or all of your windows quickly and efficiently, often in one day.
This myth that summer is the only time for window replacement has led to window installers being super busy in the summer, yet has created open times in the off-season. Smart homeowners choose to work with home improvement vendors when they are least busy. Delco Windows and Doors, a replacement window installer throughout the Toronto Canada area, says that the actual work of removing the old window and installing the new window, happens in a matter of hours. The typical process: A homeowner receives a consultation, with measurements and design ideas. They choose the windows they want, either in their showroom, or through their catalog. The company handles the rest, from permits, to delivery, removal of old windows, hauling away, and adjustments to the framing, and all the finish work through caulking and sealing. The actual work, for an entire house, is performed in less than a day.
Any season, summer, fall, winter or spring, are good seasons to do window replacement. And if you choose an off-season time, chances are, you may be able to get it done quicker.
Myth #4: Vinyl windows are the standard
Truth be told, many homeowners don't even know what vinyl windows are. Vinyl windows are simply the framing (outer support structure) of the window, which is made of vinyl material (2). The panes (surface area) is still made of glass. Vinyl, compared with older generation aluminum and wood framing, has a much higher energy efficiency due to its lower conductivity. It prevents the transfer of heat and cooling. The actual glass panel's u-factor, which is the glass section's energy efficiency rating, is a separate concern.
However, newer aluminum and wood frame technology of today is much more advanced, with spacers, gaps, and special materials that reduce energy transfer. So new windows today, made with any frame material, are much more advanced and efficient, than old windows.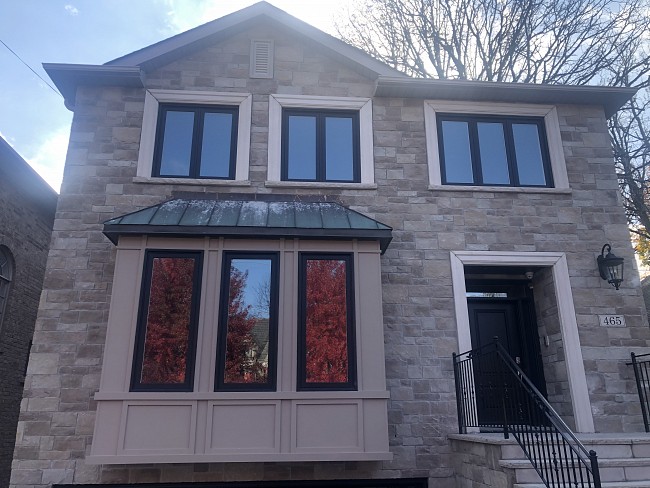 Myth #5: My current double pane windows are good enough
This is one of the most common myths that keep homeowners from replacing their windows. They think that if their windows are double pane, they are fine, and off-the-hook. Actually, double pane windows are an advancement from old single-pane windows that are commonly found on historic and classic homes, as well as basement and smaller windows. It is rare nowadays to find a home that does not have double pane windows. Double pane windows are simply two panes of glass that are set in the frame, to create an additional air-gap barrier that reduces energy transfer.
However, window construction technology has advanced so fast and far in the past twenty years that older double pane windows are highly inefficient compared to today's double pane windows. Replacement windows of today, have special technology advancements like gas fills, films, spacers, and special formulated seals. All of which, create a highly efficient window that prevents sound and energy transfer, along with blocking certain harmful light rays. Few, if any, of these are found on older double pane windows. And, chances are, your old double pane windows have broken seals and perhaps condensation. Replacing these now will be an advantage for you as a homeowner.
Myth #6: Larger windows lose more energy
Oftentimes, window replacement is a time to consider a larger window. With the benefit of much more natural light, homeowners are encouraged to seize the opportunity. Yet there is a myth going around that larger windows lose more energy. With older windows, this may be true. The greater surface area of uninsulated frames, and outdated glass pane construction can foster greater energy transfer. However, today's high-efficiency replacement windows combine the latest advances in window technology to reduce energy transfer to a small fraction of what old windows lose. In fact, with the right upgrades to films, frames and triple panes, it is possible to have a window that is nearly as efficient as the house walls.
Myth #7: It's an easy DIY project
With the right experience and tools, many homeowners have replaced their own windows, and saved on the labor costs. However, window replacement can be a tricky job. Often, the opening needs trimming or reframing, even to a window almost identical in size. It is so essential that the window is squared properly, level, and properly sealed. A small mistake on any one of these steps often leads to costly repairs down the road.
Finding the right house replacement window can be overwhelming with all the choices. It is even more difficult to attempt to install each house replacement window when you've never done it before.
Pick a qualified and experienced window installer to install your windows right the first time. The proper air-tight sealing and correct installation will pay for itself over the long run. In addition, window installation companies offer warranties not only on the window product itself, but also warranty their workmanship as well; giving you peace of mind to know that if a problem arises down the road from their labor, they will come out and fix it. In addition, look for window replacement companies that offer transferable warranties. It will add to the value of your house for future owners to know that they inherit the same quality warranty that you've enjoyed.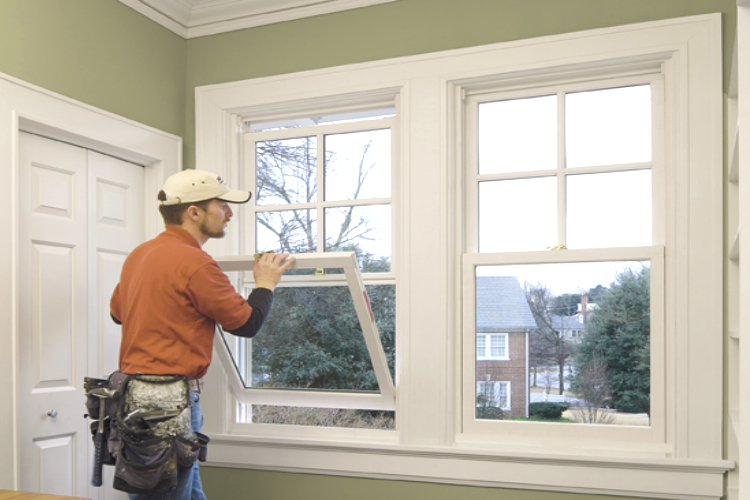 Myth #8: Window replacement is only for cracked or damaged windows
While replacing broken windows is an easy choice, many homeowners are not sure about their remaining windows. Ask your replacement window company if they offer price breaks for whole house window replacement, or at least pricing tiers for a certain number of windows.
Don't wait for your windows to crack to replace. If your current windows were installed before 2000, chances are, they do not use the recent energy efficiency advances, and may already have unseen damage in the seals. Replacing multiple windows at once will bring you the greatest return for your time and investment.
Myth #9: Replacing my windows is not worth the costs
Window replacement can average $500-$1,500 per window, depending on the style of window and window installer. It helps to shop around window installation companies and ask if they price match. There are many ways to save money on your replacement window project. Don't be fooled by the myth that it is not worth the costs. Between having lower utility bills, greater comfort and light, and increasing the resale value of your home, you will receive many benefits from the small costs involved in window replacement.
Homeowners can expect to recoup 70-80% on the costs of their replacement windows at resale, and even more that 100% if you factor the energy bill savings and type of window installed. (3).
Myth #10: Window replacement is loud and disruptive
Replacing your windows will require removing the old ones, and usually making adjustments to the window opening, whether trimming small sections of the sill and jambs, or filling in gaps. This usually requires the use of tools like saws and sanders. While this can be loud and somewhat disruptive, many window installers have the knowhow and experience to keep the disruption to a minimum. They do this type of project every day and are trained to do it quickly and efficiently.
Often, they start with covering your personal items nearby, and taping off some sections, to reduce dust if desired. In addition, the speed at which the team works can get it all done within a day. Do-it-yourself window replacement, especially if you have little experience, can lead to highly disruptive work, especially if there are repairs and unforeseen problems you discover, that cause the replacement project to go on for days. Professional window installers have likely encountered all of these issues, and know how to get it done right, quickly.
Window replacement is a high-return home improvement that can benefit you and your family with comfort and savings for years to come, along with elevating your home's image in your neighborhood, boosting curb appeal, and increasing the money you receive from resale. Yet many homeowners push off this essential home makeover project due to believing certain untrue myths out there.
If you are considering window replacement, take advantage of the time and contact your local window replacement company about how you can improve your home.
------------
About the Author
Delco Windows and Doors has been serving Toronto Canada since 1989, with door and window replacement and installation. Helping make homes throughout the GTA more energy efficient with an upgraded style.