6 Most Common Types of Windows in Homes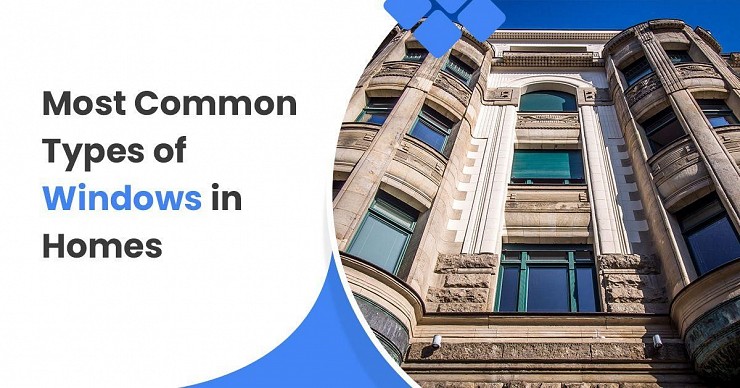 Types of Windows for your Home
Replacing the windows in your home is more than a change of look. It is an excellent way of enhancing the comfort and energy-efficiency of your home. This choice is easy. However, the hardest part is picking the ideal design out of the many window styles on the market.
If you find yourself in the same situation, you will be happy to know that we have selected the most common types of windows in homes across Canada. Hopefully, this short guide will help you too identify the best window type for your house.
Single or Double-Hung Windows
One of the most popular window designs is the double-hung window, which you can move up or down thanks to its two adjustable panels, also known as sashes. Very similar to it is the single hung window, which has only one movable sash.
Both double-hung and single-hung windows are ideal for poorly-ventilated houses. They also do a great job at preventing mold and mildew from growing in rooms with high humidity, such as bathrooms and kitchens.
Thanks to their smooth mobility, sash windows allow for easy access when cleaning.
Sliding Windows
This type of modern window allows for large openings. They move along a sturdy track and are ideal for homes that experience a lot of snow and ice. Install them in areas where you need plenty of air circulation throughout the house.
A convenient aspect of sliding windows is that they work as replacement windows for most architectural styles, including traditional homes and contemporary buildings.
Casement Windows
Another type of window design that allows for excellent home ventilation is the casement window. This sturdy window opens towards the exterior via a crank. You can pick whether the hinges are installed on the left or right side. The only issue with casement windows is that it might be obstructed by bushes or overgrown plants when you try to open them (common with walk-out and basement windows).
Wondering which window will look best in your home? Book a free, in-home consultation today!
Fixed Windows
Not all windows have to open to provide the essential benefits of high-quality windows. Fixed windows allow for a larger area of the wall to be covered with glass. As a result, you get more natural light inside and better energy efficiency in the cold season.
Picture Windows
Another type of window that you can't open is the picture window. The difference between it and the fixed window is that it is made from a single pane of glass.
Picture windows work best in rooms overlooking a breathtaking landscape. So, if your house is facing a postcard panorama, you should consider this type of replacement window.
Bay Windows
Bay windows are picture windows with casement glass panels on the sides. They also work for large rooms overlooking spectacular natural scenery. Also, since you can open the casement windows towards the exterior, you get to ventilate the room with fresh air.
Get high quality, locally manufactured replacement windows at Delco. Baeumler Approved and Best of HomeStars in 2020, you know you are getting great windows at an affordable price when you buy from us.
Browse our selection of replacement windows.
------------
About the Author
Delco Windows and Doors has been serving Toronto Canada since 1989, with door and window replacement and installation. Helping make homes throughout the GTA more energy efficient with an upgraded style.