6 Signs It's Time to Replace the Front Door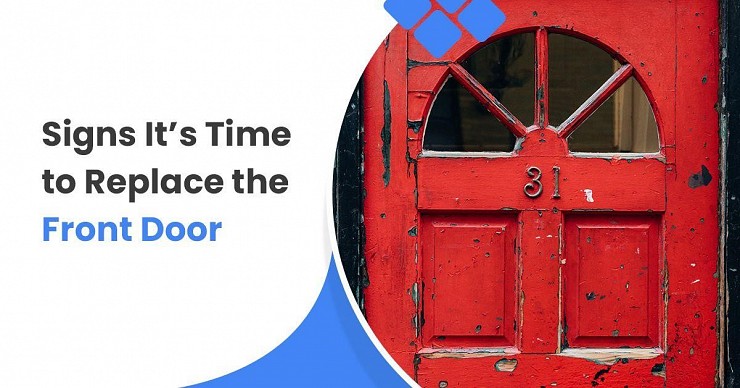 If you are wondering:
"when is the right time to replace the front door?"
you have come to the right place! In this short guide, you will find the most common warning signs showing you need to replace your entry door.
Signs it's time to replace your home's front door
Far too many homeowners keep old, damaged doors well past their 'use by' date. Remember, replacing the front door can dramatically improve the security, value, and energy-efficiency of your home.
Signs of Low Energy Efficiency
If you have trouble opening or closing it, your front door is showing signs of wear and tear. After many years of exposure to harsh weather, wooden doors tend to lose their structure. As a result, moving them becomes more difficult. Try tightening the hinges. However, if that trick doesn't improve its condition, the time has come to replace your entry door.
Signs of Mold and Mildew
Front doors with glass panels become very vulnerable to humidity/moisture damage after about a decade. The wood around the panel contracts and it catches small drops of water when it expands again. If you don't realize it in time, the door will develop mold and mildew. The fungus spreads rapidly through wood, and you may find that investing in a replacement door costs less than trying to repair the old one.
Signs of Cracking and Warping
Entryway doors are not meant to last forever. You will notice that it can develop cracks, and start peeling and warping over time. An old door will start to lose its color, strength and visual appeal due to wear and tear. Before it gives up completely on you, look for a sturdy replacement entryway door.
Worried about the cost of a new entryway door? We offer convenient financing options and no interest payment for the first 6 months!
Signs of Insect Infestation
Carpenter ants, termites, powder post beetles, and the old house borer are just some of the many insects that can foray through your front door. While you can use various disinfectant solutions to get rid of insect infestations, sometimes the damage they do is irreparable. At that point, buying a new front door is the right thing to do.
Signs of Rust and Corrosion
While they are impervious to insect attack, metal front doors still have to face the threat of rust and corrosion. Unfortunately, once rust develops that entry door is as good as gone. Instead of waiting for the door to puff and crack, you should employ a professional to replace it.
Signs of Shrinking
Old wooden front doors tend to shrink in size over the years, and there is nothing you can do to stop it. Signs of this include wind drafts and cracks of light from around the door.
When it comes to the entryway door, you want to invest in a sturdy, visually appealing, and long-lasting solution. After all, you don't want to be replacing it every few years.
Browse our selection of replacement entryway doors today! We have a large selection of styles, materials, fixtures and more.