Casement Windows Vs Double-Hung Windows: Which Replacement Option Is The Best For You?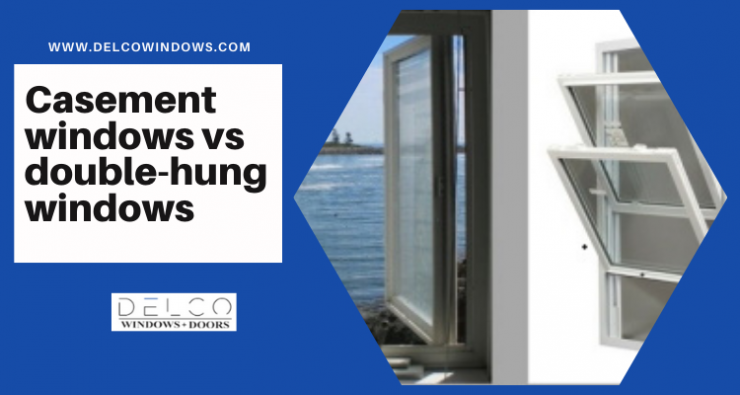 Replacement windows are one of the best home improvement options for your budget. Home makeovers often involve kitchen remodels, like cabinet resurfacing. Also bathroom remodels like new backsplash, quartz countertops, walk-in tubs. Other makeovers involve simple cosmetic updates like painting and crown moulding. However, while many home improvements follow trending fashions and styles, some elements are important to focus on long-term value and function; . . . neutral styles that stand the test of time and match with many changes. Windows and doors are some of these elements. And windows that are focused on ventilation and viewing functions will be a good choice long-run.
There are many window styles. Of all of the window styles available, casement windows and double-hung windows are some of the most readily available and beneficial. Not just for their looks, but also for their superior function. Ventilation and freshness are key benefits from both of these window styles.
If you are considering replacement windows for your current older windows, both double-hung and casement windows will be a good choice. But their different mechanisms and functions should be considered before your window replacement project.
What is a casement window?
Casement windows are hinged to one side of the window opening, and open with a hand crank that pushes a pull bar or built-in chain. The sash (the main opening part of the window) can open up to 90 degrees to one side. When it is time to shut this window, simply crank it back in to seal up tightly, and you can use the embedded locks to make it nearly airtight.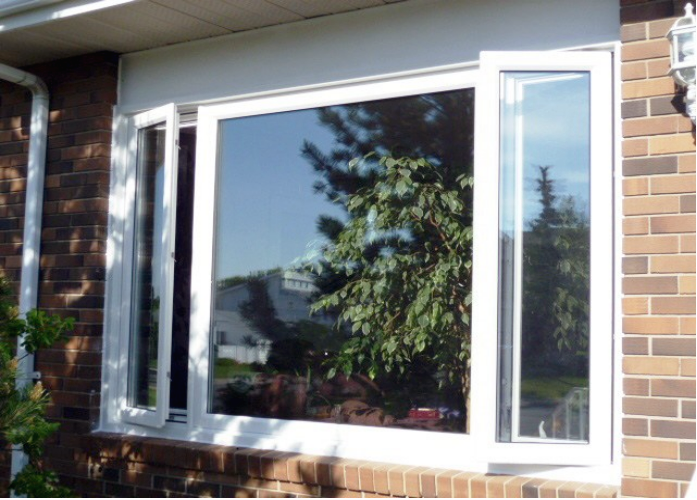 Benefits of casement windows
Because of only one large window sash, there are unobstructed views
More light than double hung
Feeling of security from the crank and shaft
Can catch and direct breezes into the house when needed
When completely closed, it is more energy efficient than double-hung windows. That is because there is no full-window track for air to flow. Once it is closed, it is sealed
Screens can be easy to remove and clean, as they are on the inside
Looks more contemporary and modern
Typically, not broken up by grids. More light. More views
You can adjust the opening to your width, depending on how many cranks
Disadvantages of casement windows
Due to the complex built-in crank mechanism, casement windows are often more expensive than double-hung windows
Casement windows take longer to open, as you have to turn the crank many times
May be difficult to clean, depending on location, as the sash opens out and away from inside the house
Can only open up to a 90 degree angle
Can be heavier to install than double-hung windows
Do not work well with wide windows. Typically better for narrow and tall windows, for stability
The crank can make noise when opening, if not properly lubricated
More moving parts to potentially break, if used often
Crank handles have been known to come off and get lost
What is a double-hung window?
Most hung windows have a sliding sash that slides up and down for fresh air and ventilation. These are typically single-hung windows. Along with sliding windows, they are the most standard operable windows on the market. But double-hung windows take single-hung windows a step further. They have two sashes (the moveable window section) that both can move. And they lock in the middle, when both are closed. While the bottom sash will likely be the most used sash, you can also slide down the top sash for added comfort and benefits. If you are planning on a replacement window project, you should definitely consider using double-hung windows, depending on your preferred style and window function.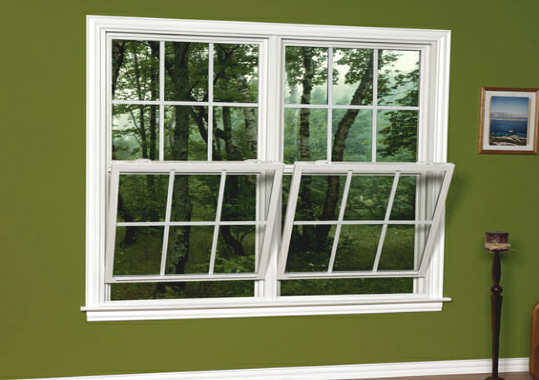 Benefits of double hung windows
Two opening sashes, for more options than a single-hung window
Feeling of security when you need it
The top sash can slide down, while leaving the bottom sash in place, to allow fresh air while making it more difficult for pets and kids to escape or fall
Tends to match well with more traditional and classic home styles
Easy to open; just slide up or down
Lower cost than casement windows. The mechanism is very simple; just a vertical track
Many double-hung window sashes can be folded inside for easy cleaning and even removal
Disadvantages of casement windows
Both sashes must be in original position to completely lock together
Broken views, with the added window framing, compared with casement windows
Sometimes the top sash can loosely fall on its own from gravity, after much use and years in service
Casement vs. double hung. Which window replacement option is best for you?
Considering all of the options and benefits of each replacement window, you'll need to weigh each of these three areas:
Function
How important is ventilation, breezes, ease-of-use, cleaning accessibility, security, safety, and energy efficiency to you? These all need to be thought of.
Style
Considering the design of your home, and the size of your current window spaces, the style of the window makes a big difference. Newer homes, with more sleek and contemporary elements, will benefit greatly from casement windows. Their unobstructed views and "solid" look will lend well with the design of modern homes. In addition, vertical window spaces, such as in stairwells, can accommodate casement windows nicely. However, if your home is ranch, country, french country, classic, craftsman, tudor or many other traditional styles, single-hung windows provide nearly the same ventilation, but with a more matching style.
Budget
If cost is your biggest concern, then double-hung windows are the way to go. You may find pricing up to 30% less than casement windows. Their simpler construction, and wider availability, tend to lead to lower prices. Window installation companies tend to have a larger array of custom double-hung window sizes readily available. They suit and match most house styles, and can even be customized to be more contemporary in design.
Because casement and double-hung windows are more complex than standard picture and sliding windows, it is wise to stick with a window installation company to perform the install. Especially for casement windows, which may have replacement parts, and need testing after installation. Licensed window installers have years of experience, as well as authority to warrant their work if anything goes wrong. With operable windows, it is essential you have the backing of experience and knowledge, to give you peace of mind after the replacement window project has been completed.
Replacement windows can bring a transformed look and feel to your home. And with all of the window styles out there, casement windows and double-hung windows are similar in function, but vastly different in serving the unique needs of each homeowner. You can benefit from either one, but the slight differences layed out here will hopefully help you make the final decision of which type of replacement window to choose.
------------
About the Author
Delco Windows and Doors has been serving Toronto Canada since 1989, with door and window replacement and installation. Helping make homes throughout the GTA more energy efficient with an upgraded style.