Garden Doors vs. Patio Doors | What's the Difference?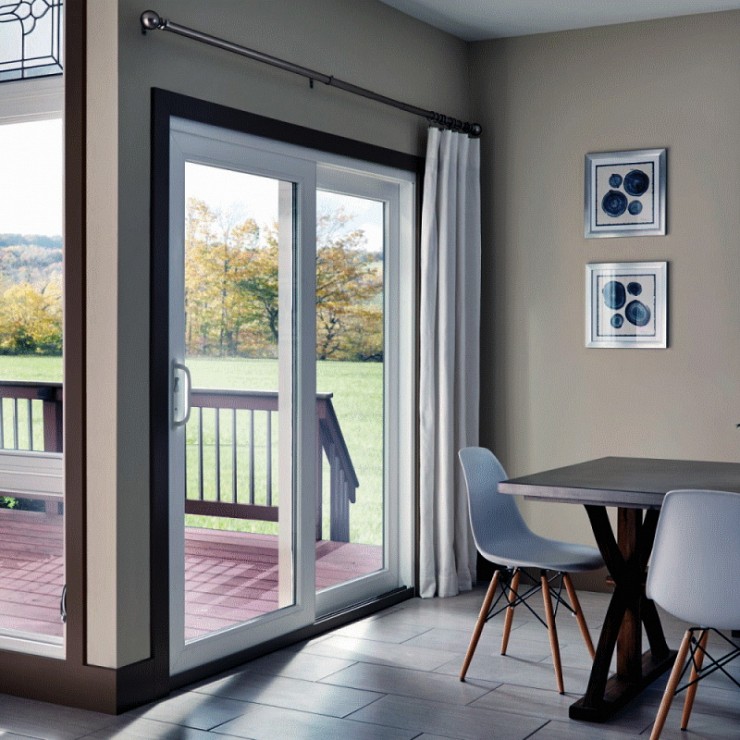 We often hear the question, what is the difference between garden doors and patio doors. It is understandable as they seem like the same type of door. Before we go into all of the differences, we should lay out what types of replacement doors are available for homes overall.
Types of Doors for Houses
Your home is designed for several types of doors, with specific functions and styles of each.
The primary door for most homes is the front entry door. This is the most visible and likely the most used door in a home. This is followed by a variety of interior doors, such as bedroom doors, bathroom doors and closet doors. Most interior doors serve the same function, with the locksets and knob setting the final difference for the level of security and privacy.
Finally, there are other exterior doors, such as side entry doors, garage doors, emergency and escape doors, such as a secondary door to a garage. Most notably, the back door creates a theme for a home's use of its backyard.
Types of Back Doors
Back doors typically use several standard door systems: Sliding patio doors, french doors, garden doors and patio doors. They all have similar goals: to let more light in and allow for a greater sense of indoor-outdoor feel because of the privacy experienced on the rear of a house.
While the names of some of the back doors can be synonymous, there also can be slight differences that set a tone for the use.
Sliding Doors
Sliding vinyl doors have become one of the most widely used back doors for most suburban houses with backyards over the past 40 years. The most common "stock" version is a white vinyl sliding door equipped with a sliding screen door for insect and debris prevention. Sliding doors have one fixed window-door panel, and one operable sliding door is typically a large window, with a frame designed to fit inside a sliding track made of vinyl and metal parts. The benefit of these doors is that they take up less opening space. They also function well, making it easy to leave them open at various widths without worrying about them slamming shut or swinging too far open.
Sliding doors have bigger, more expensive cousins, called window walls, with a series of floor-to-ceiling doors that can all slide open, leaving an entire wall of natural light, with the potential to have a complete indoor-outdoor experience when the weather is pleasant.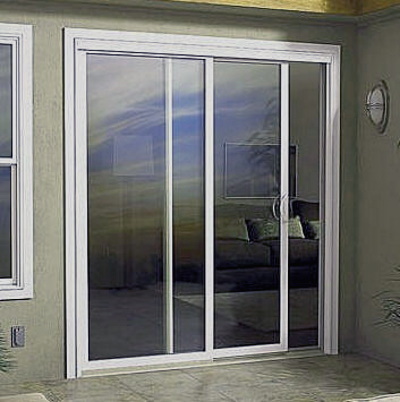 French Doors
French doors are simply two opening doors in one section. They can open in or out or alternate. While the goal is similar to sliding doors (more light and space, and connection with the outdoors), french doors can also include solid doors designed for interior rooms like large master suites. French doors with window-based doors, fitted for entry into a backyard garden or patio are more appropriately called garden doors or patio doors. They are constructed of wood clad, fiberglass, vinyl or even aluminum.
By having two doors open out from the center, a homeowner can potentially have a large wide area to move in and out, such as moving large pieces of furniture into the home. These differ from sliding doors, which always have a panel width taking up half of the doorway.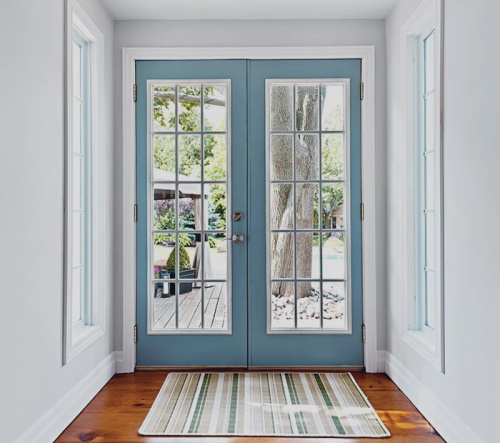 Garden Doors
Garden doors are double-opening doors (essentially french doors) with two side-hinged door sections that can open out or open in, designed for entrance into a garden or backyard. With plenty of natural light from the outside, garden doors can bring a home outside into the garden. Garden doors are also popular as entrances into sunrooms, mudrooms, and enclosed patios. Imagine your garden being within view and your yard feeling like part of the interior of your home. Garden doors achieve this function of setting a feel.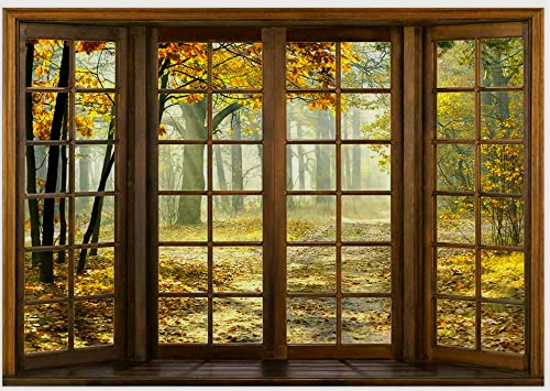 Patio Doors
Patio doors are the same as garden doors, french doors that open to a backyard, with perhaps some typical differentiators: They usually open onto a deck or patio that is level or close to level with the house's interior floor. It is more likely to have varying options with what is called "patio doors", such as a center post with center hinged doors that alternate in their opening. This odd placement actually serves a niche function for cases of needing people to consistently exit the home through one door, and consistently enter the home through another door, reducing the likelihood of bumping. But patio doors can be any kind of french door combination serving as a garden door system, with more flexibility of the level of the floor on the outside; hence a deck, porch, or patio.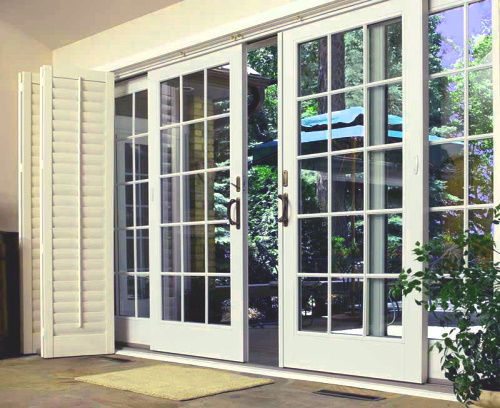 Which Door is Better?
Nowadays, garden doors and patio doors are essentially the same door: A french door made up mostly of window space, placed on the rear or side of a house, to create the feeling of indoor-outdoor atmosphere. That's why we often combine the terms and refer to them as garden patio doors. Homeowners can potentially use this door as a possible entry door in a gated front courtyard. However, french doors are not as safe and secure as a single opening entry door, as the middle space is weaker for easier break-ins.
How to Replace a Garden or Patio Door
Replacing a back door with a new patio door can be easy. If you have an older sliding door and would like to replace it with a garden patio door, the width can often be the same or similar. When removing, start with the casement trim around the door. Unscrew the flanges, and pop out the old door. Then either continue with widening or narrowing the opening to fit the new replacement garden door. Anchor in, install flashing and insulation/shims in the gaps, and put back on the casement trim, adjusting as needed.
While this may all seem fairly simple, it can become quite complicated if you are not experienced. We recommend having a window and door installer handle the entire process. They can do the correct measurements and custom order of the door, as well as the demo, corrections, delivery, and cleanup as well as warranty the door. You'll end up saving money over the long run by not having issues with drafts or an incorrectly installed door.
When converting a standard opening rear entry door with a full-size garden patio door, this may involve considerable carpentry, and possibly even engineering, to make sure that load-bearing studs are properly handled. Some window and door installers can handle this and help with the proper construction to make that happen. After that work, you can enjoy a large patio door that makes your home feel right.
Tips for Choosing the Right Door
If you are converting a standard door into a french style double-opening door, definitely go with a window and door installer so that the corrections can be done right.
If you are swapping out an old sliding door with a garden patio door, here are some additional helpful tips:
Pick a door that is similar in width to reduce the amount of cutout or buildup needed on the jambs

Pick a similar height door to reduce the number of adjustments you need to make to the header beam

Use a window and door installer to order the door. They typically can custom order the right sized door

For classic and traditional home styles, grids or grilles can enhance the look

Maximize your space by having a true double opening from center french door style configuration (rather than having a post in the center with the doors hinged to that post

Have the doors set to open outward for larger backyard spaces

If your area inside the home is roomy and spacious next to the doors, with a narrow patio, you may think about having the doors open inside. Think about walking and flow.

Keep BBQ grilles far enough away from the doors that they will not interfere.

Choose a garden patio door that has two or more locking mechanisms, such as a top or bottom lock, to add additional security and strength.
Enjoying the Benefits of your Garden Door or Patio Door
With a new garden patio door, you can enjoy the benefits of bringing the outdoors in. It can create a joyful place of entertainment. I thas the potential to make your home extended to the outdoors. Not only can you let more natural light in, which elevates the mood inside your home year-round, but you can also make it more likely and easier to use your beautiful backyard. Combine this with beautifying your backyard with a porch, patio, potted plants, courtyards and several "rooms", to create an experience that your family and guests will enjoy for generations to come.
------------
About the Author
Delco Windows and Doors has been serving Toronto Canada since 1989, with door and window replacement and installation. Helping make homes throughout the GTA more energy efficient with an upgraded style.