How Much Do You Need For Exterior Door Installation?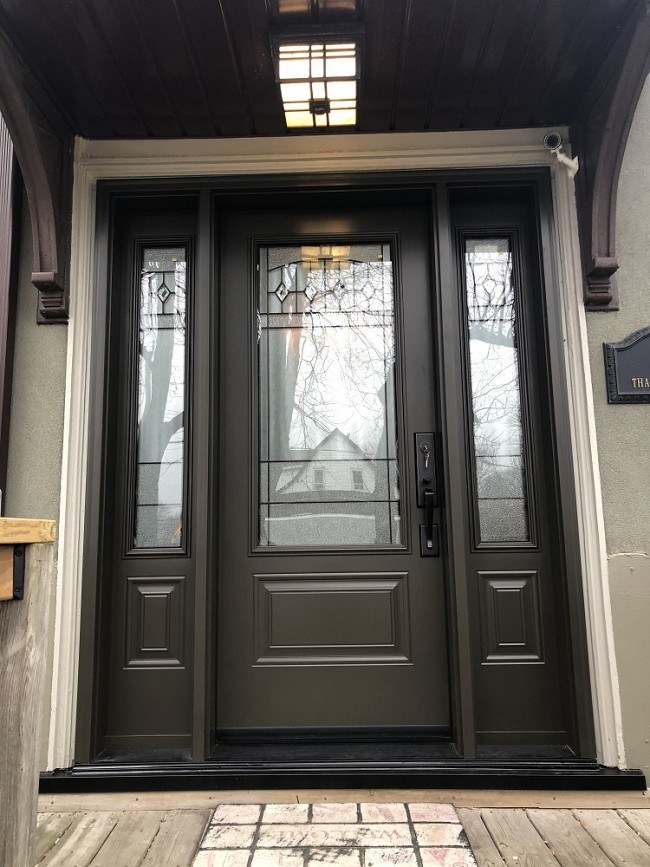 What is so Special About Exterior Doors?
When we envision our home, what do we think of? The landscaping? Architectural style? The memories made in the home?
For many homeowners, and their guests, the entry door speaks volumes about the house, and how it functions. It is not only a functional gateway to the inside and out, it is a statement to the rest of the neighborhood about the home's character and culture. The front entry door, along with all other exterior doors throughout the house, is a highly visible element of the home. Having an exterior door that makes a statement, conveys a welcoming message, and functions with energy efficiency and sound reduction, all create a key element to any house.
Should I fix my current door or install exterior door as new?
For many homeowners, entry doors, due to their heavy use and exposure to weather elements, deteriorate and age quickly. And if your house is over 20 years old, chances are, problems are starting to develop with the hinges, framing, and noise. Older doors missed out on some recent advances in energy-efficient technology; even if you install entry door weather blockers.
There can be any number of reasons to look into repairing or replacing exterior doors: drafts, difficulty closing, noisy operation, and energy loss. In addition, styles have changed substantially in the past 10 years, making a new standard for exterior doors.
While repairs and fixes can sometimes save you money, they do not address many of the issues of the door itself is improperly insulated, and outdated. Hinges and some framing can be fixed, but you will still have to deal with an older door.
Benefits of new exterior entry doors
Replacing exterior doors, especially the front entry, has many benefits. The primary is an increase in property value. The front entry door is often the most used element in any home. By replacing your current aging door with a new energy-efficient exterior door, you can benefit from one of the highest return-on-investment home improvement projects available. (1).
And of course, with up to 30% of home heating and cooling costs lost through doors and windows, you could save money by having an energy-efficient replacement door.
On top of these, new exterior doors can stop drafts, cold air leaks, and annoying sounds, with the proper installation.
Where to find new exterior entry doors
You have many choices today for looking for exterior doors. But most options fall in one of two categories: 1) Window and Door Installation companies, 2) Home Improvement retailers
While you can also find and order entrance doors on the internet from resellers, they typically come with very high final prices due to the costs of shipping one heavy door, and they do not come with service or installation.
Door Installation companies in your local area serve as both the retailer and installer of exterior doors. They often have showrooms, where you can touch and feel the doors, as well as catalogs and sales personnel who know the product well; . . . since that is what they focus on; doors and windows.
Home Improvement retailers and hardware centers, often have doors and windows in stock and on special order. Because of the unique size and needs of each home entry, nearly all exterior doors need to be customized and specially ordered.
A major drawback of using home improvement retailers for selecting your exterior door is that they do not come with a service that is typically found with door installation companies. Home improvement retailers either expect you to find your own installer, or they outsource to other installers, causing additional markup and confusion over how the door will be serviced. In addition, because the store sells to general consumers in many product categories, they may not be able to help customers with unique door needs. Their product lines are basic quality, and limited. Their help may be limited to install exterior door hardare.
Costs of New Exterior Entry Doors
Exterior doors prices vary, depending on the primary material it is made of. Five major materials categorize any residential exterior door on the market today (2):
Steel doors - Steel doors use hardened steel around either a solid or semi-hollow core. They are strong and good for security. Typical prices range from $400-$2,500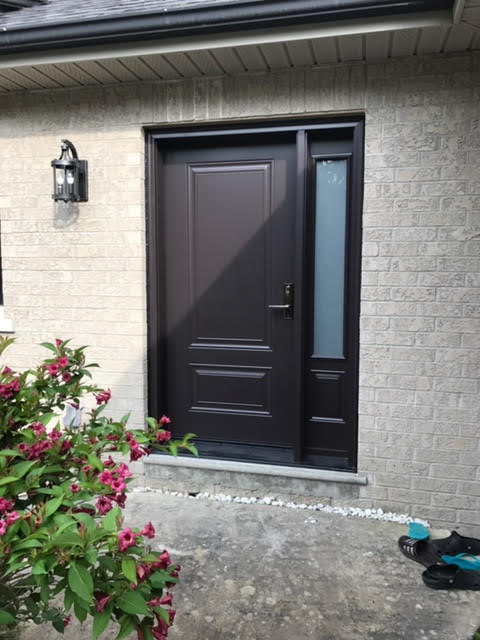 Fiberglass entry door - Fiberglass conducts less energy transfer than steel, and can often be the highest energy efficiency of exterior doors. Typical prices range from $360-$2,500
Vinyl - Vinyl is the go-to standard for most replacement windows, and some doors too. By using a vinyl plastic resin, around multiple core types, these doors can be lighter than steel doors, and affordable. Vinyl is more common with sliding and patio doors. Typical prices range from $500-$1,750
Wood doors - Wood is the traditional door material for older homes. With wood prices on the rise, and the constant need to finish and care for the wood due to weather exposure, wood doors are becoming less popular, compared with other door types. Typical prices range from $250-$1,250
Aluminum doors - While aluminum is lighter weight than steel doors, they are not as strong and secure, and for entry doors, lose out, in favor of other door materials. $350-$1,500
Overall, steel door systems, fiberglass entry door, and vinyl doors are the industry standard for exterior doors, leaving other door materials like glass steel door models as usually special order items only.
Prices depend on styles, colors, hardware, complexity and more. Front door keyless entry systems can also drife up costs. If you want to install exterior door harware and hinges with high-end finishes, that will add cost. For example, contemporary (modern) styles, with windows and modern hardware, can make a door cost $1,000+ above and beyond similar doors of the same material.
DIY Installation vs. Hiring a Door Contractor to install exterior doors
You have two choices when installing an exterior door. Do-it-yourself, or hiring an installer.
Do-it-yourself (DIY) installation involves finding exterior door installation instructions, obtaining the right tools, and some basic knowledge to do the job correctly. Once you've purchased the correctly sized door, you'll need to remove the old door and its hinges off of the door jambs. You'll also need to remove the trim work as well. Next, using either a multi-tool or other cutting saw, you'll need to trim and cut certain parts of the opening. Any extra large gaps need to be filled with added wood, installed flashing, and any adjustments made. Then the new door hinges were installed, and the door secured, followed by replacing the trim, painting, and cleanup.
While this might seem easy, there are a number of problems that can happen. What do you do if the width of the door is slightly too wide for closing? What do you do if the jamb has issues? Or what if the hinge areas are too torn up from previous screws and hardware? These are the issues that often leave homeowners wondering, and wishing that they hired an installer in the first place.
Some components and harware can be complicated to install on your own. Door keyless entry systems for example take may take some specialized knowledge.
While handymen, carpenters, and other home improvement repair people can possibly install doors, door installation companies, preferably the one you purchased your door through, can come and install quickly, in less than a day, and warranty their work if any issues or concerns happen. The volume of doors they install on a monthly basis allows them to have high quality and speed to their work, at a low cost.
Working with a Door Installation Contractor for exterior door installation services
When you are ready to start shopping around for doors, look for door installation companies that are all-inclusive, and have been in business for a long time; 20+ years. Design, purchasing, any necessary permits, installation, haul away, and follow-up service. These companies can make your exterior door replacement project go from dream to reality, all through one point of contact
Door Installation Cost savings tips
Are you looking for ways to save money on your exterior door replacement project? Here are some tips to follow to not only save money but have a smoother process:
Focus on door and window installation companies rather than home improvement hardware retailers. They offer exterior door installation services. Their specialty will eliminate the need for two vendors and will save you money over the entire process and long run. The front-end pricing at hardware centers may look low on the surface, but after they outsource to other vendors, and mark it up, the cost goes up substantially. Door installation companies benefit from focussing on the same type of project all of the time.
Ask if they have close-out models. Often their suppliers are closing out models, to get ready for a new design. You'll still benefit from a new door, but sometimes 20-30% lower costs. Or even ask if they have misships and a clearance room. This is especially true with any type of residential exterior door.
Ask for multi-door discounts. Rather than just replace one exterior door, ask for a quote for replacing other doors or windows, all at the same time. The cost savings for them to have one setup time will bring the cost down per door or window installed to you.
Ask if they price-match. Some door installers' prices match the same model from other retailers and installers.
In addition to these, there are sometimes sales and discounts for seasonal and time-of-year savings.
Some homeowners ask if they can purchase a door at a home improvement centre, and hire a door installation company directly to install it. While this might seem like a trick to save money on the front end, most door companies simply will not do it. They typically offer a certain line of products exclusively from certain manufacturers that are of higher quality. If they install a store's door, they take on the risk of servicing and warranting doors that often have problems, due to their lower quality. High-quality exterior doors offered through door installation companies are designed to last 30+ years or even the lifetime of a house. Many doors offered through retailers are warrantied to last only about 10+ years.
Find one installer, who can be a one-stop-shop to design, purchase, and install your exterior door.
For overall cost savings, make sure your installer gives you a quote for the entire project, start to finish. This way you know how much you will pay in the end. Also, many windows and door installation companies offer financing, where you can pay for the project in monthly installments over time. A common length of term is 12, 24, or 36-month payment terms. But you might be able to ask for a longer-term, for smaller monthly payments. Approval can be done in minutes, right inside their showroom office, and can be seamless, allowing you to move forward with the door project. The interest rates on these home improvement financing plans are often considerably lower than credit cards and personal loans. The rates are typically dependent on your credit score.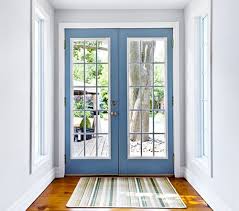 Total Exterior Door Cost Summary
So overall, your replacement exterior door project has several cost components:
The Door - Typically $500-$2,000
Installation - Typically $500-$1,000 per door (exterior doors usually always cost more than interior doors to install).
Modern hardware upgrades (handles, hinges finishes), plus threshold, $200+ (optional)
Additional adjustments to the jamb, and opening extra (Could be $100-$200 or more)
Permits, added warranty upgrades, and financing fees can all be extra
You might wonder how much for exterior door installation. Simply ask your local door and window installer how much does exterior door installation costs. They can give you the right numbers. And they may offer discounts as well if you meet certain requirements.
Much depends on the style of your door. If you install entry door prepwork ahead of time you may save some money. If you are budget-focused, a simple steel entry door with little to no added design, using basic colors, will be sufficient, and you'll benefit from added energy efficiency, as well as softer sounds and newer looks of a new exterior door. If you desire to make a statement in your neighborhood and want to have the latest design using ultra-modern looks, styles, and hardware, you'll be purchasing a door on the higher end of the price range. But you'll also benefit from an impressive look and high resale value.
Enjoying Your New Door
Once you have your new exterior door, you can enjoy a warm, comfortable home, free from door drafts, and the assurance that you have the latest energy-efficient technology available. If there is any home improvement project that will give you a feeling of accomplishment, installing a new exterior door is one of the most visible to your family, guests, and neighbors. Knowing how much exterior door installation costs will help you move forward confidently for this helpful and important home upgrade.
------------
About the Author
Delco Windows and Doors has been serving Toronto Canada since 1989, with door and window replacement and installation. Helping make homes throughout the GTA more energy efficient with an upgraded style.