Front Door Entrance Ideas for a Stunning Home

Entrance doors for homes have the power to totally transform a house into a work of art. They can make a statement to the neighborhood, and make you feel welcome. Entrance doors ultimately can make a house feel like a home. And having the right kind of entrance doors modern in style, yet functional for use, can make all the difference.
Entrance Door Material Types
Typically, entrance doors are offered in several construction materials. Often, these materials are facia, surrounding a solid or partially solid core made up of other materials. Here are the top material makes of entrance doors:
Wood Entrance Doors
Wood doors, especially solid wood doors, are a timeless classic. They work well with many large estates, luxury homes, as well as even smaller homes. Because solid wood can be easily shaped and sized, it can fit many unique entrance door openings for your home entry. Because of the ever-increasing cost of wood in the lumber market, large solid wood doors can be the most expensive doors on the market, sometimes in the several thousand dollar ranges. Unique designs and carvings crafted into the wood can make your door exceptional and a generational legacy for your home. With proper care and regular wood sealing, a solid wood door can last for many decades and become part of the memories of a home.
Hollow doors, or other core material, surrounded by wood facia, is simply a less expensive, but less desirable front door material. With the heavy use of a front entrance door, hollow wood and partial wood doors do not stand up in time.
Fiberglass Entrance Doors
Fiberglass entrance doors are quickly becoming a material of choice for homeowners seeking to have the ultimate energy-efficient front door. These doors typically have an insulated foam or other material core, surrounded by fiberglass skin on all sides. Fiberglass creates a well insulating, high barrier between the weather outside, and the temperature inside. Some cities and countries, such as Toronto, Canada, need highly efficient entrance door materials to protect against long cold winters. Entrance doors Canada may require can create a national standard for energy efficiency. Often, fiberglass doors meet or exceed these standards, with high R-values, (1) and low-temperature transmission.
Steel Entrance Doors
Doors made of steel have a capacity and image of security and strength. They are strong and difficult to crack or bust into. Steel doors are often the standard for security doors. Yet, steel entrance doors for home are almost always a solid core of other material, encased in a thinner steel skin. This is because a solid steel door would be incredibly heavy to move, and difficult to open, and highly expensive.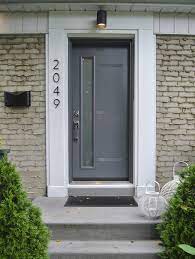 Vinyl Entrance Doors
Just like many replacement windows, doors made of vinyl have the capacity to feel solid and reduce sound. They can be incredibly energy efficient (although not as much as fiberglass), and quite affordable. Vinyl is made up of plastic resins mixed with other materials. It can be quite airtight, and easy to install. And despite what some may think, vinyl doors can come in many colours.
Entrance Door Styles
Styles of entrance doors come in many arrays and designs. Flatter designs with more institutional and industrial elements are contemporary. Some doors can have artwork or patterns, while others rely on windows. Yet others highlight the hardware of the hinges, locksets, and handles to do the work. Here are some of the top entrance door styles:
Modern entrance doors
Also called contemporary entrance doors, modern doors eliminate most traditional door patterns such as imprints, panels, and artistic Victorian curved designs, and stick with simple, flat, and industrial looks. Modern door designs includ bold hardware with straight and flat lines, and bold windows with matching window trim, along with lots of steel and inorganic elements, can give a modern door its flair. In addition, modern doors have a trend of showcasing bright and bold colours, such as deep red, bright green, black steel, and heavy and light blue.
Classic entrance doors
Classic entrance doors can be light in their classic touch, incorporating straight lines and panels reminiscent of the Sears Craftsman home era (2), along with most suburban houses ranging from petite to luxury, all built since the 1920s in the USA and Canada. They can often have half-moon windows, or sidelights, and have artistically curved hardware as well. Classic entrance doors can be very traditional, to modern hybrid, and are an overall good choice for most home types.
Country entrance doors
Country entrance doors typically are made of wood, and sometimes steel, and are often featured with a multi-panel gridded window. They can be simpler than the other entrance door styles but can be enhanced with heavy-duty knockers and hardware. A current trend is to highlight the aging and weathered look, to create a homey farmhouse look, even with the latest modern farmhouse design trends. Think ranch and prairie houses. The typical wooden door can keep these same looks, yet be modern and solid for a more energy-efficient function.
In addition to these, there are other variations and styles such as English Tudor, French Country, Americana, and many more. A door should enhance and flow with the existing architectural style of the home.
Entrance Door Hardware and Variations
Main entrance doors can be transformed with the right kind of hardware. Big bold stainless steel or black steel handles that have straight lines with inorganic shapes convey a modern style. While curved lines and artistic designs in the metal, along with brushed nickel, copper, cast iron, wrought iron, can create a traditional look.
Also, don't forget the hinges. Black and stainless steel go more with a contemporary look and modern door designs, leaving other hinge colors in the traditional line. And finally, knockers and kick plates can help set the tone for the door style. In addition, take advantage of entryway decorating ideas for enhancing the area around the door.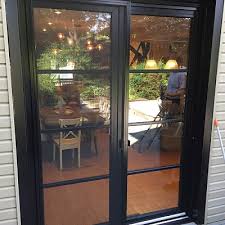 Where to Buy Entrance Doors
While many doors can be ordered at big box home improvement retailers, the better option may be to go with a local door and window installation company. For example, Delco Windows and Doors in Toronto Canada, offers sales, design, permitting, demo, installation, and follow-up, along with warranties. These services are typically not offered directly through big-box retailers; or if they are, are outsourced and marked up.
Search directly for a window and door installer in your local area. They often specialize in replacement doors, especially main entrance doors. And because they do this work day in and day out, all the time, they can quickly and efficiently replace your entrance door with a dream door effortlessly.
How is an Entrance Door Replaced?
An entrance door can be the primary focal point of your house. So bring your ideas and photos along with you to your local window and door installer.
You'll then need your entry door measurements. Both horizontal (headers / width) and vertical (jambs / height). Also multiple points of measurement along each dimension. If it sounds intimidating, don't worry, your local window and door installer will actually do the measurement so you can rest assured that the replacement door will be the right size.
When the door arrives, installers will remove the current trim, and make any necessary adjustments to the rough opening to accommodate the new door. This may involve shimming out, or trimming back. Once the new door is hung, the trim is either put back on, or the new trim is cut to size. The old door and material are hauled away, and the area is cleaned up. It can all take place in a matter of hours. And you'll be enjoying your new entrance door by evening with your friends and family.
Best Tips for Replacement Front Door Designs
First, an assessment of your current home style is preferred. Take a look at the architectural style of your house. Look at the close neighbors. What would you want your house to be if it was changed? Do you simply want to enhance the current look?
Perhaps you want to upgrade your typical home and give it a modern makeover. A modern front entry door will be a huge step in that direction.
Here are some more suggestions and tips:
Pick exterior doors with windows, to add light to dark foyers and entries
Choose frosted and privacy glass for your door windows, for greater privacy
Pick door hardware that can match exterior and landscape elements like lamps, mailbox posts, and fence posts. Stick with similar colors and material looks.
Pick a bright and bold colour, like reds, yellows, and greens to create a stunning look
The Next Step for Your Entrance Door
Walkout front, and take a good look at your home. What do you want it to be, in comparison with other neighbors? How do you want it to look for the next generation? Then take the next step and visit an experienced door installer who can help you design and entry door ideas, select and install parts, all through one service. You'll enjoy your home so much more with an entrance door that makes your house a stunning statement to the world.

------------
About the Author
Delco Windows and Doors has been serving Toronto Canada since 1989, with door and window replacement and installation. Helping make homes throughout the GTA more energy efficient with an upgraded style.