How to Measure Windows for Replacement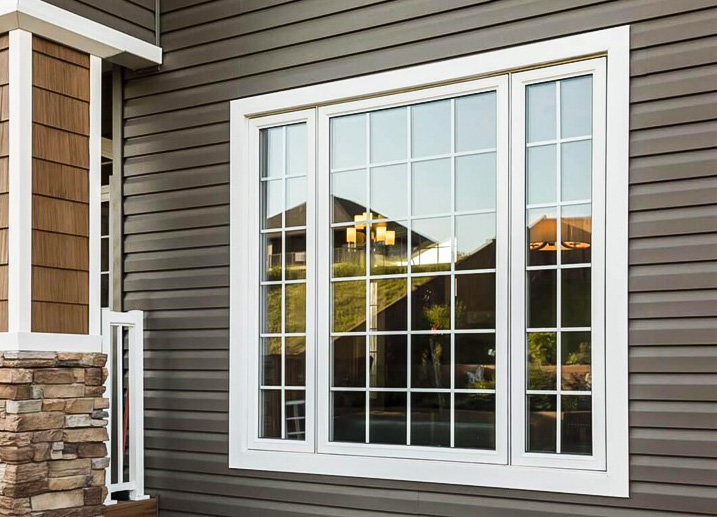 When homeowners consider replacement windows, one of the most important elements is having a proper measurement. But sometimes, they first need to take a step back and ask why they want replacement windows in the first place.
Why Replacement Windows?
Of all the home improvements that can be made on your home, replacement windows are likely one of the most visible. In addition, they have a high return on investment increasing your resale value by almost the full amount of your investment, depending on the type and costs.
With ever-increasing electric and power bill rates, there is a growing need to replace old windows with new energy-efficient windows. In addition, there is a movement of homeowners swapping out outdated uninsulated windows that are older than 20 years old with modern-looking designs.
Replacement Windows vs. Adding New Windows
Adding a new window in a wall space that does not already have a window opening can be costly and risky. There may be plumbing, electrical or other obstructions in the way. Plus, adding more openings can possibly bring down the thermal energy efficiency of a room, especially if it is facing the wrong direction, or is using non-advanced materials.
Replacing a window, however, simply involves taking out the old window, which may be drafty, ugly, or simply outdated, and replacing it with a new unit. Window replacements are far less costly than cutting and framing a new window box. There may only be slight modifications to the frame, trim, or siding. If sized exactly as the previous one, it may be as simple as popping it back in and performing the finish work and cleanup.
Research shows that today's modern mid-grade vinyl replacement windows can save between $100-$500+ per window compared with single-pane windows. Even if all your current windows are double pane, if they are over 20 years old, chances are, they have little to no insulation, outdated spacers, and broken seals. If you see condensation inside the window, you know it is ready for replacement.
Today's typical window uses many technological advancements, like better air gap seals, gas fills, spacers, and efficient framing materials. Many of these commercialized within the past 15-20 years.
Benefits of Replacement Windows
For starters, the top benefit of replacement windows is taking advantage of better energy efficiency. Less heat loss in the winter. And less heat buildup in the summer. In addition, there are other benefits, including a new, modern look. And, operable windows can provide valuable ventilation and fresh air benefits, if your old ones do not do so. For example, taking an existing window which is a picture window, and replacing it with a sliding window will benefit you.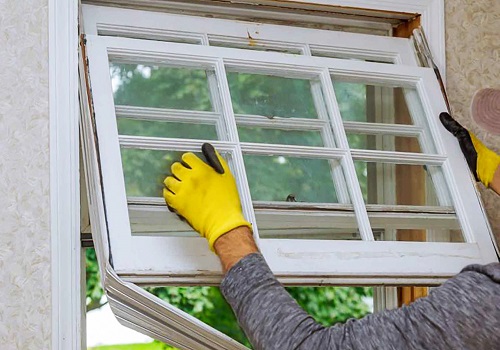 If you add it all up, including the increase in value of your home, it is a no-brainer, replacing most, if not, all of your windows with newer ones can provide a long-lasting benefit for your home and family for years to come.
Which type of Replacement Window to Choose
If you are going for an upgraded look, replacement window time is the optimal time to create a stunning, high-end look and finish to your home. This is especially true when planning a remodel. Enhance your new design and look with modern-looking, fashion-complementing new windows with all the latest features and high efficiency.
If your home is located in a moderately-priced area, and you simply are trying to lower your power bills, while retaining or slightly upgrading the look of your house, we have a simple formula for you:
Choose mid-grade double pane vinyl frame windows. Plainly, choose a vinyl window. They are not nearly as expensive as the high-end stuff, and yet they will achieve a higher energy efficiency than nearly all older builder-quality windows that came with the home.
When looking for efficiency, start with the lowest U-factor for the price. You likely will not need fancy upgrades like films and advanced gas fills, however, ask your local window replacement company if they offer these for a discounted price. For example, Delco Windows and Doors in Toronto Canada, mentions that the time for upgrades to high-efficiency features is best done early. They suggest that many installers, like themselves, may offer a discount on these features if you are going with multiple windows. Taking advantage of these tricks could help you save thousands while ending up with high-quality windows.
Steps to Replace Windows
When replacing a window, the most important step is to do proper measurements. While the other steps, including trim removal, unscrewing the flanges, and replacement steps are also essential, in this resource article, we are focused on the proper steps for measurement.
You may be asking yourself the best way to measure a window for replacement. This can seem overwhelming, especially if you have never replaced a window before.
How to Measure for Replacement Windows the Correct Way
Simply using a ruler or tape measure to quickly measure your window is not proper.
The most precise measure steps include:
Measure the width, in three places: top, middle, and bottom. Measure from one jamb to the other. These are the vertical sides of the window opening. Don't measure the window frame/sash itself, as this sticks out beyond the jambs.

Next, measure the vertical height, from head (top) to bottom (sill). Measure at both sides and in the middle.

Measure depth. This is especially important if you are going to go with a high-end thick framed window. From the frame to the inside edge of the window box.
Width and height are the most important. Note the smallest measurement. This is how you do window measurement. The right window size is dependent on it.
Take the smallest of each of these three numbers. When ordering your window, the manufacturer typically reduces it a small amount, which makes the window fit almost perfectly in the existing space.
Why three spots of measurement? There are often imperfections in a window box. By choosing three places, the window is most likely to have an accurate measurement.
There are a few minor situations you should be aware of that could change how you take measurements:
Measuring a Window to Expand or Reduce
Although you may wonder how to measure a window to replace if you are wanting to add a larger (or smaller) window, that would be the time to do it. You still need to measure window width and heights. Adding a larger window can happen in several ways:
Minor changes within the window box frame
Some replacement window installs can allow for a slightly different size window (typically within an inch or two) within the same framed window box. This can be achieved either through removing some of the wood framing thickness by cutting it out or if making a slightly smaller window, adding shims and other fillers. Chances are, any replacement window will need a small amount of these adjustments. It won't require reframing, just using tools that cut into the wood framing a little, (or filled) to accommodate the new size.
Changing the height
If you want to add a taller window, this is usually much easier than a wider window. It won't require engineering and load-bearing stud concerns. Just simply lower the sill frame to accommodate a taller window. You'll benefit from more window space, perhaps being more reachable, and greater views and light, with little to no structural changes to the home.
Changing the width
On the other hand, if you want a wider window, this may affect the load-bearing studs that are around the window. Careful thought and possible engineering plans would need to be considered for a substantially wider window that requires cutting into additional vertical studs. Measure width: When measuring, try to bring the width up close to the next further stud, but not fully past it. This will avoid issues of unwanted reengineering.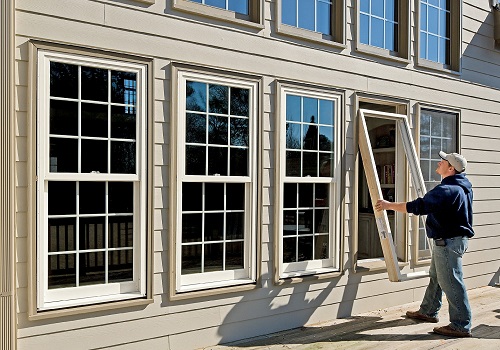 Changing both width and height
This is the most complicated but could leave you with a large impressive window. This is ideal for the replacement windows of small living room windows that can be converted into large high-profile windows to create a statement to the neighborhood.
Having a Window Installer Help You
However, if you are choosing to go with a professional window installer, which we highly recommend, they should be able to come out, on-site, and do the proper measurements for you. This eliminates the fear of having wrong window measurements. This puts the risk on them and gives you the assurance that the warrantied work is based on their measurements, not yours. Then you can have the peace of mind that it is measured properly.
Benefits of Using Professional Window Installers
In addition to having the assurance of correct and proper measurements, professional window installers offer all kinds of benefits above and beyond handymen, or DIY window installation. For starters, delivering a window to the site can be a scary experience. Window installers have special vehicles and equipment to bring your window on-site, safely and securely.
In addition, their experience, day in and day out of performing window and door replacements, can give you the benefit of the job being done fast, and correctly. You can have the assurance, and peace of mind needed to enjoy your windows for years to come.
Costs of Using Window Installers
You might be hesitant to use a window installer because you want to save costs. However, keep in mind that the typical DIY replacement window job performed by an inexperienced homeowner has issues and problems that end up costing more than if they were to hire a professional to get it done right the first time.
In addition, window installers usually warranty the product, and their work, and they can help you, the homeowner, in applying for government grants and credits available only if you use professional contractors.
Enjoying your New Replacement Window
Once you have your new energy-efficient replacement windows, you can enjoy the new looks, upgraded style, and enhanced feel with new windows.
Take advantage of new advancements in window construction technology, to benefit your home and lifestyle for years to come.
------------
About the Author
Delco Windows and Doors has been serving Toronto Canada since 1989, with door and window replacement and installation. Helping make homes throughout the GTA more energy efficient with an upgraded style.