How to Install Replacement Vinyl Windows?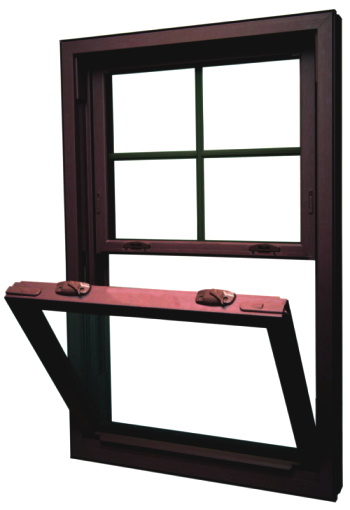 What Types of Windows are Best for Replacement
Are you tired of that cracked window that always seems to be part of the house? Do you feel drafts and cold air by your bedroom window? Do your windows look old, dated, and filled with condensation? These are all reasons why most homeowners replace their windows.
Even older "energy efficient" windows often have missed many of the major advances in window construction technology that have occurred over the past 20 years. The latest windows are equipped with insulated frames, gas fills, and films, all designed to make them high-efficiency.
There are many types of window construction elements on the market. These include wood windows, aluminum windows, vinyl windows, and even dual-frame wood-clad/aluminum window frames. However, of all of these window types, vinyl windows by far offer the greatest value and selection. They are now the industry standard for most replacement windows in typical home applications. There are also ways to have a retrofit window around the existing glass area if it is the proper placement.
What is a Vinyl Windows?
Vinyl window framing uses a plastic resin material made of synthetic substances, including petroleum-derived chemicals. This is the material surrounding and protecting the window glass. The benefit of these substances is that they can be made efficiently and at a low cost through injection molding quickly. In addition, they are easier to ship and deal with rough handling during construction. Unlike metal frames which can permanently bend, and wood windows that can fracture, vinyl windows can put up with quite a bit of handling.
Despite what critics say, vinyl, especially for window framing, is far better on the environment than some other material types. It lasts a very long time and is difficult to erode, reducing the need for frame replacement down the road. And more importantly, vinyl frame windows have a high thermal insulation factor (also called U-factor), reducing energy consumption and loss.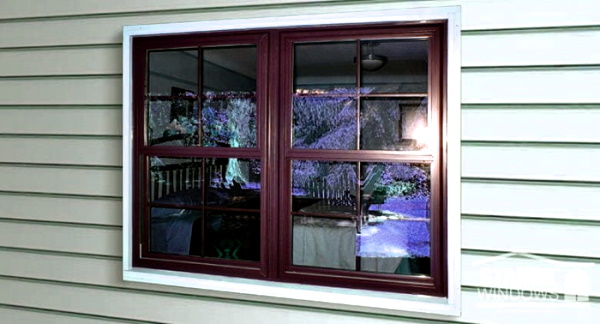 Why Vinyl Windows are Ideal for Replacement Windows
Vinyl windows are widely available throughout the home improvement market. They are the industry standard that new home builders use, as well as throughout luxury homes and entry-level homes. Because of their low cost to make and long-term durability, they last longer and are easy to service or replace.
Big box home improvement retailers tend to carry vinyl windows in stock on their shelves. Window installation companies usually carry a wide selection of vinyl window replacement units, likely their most significant window frame type in their inventory. In addition, because of the flexibility of manufacturing methods on vinyl plastic, nearly all window types can be made with vinyl framing (casement windows, picture windows, European tilt-and-turn windows, hung windows, sliders, and more. And installers on site tend to prefer working with vinyl windows instead of aluminum and wood.
When choosing windows, ask for ones that have the lowest U-factor for the money. The lower the factor, the better it is, as it is more insulative. .5 or less is an excellent factor to start with. In Canada, the industry standard may require 3 in many locations.
Steps for DIY Installation
Once you've decided which windows to replace, the steps involved in replacing them with vinyl replacement windows can be overwhelming but manageable if you know the steps, have the right tools and are willing to go through the experience. You may wonder how to install replacement vinyl window units throughout your home. Do-it-Yourselfers can install vinyl windows with the right tools and expertise.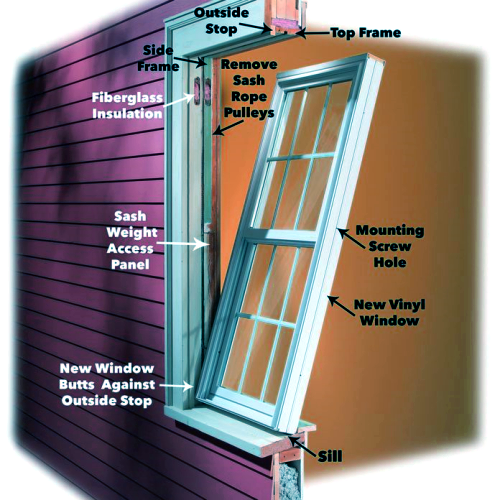 Vinyl Window Installation Steps include:
Measure your existing window (both vertical and horizontal, preferably in three places each, and take the smallest of each. Behind the existing window frame is the rough opening.

Purchase your replacement windows

Remove both the interior and exterior trim (taking care not to damage them if you want to reuse them). This may include removing the vinyl siding.

Unscrew the screws holding the flanges of the old window. If this is impossible, use a crowbar and multi-tool oscillating cutter to cut the framing approximately ½ inch all around the window.

Push out the window from the inside. This step can be tricky, and you may need assistance as well as a hammer and wood chisel. Likewise, you can remove the sash of a sliding window first to make it lighter and easier to handle.

Re-measure the opening and new vinyl replacement window.

Build up or trim out areas that do not fit. This may involve using a wood shim in gaps. Ensure there is enough wood "meat" for the new screws to grab ahold of. This also may be an excellent time to see if you can fill in gaps with fiberglass insulation.

Carefully place in the new window, and secure each screw through the flanges of the window frame into the wood.

Surround the gap with fillers and flashing or jamb liners. These may already be on homes with new construction.

Put back on your window trim. Clean up.
Following these steps are the best way to install vinyl windows.
Using a Window Installer
As you can see above, installing replacement vinyl windows can be difficult. What looks like a two-hour job could quickly turn into a multi-day project for someone without the experience. And there could be unforeseen costs not expected, due to lack of skill in this area.
This is where window installation companies come in. They provide valuable skills, and because they do this day in and day out, they can often replace windows and doors efficiently and pass those savings on to homeowners. Most window installers can replace all windows in a home in a matter of hours. Their skill, experience, planning, and the right tools and team can all make for quick and effortless window replacement.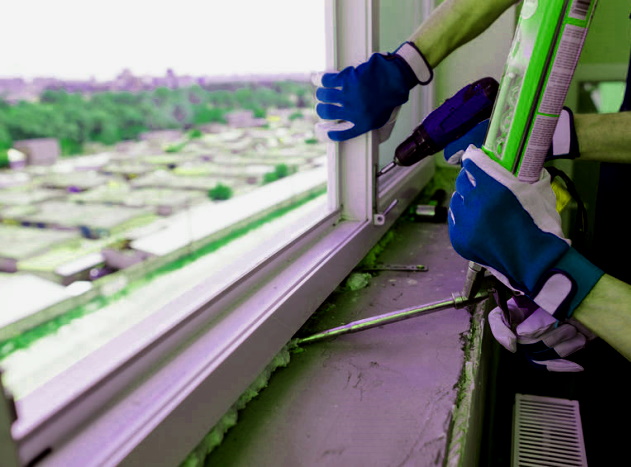 Tips for Choosing the Right Installer
When looking for a window installer, look for companies that focus on doors and windows. These two items are very similar and require a certain experience. Look for companies that have been in business for at least 20 years and have good homeowner customer reviews.
Here are some questions to ask window installation companies:
1) Do they have a local window showroom?
This shows that they take it seriously. You, as the customer, can come in and touch and feel their window products.
2) Do they have their own team, or do they outsource to other construction workers?
It is important that they have their staff doing the installation. For example, Delco Windows and Doors of Toronto, Canada, always include installation services to purchase their replacement vinyl windows. The installation is done by their licensed and insured workers on-site so that they have control over the process for top quality. These are the types of companies that you should look for
3) Are they locally based, or are they part of a national chain?
Local installers have a reputation in the community to protect, as it is their only presence. So it is in their best interest to do the work right the first time. National chains are notorious for hiring non-company staff and are difficult to communicate with if there are problems after installation.
4) Do they warranty their work?
This is essential to have peace of mind with your new replacement vinyl windows. Also, does the warranty transfer to a new owner if you ever sold the house?
There are many other questions you should consider, but these are the most helpful in choosing one out of a list of many. Do not go with the "biggest boy in town" but rather the one with a lot of experience and is locally owned and operated.
Money-Saving Tips
There are a few ways you can save money when hiring window installers for your replacement vinyl window project.
Ask if they price match competitor's products. Ask about the window replacement cost.

Ask if they have clearance inventory.

Consider replacing your windows during seasons that are less busy in construction.

Do they offer multi-window discounts? Or perhaps replace a patio door or convert a window opening into a double-hung window.
In addition to shopping around, simply asking these questions can help deliver to you an affordable quote while getting the latest technology on the windows.
Enjoying your Replacement Windows
Once you have installed your replacement windows, you can then sit back and relax. Enjoy your home with a new feel. No more drafts. Lower power bills. And enjoy the upgraded look of modern windows. This will all work to create a warm, comfortable environment in your house. It also will increase the resale value of your home and street curb appeal, which can eventually pay for the project costs. Take advantage of off-seasons like winter, and install new windows using replacement vinyl windows.
------------
About the Author
Delco Windows and Doors has been serving Toronto Canada since 1989, with door and window replacement and installation. Helping make homes throughout the GTA more energy efficient with an upgraded style.