How to Improve Your Home with Sealed Windows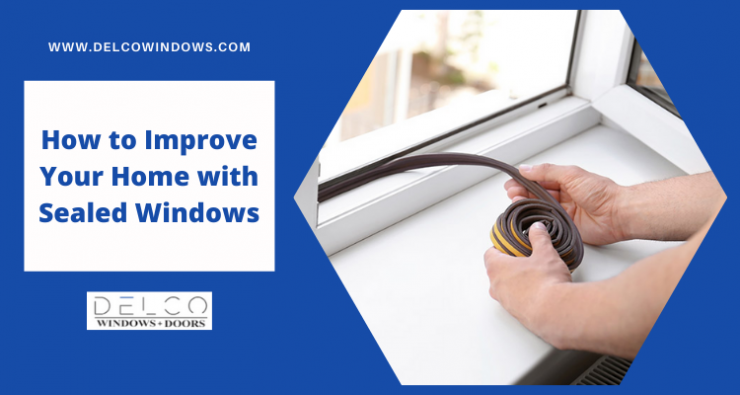 Drafts. Condensation. Cracks. . . all of these problems can occur with older windows in your home. Whether you have wood windows with rotting or decayed frames, or you have older aluminum windows with broken seals and moisture condensation, if your house was built before 2000, it likely has these problems. Chipped or cracked glass, broken windows, water leaks, loss of their argon or krypton gas (also called glass distortion) all can come from life, extreme and harsh weather like wind, rain, and hail, as well as the sun itself.
Older windows are either single pane (a single sheet of glass) or double with outdated, compromised materials. This makes them highly energy inefficient. They are not designed to keep out the cold air compared with new windows.
New replacement windows are built with a glazing technique, which is vacuum-sealed, using spacers and specialized gas, along with long-lasting weather-stripping seals to lock in and close off the window components to weather and drafts. They can even have three panes or more. All of this makes for a high-efficiency thermal insulated window.
Moisture condensation - Foggy, unsightly, and ugly. Moisture condensation is often associated with cheap houses using sub-grade material. This is the gross-looking collection of fog and water droplets inside the glass of a double-pane window. It occurs due to broken seals. Windows typically have a flexible material that "seals" the air outside the glass from getting into the small air gap between the two glass panes that form the window. This condensation is virtually impossible to remove. It is best to replace the window.
Cracked window frames - Typically with wood-framed windows, cracked frames occur from the wood becoming weathered or not properly cared for. Wood naturally expands and contracts. And when UV rays from the sun, along with wind and water, all work together to wear away the sealant on the wood, it causes the natural material to absorb moisture and start to decan and crack. This can also let in issues like mold and mildew. Once the framing of wood windows begins to crack, it can break any seals holding the glass panes, allowing moisture condensation, as well as drafts, cracks, and pests. While caring for and regularly sealing the wood can prevent this, often the damage has already happened. Once again, replacing it with new sealed windows is the best option for fixing the problem.
Air Drafts - Drafts are the small flows of air that transfer from outside your home to the inside of your home through wall cracks, windows, and doors. They feel like the wind is coming in. They are uncomfortable, letting winter's cold and summer's heat inside the home, as well as annoying, to say the least. Windows are especially the main culprits of drafts, as they have multiple points of possible air leaks.
As mentioned above, frame cracks can let these drafts in, along with broken seals. In addition, the casing and window box itself can be a source of drafts. Checking and fixing any possible drafts outside the window, in the trim and casing is a good start. But ultimately, it is best to swap it out with a replacement sealed window, which not only will have correct seals but can allow you to fix any problems in the jambs (sides) and sills (top and bottom of the box). In addition, it will allow you to add insulation and proper tape sealing, which often was not installed in older window installations.
Recent modern advances in window construction technology have led to sealed windows, also called replacement sealed window units. What are sealed window units?
Sealed window units (Also called insulated glass units "IGUs") use the latest material and techniques to fully seal the window and the frame, making it foolproof, weatherproof, sun-resistant. Meaning you will have a fully sealed, airtight window for the lifetime of your house. They stop drafts in their tracks. They prevent any moisture condensation in the glass. They use long-lasting seals and vinyl frame material to make your home energy-efficient and save on your power bills.
Sealed window units can make your home warm, inviting, and comfortable for years to come.
If you have cracked glass or notice water leaks, the answer is obvious; replace the window with a fully sealed vinyl replacement window.
How to Fix Sealed Window Units
Sometimes sealed window units can become damaged and lose their thermal insulating benefits when these occur:
Harsh wind, rain, or hail
Harge freeze-thaw pattern with lower grade windows. Especially if water is constantly sitting around the seals
Damaging impact - whether a rock, bump or another hard impact, these all could potentially break the seals, as well as glass and spacers inside
Damaging sun rays with lower grade windows
Harsh chemicals that may eat away at the seals
If your windows are "contractor" or "builder" grade, meaning that they use lower quality materials and are mass-produced for large quantities of houses, chances are, your windows, even if considered sealed window units, can easily be damaged and lose their energy-efficient qualities over time.
A repair usually involves cutting and removing the seal at the base of the frame and glass sheet, and then removing the frame piece-by-piece, then carefully removing one of the sheets of glass. This exposes the vacuum air gap along with the spacers. All of these would need to be replaced, along with the difficult task of replacing the vacuum air gap and the lost gases. This is all something that has to be done inside the controlled environment of a factory and is difficult to do on-site. This is not a do-it-yourself job or even a task that most window companies typically do at your home.
It is far easier, quicker, and less costly to have your broken or damaged or old window replaced.
When to Replace Sealed Window Units
Of course, if there are cracks, the buildup of water at the base of your window frame, or condensation, it is time to get it replaced. But there are some instances where you may not notice any of these, yet it is time to get a replacement window. Certainly, replace all of your single-pane windows. They are energy suckers. Warped or cracked frames are also an obvious sign of the need for replacement. And, if your window was made before the advancement of the latest thermal insulating sealed window units, it is likely time for swapping those out.
How Does Window Replacement Work?
Window companies, such as Delco Windows and Doors in Toronto, Canada, make the process simple and cost-effective. They are a one-stop, all-in-one replacement window solution. From consulting, measuring, window selection and choices, delivery, demo, haul away, installation, permits, and follow-up service, window companies like these can save time and money in the entire process.
How Much Money do Sealed Windows Cost?
While every window is custom made for the space, making it difficult to quote a cost, most windows range from about $500-$1,500 for the window, along with the installation, which can cost anywhere from a portion of the window price to equal to the price of the window. These window units offer a "payback" period, meaning the return on investment can potentially pay for the cost of the window over time through energy savings.
In addition, there are ways to save on these costs. Window installation companies often offer discounts for multiple windows replaced, time-of-year discounts, and many other discounts and matched pricing.
If your windows are old, outdated, damaged, or require an update, replacing those windows with replacement sealed window units can benefit you with lower power bills, elimination of drafts, a modern look, and a warm, comfortable home.

------------
About the Author
Delco Windows and Doors has been serving Toronto Canada since 1989, with door and window replacement and installation. Helping make homes throughout the GTA more energy efficient with an upgraded style.