Modernizing Your Home Windows & Doors: Trends & Tips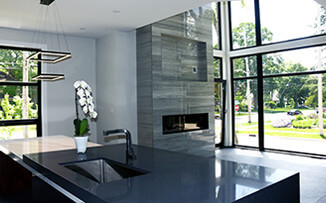 Your home's windows and doors can be updated to give it a more contemporary, chic appearance.
You may make your house appear as though it belonged on the pages of a glossy magazine by using the correct materials and design when preparing for remodeling the vast selection of modern home windows and door types that are currently available on the market that may leave you confused. But since your windows and doors significantly impact the entire appearance of your house, it's crucial to maintain objectivity when making your decisions.
Modern home windows and doors enhance the architectural features of your home while also bringing a touch of decorative style inside that has a beneficial effect on each room.
Tips for Choosing Modern Home Windows & Doors
While you are choosing Modern home windows and doors, the following tips can assist you in adding more of your style and class to your property:
Evaluate Your Home's Aesthetic & Climate Needs
You must first assess the climate and aesthetic demands of your property. Consider elements like temperature regulation, insulation, security, toughness, ease of maintenance, and overall aesthetics when choosing the materials for your new windows and doors. Selecting windows that are energy efficient will help your heating and cooling system run as efficiently as possible.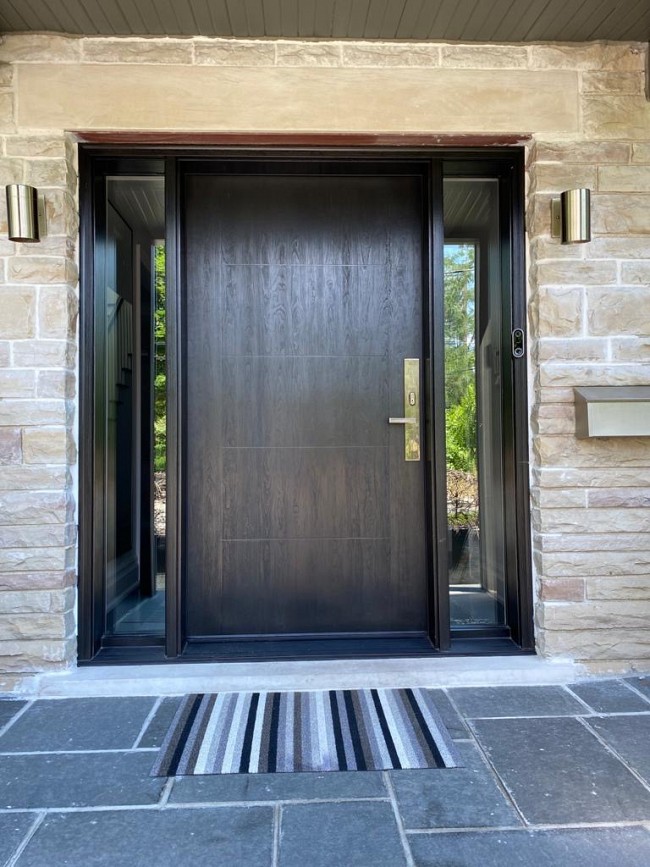 Examine Various Design Options for a Modern Appearance
And don't forget about decorative glass panels—these can give your windows and doors an upscale modern look with minimal effort. Look at several design options for a Modern appearance. Examine many design alternatives, such as sliding doors, folding textured windows, and sleek contemporary window frames, as you start to construct your modern home.
For modern home windows frames that are sturdy and long-lasting and offer the highest level of security and protection, think about combining materials like steel or aluminum. Also, don't overlook ornamental glass panels, which can easily give your windows and doors an elegant, modern look.
New & Fresh Front Canadian Style Door
What are door designs deemed popular in Canada? What you love will always be popular, in our opinion! The options are endless if you're thinking of replacing the entire door. Everything, including size, shape, and design, is open to new ideas.
Large doors are always fashionable and undoubtedly make a statement. You might put up a special, over-height door instead of the transom, the window above your front door, to accommodate a larger size.
There are various ways to modernize the appearance of your entryway if you are satisfied with the size of your doors. Your inner hall can be made brighter while also increasing the visual appeal from the outside by installing sidelights or a transom. Additionally, you can choose beautiful glass for your door to further express your sense of style. After all, a striking front doorway is often the first thing visitors see when viewing a property.
Pick Energy Efficient Modern Home Windows and Doors
Windows and doors that are energy efficient save your energy costs and keep your house cozy. To find goods that offer the highest level of energy efficiency, look for the ENERGY STAR label. Your options for window materials include vinyl, wood, and aluminum; when choosing, take into account aspects like cost and beauty. You can also consider painting options to ensure a contemporary feel and style across the entire home.
Grills for New & Existing Windows
Picking the modern home windows design does not have to be difficult. With a wide range of window styles and types, it's easy to customize the architectural style of your home. Updating the grille profiles on your windows is one straightforward change.
If your existing windows are in decent condition, then you can install grills on them. You can buy trim pieces and apply them to the glass in the desired grid pattern to create a fully DIY solution. Additionally, you can buy a window grille kit, which will remove some of the guesswork from the process. These aftermarket grilles won't improve your windows' functioning; instead, they are purely decorative. They can also be difficult to maintain clean because you can't give them a complete wipe down due to the grilles.
If you prefer the way grilles look, you can find them sandwiched between the layers of glass on many modern models. They become significantly easier to maintain and keep clean as a result.
Replace your old-styled single- or double-hung windows with casement windows to modernize the appearance and functioning of your windows. Doing so removes the window's central bar, allowing for crystal-clear views and unhindered natural light.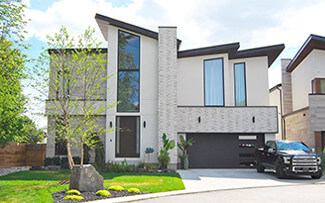 Consider Home Automation Options
Modernizing your windows and doors with home automation is a popular option. The options for home automation include programmable thermostats, smart locks, and automatic shades. By easily adjusting climate and energy settings, automation technology enables you to reduce your household's energy costs. You may easily build a functional, modern home with the aid of a qualified contractor!
Hire a Quality Installer to Ensure Proper Installation
Hiring a reputable installer who will appropriately fit and install your modern home windows and doors is essential. Not only will this enhance the look of your dream home, but it will also guarantee your new improvements' safety, effectiveness, and durability. Before starting the installation, request documentation of the certified professional's credentials and insurance.
Vinyl Patio Doors That Slide For Style & Space
Updating your vinyl patio doors is another alternative to give your house a more modern look. For example, if you replace your swinging garden door with sliding glass doors, you'll save space and get a great view of your backyard.
Once your new patio door installation is finished, you will be excited to show them off to your guests. Forget about ripped screens and noisy hinges with your new doors since they will slide smoothly, snap into place, and look wonderful. They'll make entertaining guests and enjoying your outdoor space easier.
One of the easiest ways to add flair to your home is to update your space with modern home windows and doors. Minor updations like a new coat of paint could make a big difference.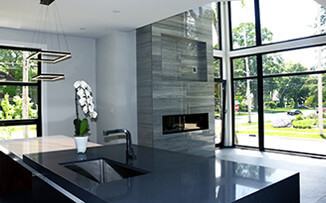 Bottom Line
An excellent approach to updating the look of your home is to modernize the windows and doors. Delco Windows and Doors provide custom door, SLIMLINE89 Series vinyl window and vinyl patio door style options. Stay in touch with our professionals if you are prepared to modernize your home's look. We will help you to navigate your options and pick the ideal one for your house and budget.
------------
About the Author
Delco Windows and Doors has been serving Toronto Canada since 1989, with door and window replacement and installation. Helping make homes throughout the GTA more energy efficient with an upgraded style.