The Best Entry Doors for a Modern Home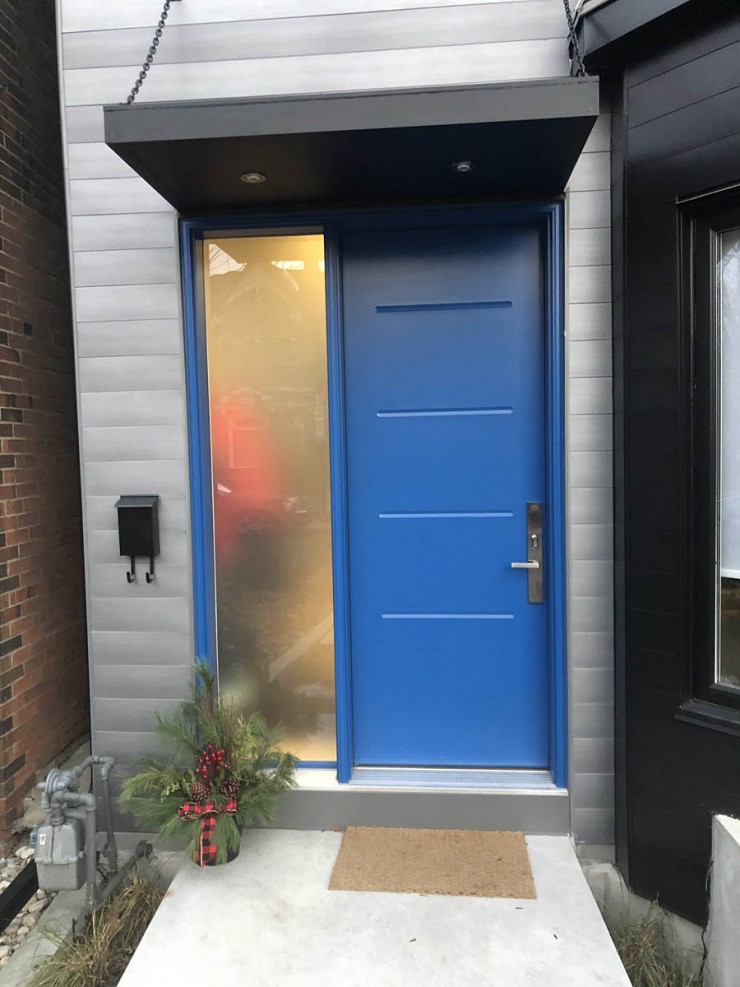 What Makes a Home Modern?
Modern. Classic. Traditional. Victorian. Institutional. There are many architectural and design styles for new and existing homes. But one of the most trendy, and also highest value homes utilize modern elements with and existing structure.
If you ask several home design specialists what "modern" is, likely, you will get various responses that may not all match. However, most agree, there are some basic elements that tend to define modern homes:
Simple (minimalist, they might call it)
Energy efficient (high-efficiency materials and technology)
Natural light is favored over artificial/supplemental light (e.g. more or larger windows)
Few colors
Exposed materials (steel, concrete and wood shows their natural elements)
Cohesiveness with the surrounding environment
Preference for longer-lasting materials (such as steel beams, thick concrete walls)
Open floorplans are preferred
Hardware and components that utilize "permanence". (heavy-duty doorknobs, long lasting handles, bolts, etc.)
Low profile and seamless blend
All of these elements and components have several things in common. Permanence is favored over temporary. Strength is highlighted and magnified.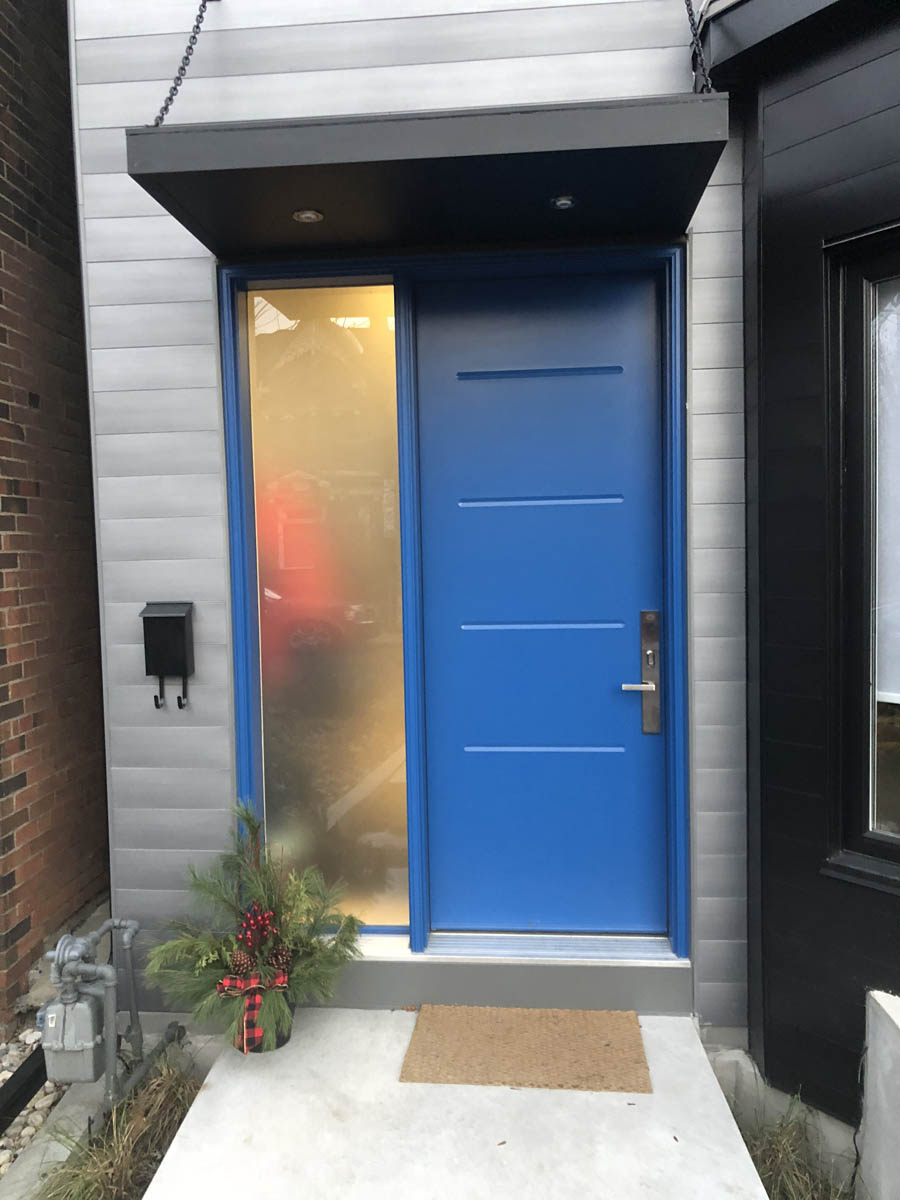 A bold blue entry door contrasting with the natural colors of a modern home
Modernist homes tend to include many of these elements. They allow the home to stand out from the crowd of today's lower-quality built tract homes that focus on the speed of build, which dominate many of the cities in Canada and the USA today.
Modern Architectural Styles of Today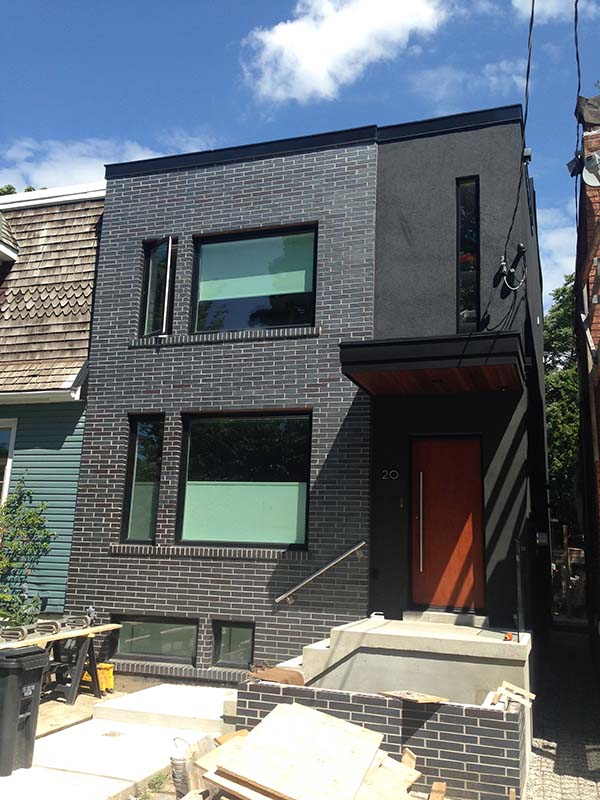 A modernist townhouse in Toronto Canada
The definition and minor components of modern architecture have shifted over the years. Art Deco of the 1930s was at one time, considered modern, due to its use of new concrete and steel components, with an artistic flair. But the style, as an art, became somewhat classical.
And yet, the furnishings and home styles that make up much of what we call "mid-century modern" are back in vogue now, from the 1950s and 1960s, after several decades of being seen as "dated".
In recent decades, the use of industrial elements, like heavy-duty metal hardware, and over-engineered looks, applied to residential homes, have proliferated the modern architecture industry.
The 2020s will be dominated by a mixture of natural organic components (natural wood tones), together with a continued popularity of bold colors on certain components like entry doors and garage doors. Together with stained concrete, and various steel colors (but not too much, like in the "industrial" craze), these elements will likely make the bulk of modern architecture for the next decade.
What is So Special About Entry Doors?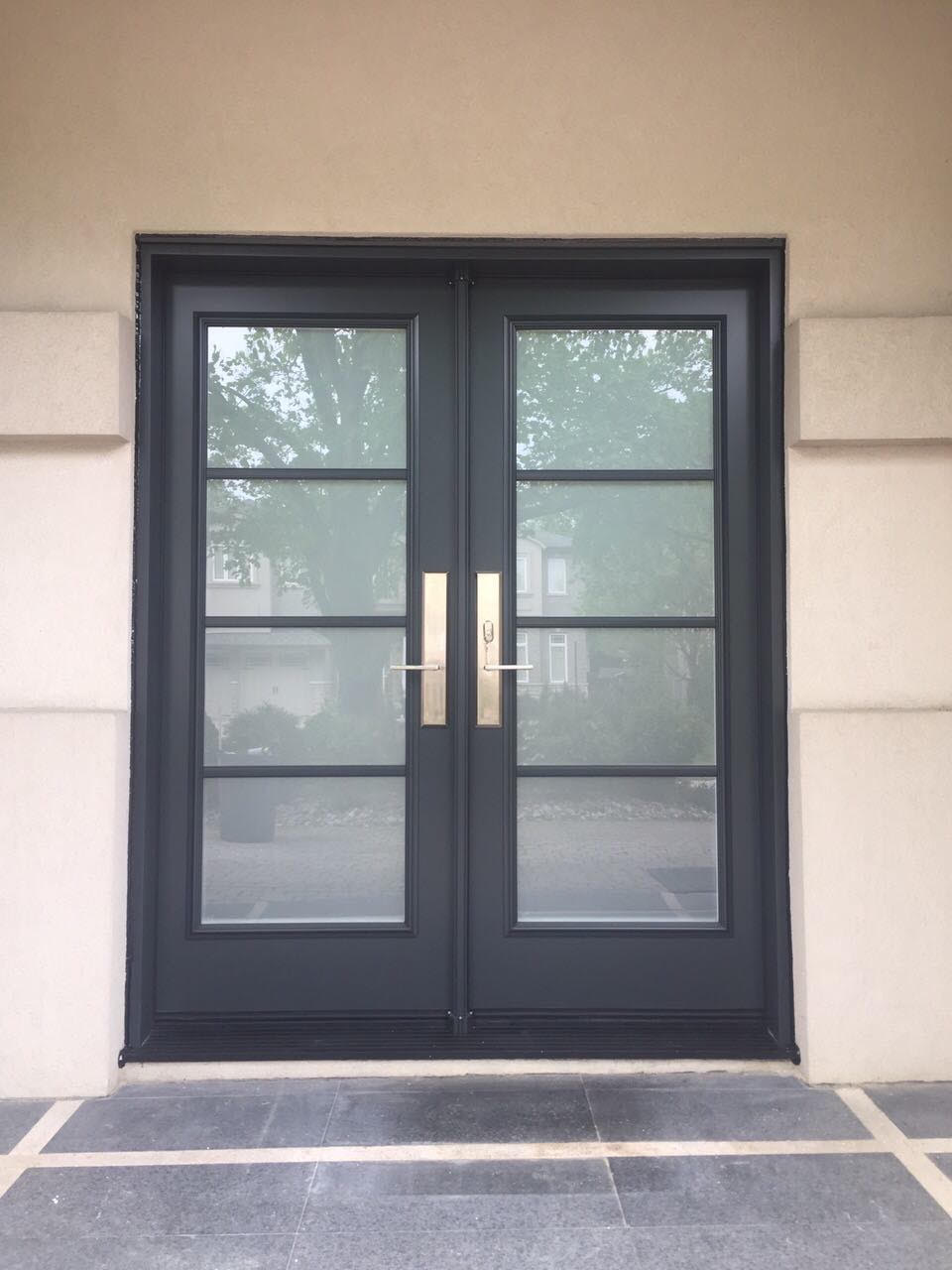 French doors modern-style
Entry doors are notably the most focal and visible part of a home's exterior. And rightfully so. It is the one place where it's residents and guests enter. It completes the design, and makes the house look like a home.
Doors that add to a modern look, will continue to use complimentary colors, and use straight lines. The use of multiple windows with custom sizes and shapes, and avoiding unnecessary artwork, all make for a modern look.
Your home may be plain as day, but the entry door has the power to turn the entire home into a forward-looking progressive modernist estate,.
Entry Door Materials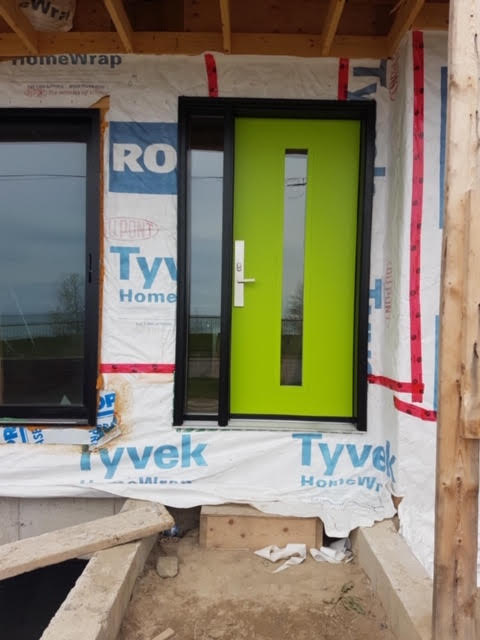 Using a contrasting color on a steel door in a new build
Most modern entry doors will be made up of either steel, or fiberglass.
Steel doors are constructed of a steel skin, wrapped around a foam-based core. It uses the insulating factors of solid foam insulation, with the strength of steel on the exterior. Steel doors are typically more strong, and provide an element of safety and security, than other door materials. Major impacts can possibly dent or scar the door surface.
Modern-design steel doors usually have a smooth painted surface, with little-to-no stenciled artwork. Often they have multiple rectangular windows, to add natural light.
Fiberglass doors are constructed of a fiberglass skin, wrapped around a foam-based core like a steel door. The fiberglass itself adds additional air-tight insulation, to make an ultra high-efficiency door. While they may be susceptible to cracking if it has a major impact, these doors can typically last generations. If you are going for low carbon-footprint, fiberglass doors may be for you.
While fiberglass doors often are made with artificial wood-grain texture, if you are going for a modern look, you will want to stick with smooth surface fiberglass doors. In addition, choosing doors that let natural light in through windows, is your best choice.
Hardware: Hinges, knockers, knobs and locks will continue to be a focal point of the doors, utilizing squared-off edges, simple and clean, and heavy-duty chrome and steel look.
Entry Door Types
Double doors, french doors, extra wide doors, storm door combos, standard entry doors. There are many types of entry doors on the market. Delco Windows and Doors, a door installer in Toronto Canada, mentions that any vendor you choos for installing a door, should be able to custom manufacture the door to your desired size.
Modern doors can use either a standard size opening, or even custom. For a bold look, consider a wider jamb, and adding a side panel to your door. This is called a sidelight. That added custom look may be well worth the investment.
Custom Entry Door Styles
In addition to adding a sidelight, you may also consider a sidelight door, which is an narrow door that opens along with the other door, just like a french door.
Door windows are a popular trend in modern design. One large round window opening. Or several rectangular windows. Often, these windows will be frosted, to add privacy.
As for colors, consider choosing bold and bright colors to contrast with a darker steel home. Bright blues, greens, reds and yellows have often been an eye catcher, but may be a bit too much, if the rest of your house does not integrate modern design elements.
If you are going to use a wood door, your door should be free of artwork, and be simple and smooth as possible. Consider adding a chrome kickplate to the bottom half. It protects the wood door against rain upsplash, and makes for a nice look. Lastly, with modern-style wood doors, if you want to retain the wood color or grain look, use a bold stain that brightens the door, and brings out the best of the natural colors
But overall, most modern-architecture uses steel and fiberglass doors, with smooth surfaces. Your knobs, handsets, and locks should be large, and "built-to-last". Sticking with a contrasting colored-door, with chrome/stainless steel theme is the best way to creat a modern look on most doors.
Picking the Right Entry Door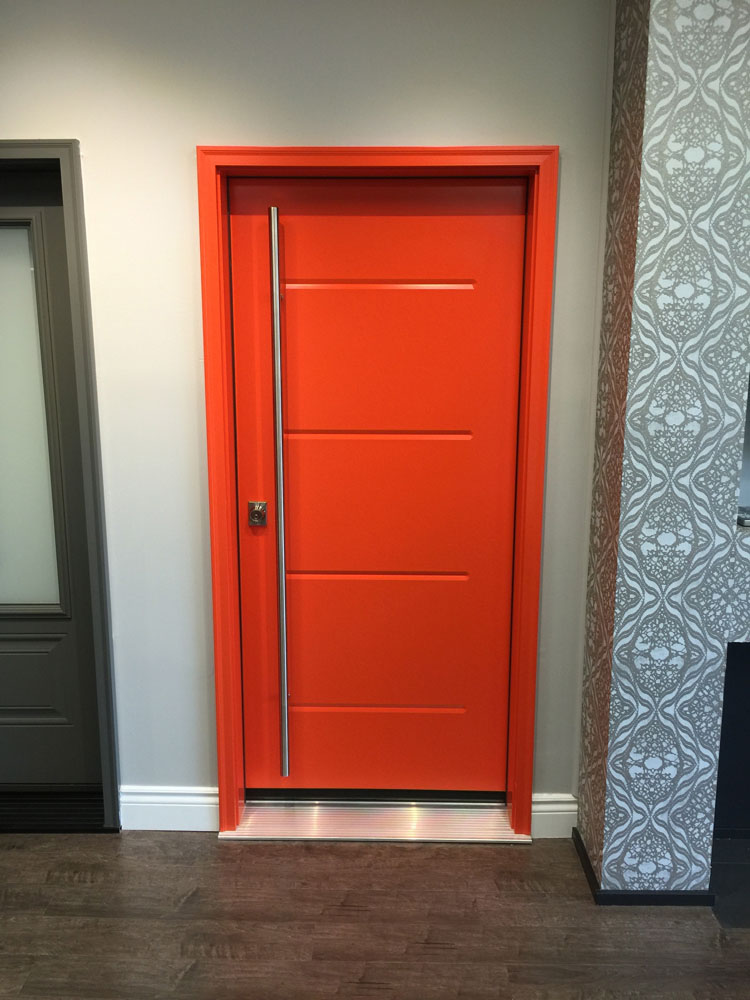 Bold red colors with streamlined handle in an interior entry door
If you are doing a new build, and are already designing a home with modernist elements, picking an entry door should be fairly simple.
But for most people who want to give a modern upgrade to their existing home, choosing the right door is essential. If your home was not originally designed in this modern fashion, consider giving your home some minor modern highlights, like new windows, updated landscaping, and modern light fixtures and address labels. The use of steel, chrome, concrete, and highlighted wood in certain exterior elements will go a long way.
Then; . . . you are ready for your door. Choose a door that has a smooth surface, and with a good color you think will draw attention to the house's new design. Favor frosted door windows to add natural lighting, and finally pick the right modern hardware to complement the door.
Choosing the Right Entry Door Installer
Often, the entire process begins with your door installer. Choose an door installer that has been in business for many years (10+ years at least), offers customizations, and can handle the entire process from choice, to installation to service. Homestars is a good resource for looking at reviews of door installers. The example of Delco, from earlier, shows that they specialize in modern door installation, and have hundreds of positive reviews. https://homestars.com/companies/2807848-delco-windows-and-doors-inc
Look for installers like these.
Best Modern Entry Doors
Here are some of the best examples of modern doors we've found installed on already existing homes.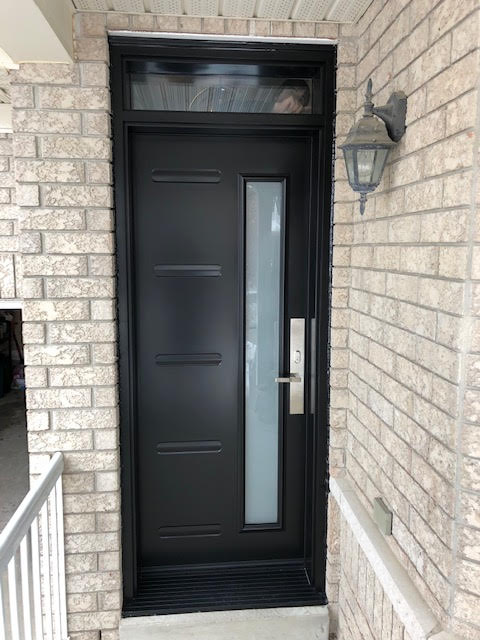 Simple yet modern, narrow-width entry door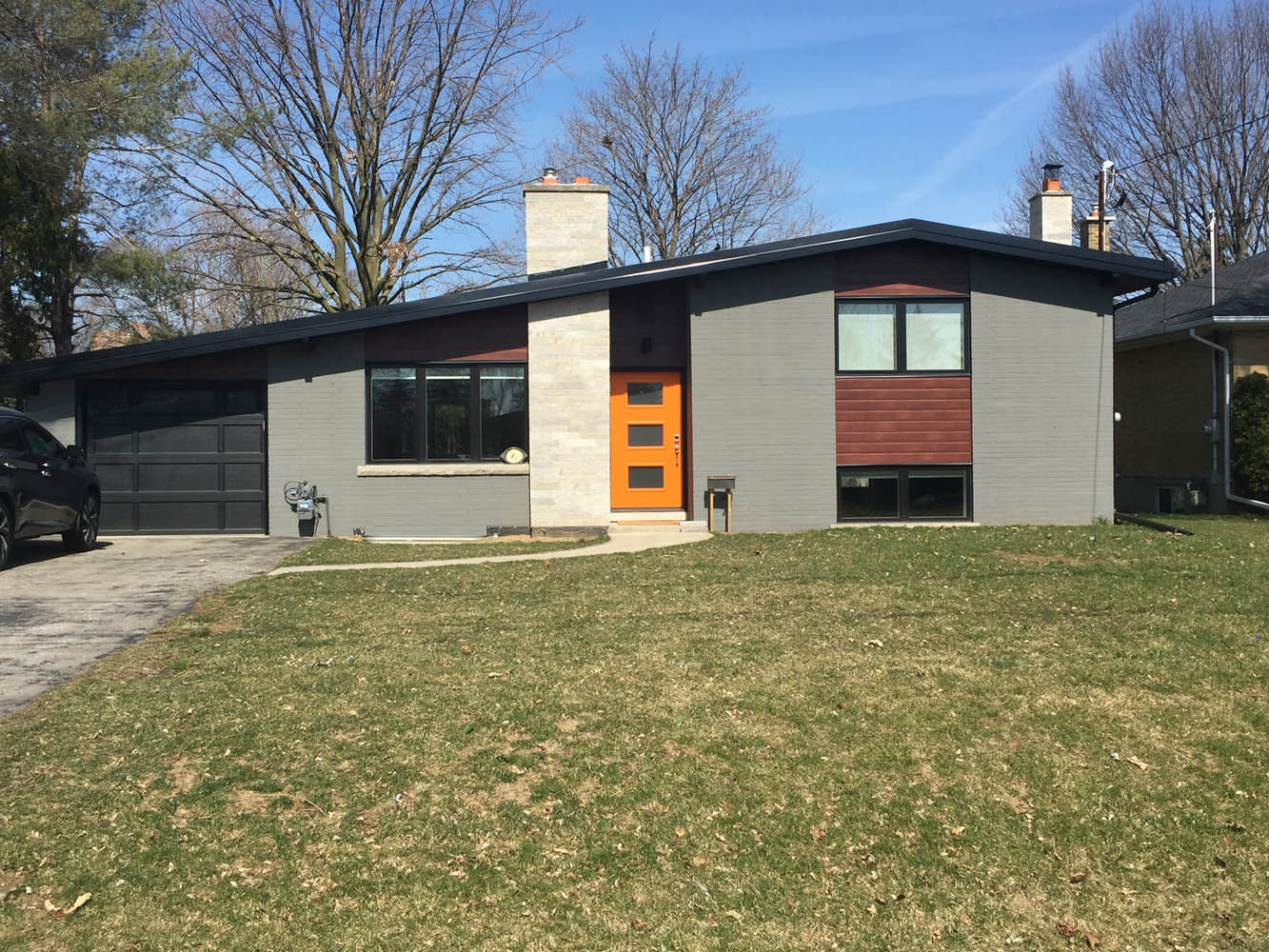 Taking a 1960s era home and giving it a modern look. The focal point is the entry door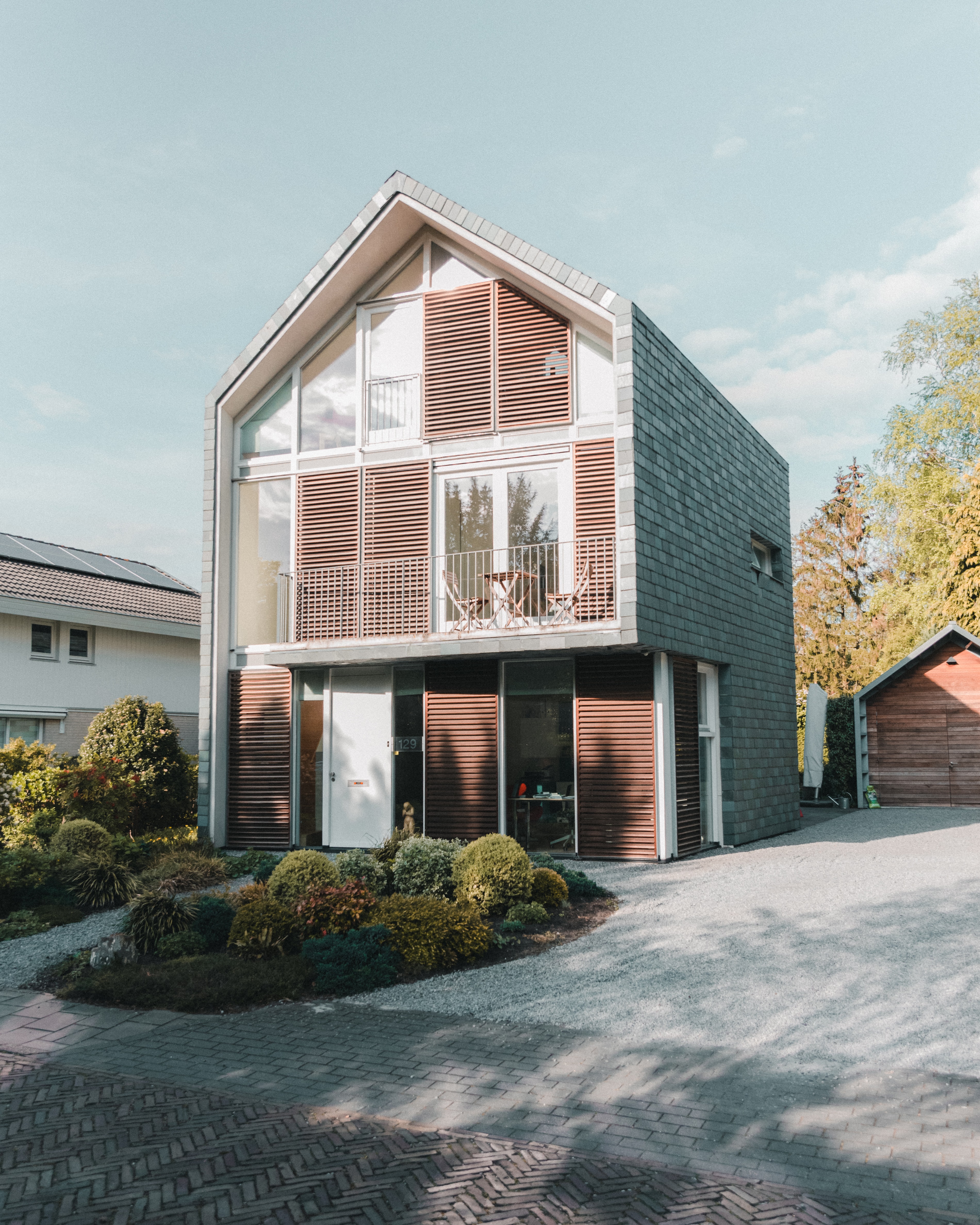 Modernist style, with industrial light-colored entry-door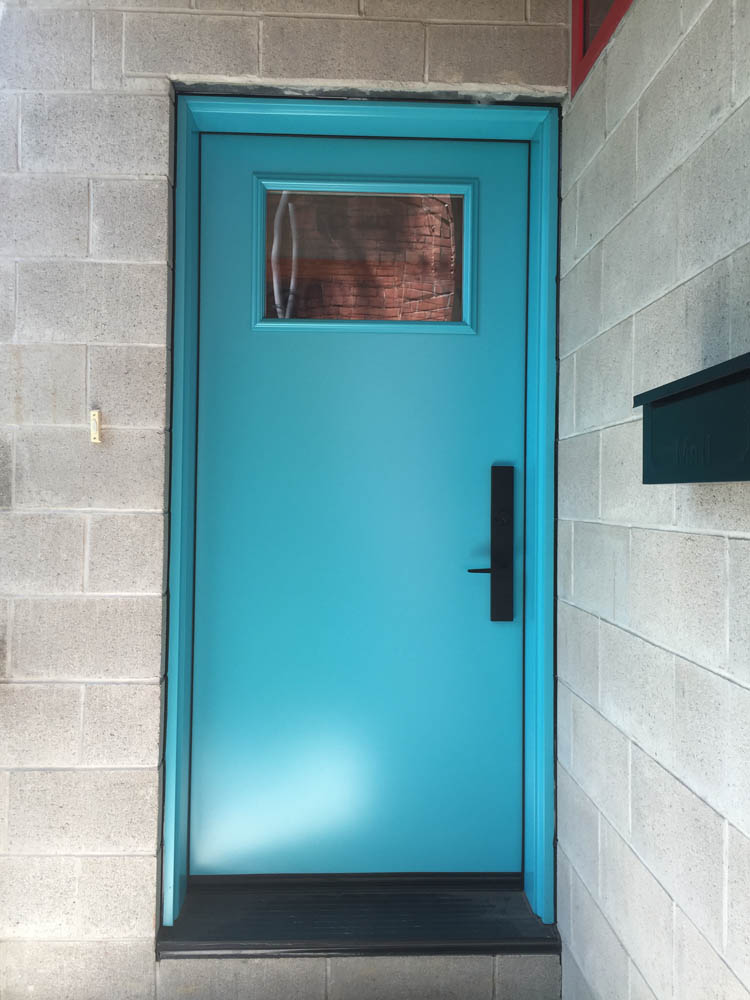 Teal color on doors is hot and in with modern styles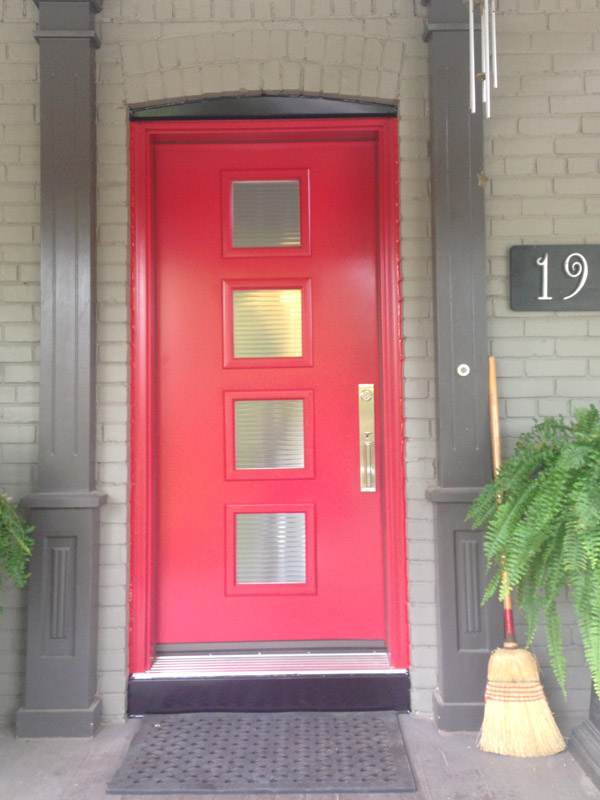 Bold and red, with lots of natural light
Overall, installing a modern-looking entry door will be the single greatest factor in transforming a home into a modern masterpiece.
----------------------
Mikey Katz writes about modern home architecture and energy efficient home design in the USA and Canada.
----------------------