Vinyl or Aluminum Sliding Doors- Choose The Better One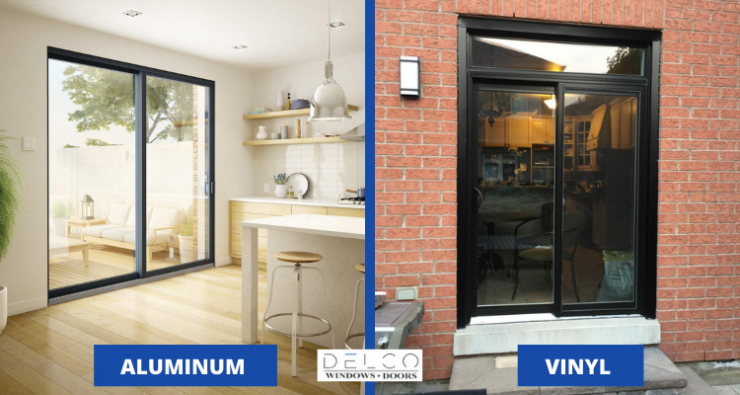 Choosing between vinyl sliding doors and aluminum sliding doors can be a challenge. Whether you are doing a kitchen and living room remodel, or updating your backyard, patio and porch, a sliding door can be the capstone of the entire project. Which is better vinyl or aluminum sliding doors?
There are benefits and disadvantages of each sliding door, depending on your architectural, installation budget and energy needs.
When it comes to patios, porches and your backyard, a sliding door can make the difference, by making a house look complete. It has the power to turn your back and side yard into an extension of your home. This is especially true with master bedroom and master suite remodels and additions. Whether you want to create an indoor-outdoor feel or simply make your porch a seamless transition to the outdoors, sliding doors can accomplish this.
What Is A Sliding Door?
Sliding doors differ from other types of doors in the way they open. By being placed inside a track, with built-in rollers, and having a solid stable horizontal gliding mechanism, sliding doors have the benefit of saving space through the opening area, as well as less noise when opening. In addition, the added glass surface area can create the feeling of being outdoors, as well as making your home welcoming for backyard parties, bbq's and entertaining. With the trend of having window walls, and more glass, (driven by innovations in energy efficient windows), the standard for natural light through window space in homes has increased significantly. Patio sliding doors help you create that feel and space. They add lots of natural light, and plenty of views.
In addition, sliding doors tend to be more energy efficient, stronger for accidental leanings and pressure, and more solid compared with french patio doors. This is because of the elimination of hinges and door openings and seals. The door slides on a nearly air-tight track, and perfectly closes in position anytime you need it.
The one disadvantage of sliding doors over french doors is that they have a smaller opening. While french doors can both open up for a wide opening, in case of needing to move wide furniture, or simply opening up the doorway when desired, a sliding door only opens half of the patio door opening. But this disadvantage is overshadowed by the benefit of creating additional space by not having to have cleared space for doors to swing open.
What Kinds Of Sliding Doors Are Available?
If you are considering installing a sliding door, you'll need to be aware of the materials they are made from. Most sliding doors are made from either vinyl framing or aluminum framing. When we refer to vinyl sliding doors or aluminum sliding doors, we are referring to the actual frame and hanging material; . . . not the glass surface, which is made of actual glass. The frame material makes a big difference in elements of energy efficiency, noise, durability and customization.
1. About Vinyl Sliding Doors
Vinyl sliding doors use the same frame material that vinyl windows use. Both the track that door is hung in, and the frame holding the glass panes, are made of vinyl. Vinyl is like a solid plastic resin material that has some semi-flexible structure, yet rigid enough to hold in the glass and components. The benefits of vinyl are the high efficiency energy savings and a new feel.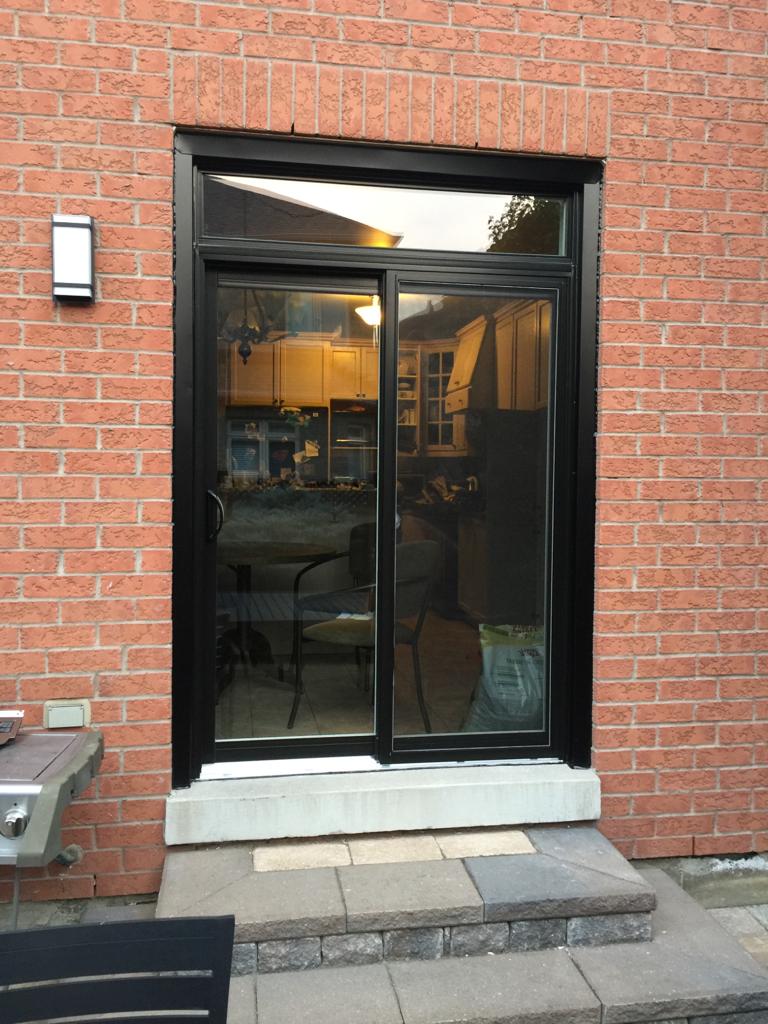 Vinyl material is less conductive than metallic materials. It holds the ambient temperature, rather than metal which tends to transfer temperature from the outside to the inside. Even if the temperature is very cold outside, vinyl will be less cold to the touch. Typically, vinyl comes in white as a standard colour, however windows and door installation companies can offer custom colour vinyl like black.
They do not mold, decay or rust. However, gouges, or black marks, are the most common damages that can occur, especially when moving and bumping heavy items against the frame when moving in and out of a house.
2. About Aluminum Sliding Doors
Aluminum framed doors use thin moulded aluminum material wrapped around insulation material like plastic spacers and rigid foam. You may associate aluminum doors with older cold and drafty door frames built in homes throughout the 1960s-1990s. However, today's aluminum windows and doors are not like yesterday's. They are highly advanced and insulated; meaning energy efficient. The aluminum framing can be long-lasting and provide decades of solid use.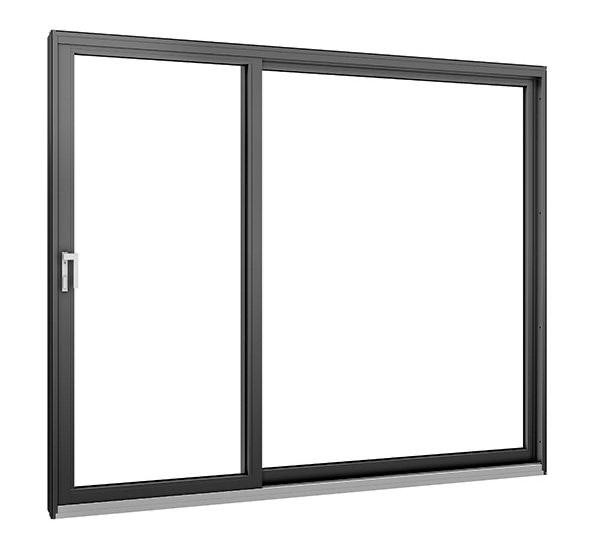 While aluminum sliding doors do not decay, mold or rust, they can potentially dent, if there is a strong enough impact. However, aluminum doors tend to be stronger, and put up with wind better.
Aluminum sliding doors tend to be heavier than vinyl, because of their material and need for added components. Also, they can be just as difficult as vinyl to adjust the size after ordering. So, typically, the only post-order size adjustment is trimming the flange around the outside. They can also scratch easily, leaving the potential need for painting and maintenance down the road. And lastly, if the screws, spacers, and brackets are made of non-aluminum metals (found in cheaper aluminum doors), they can react with the aluminum and cause some decay.
Which Is Better? Vinyl Or Aluminum Sliding Doors
Vinyl vs aluminum sliding patio doors can make a hard decision. While vinyl has been the replacement door standard for the past 20 years, replacing older wood and aluminum doors, the newest generation of aluminum sliding doors have advanced construction that eliminates some of their issues from years past.
With a thick frame, and a wider track, aluminum sliding doors closer match the thickness of a wall, giving you home a more permanent and structural appearance to the door, making it look "part of the wall". This is a nice architectural feature of aluminum doors.
If you have a more standard suburban home, or want to give it an updated look, vinyl doors will give you that clean look of a new home. If, however, you have an ultra-modern home, custom home, or utilize minimalist and industrial elements, the latest aluminum sliding doors are essential. They have a metallic look that provides a feel of solid design, and have a distinguishing look compared to the more common and standard white vinyl sliding door.
Both are highly energy efficient. They reduce heat and cold loss through the advanced frame construction. Both are now designed for quieter sounds during sliding.
Overall, If you have a strict budget and are looking for lower cost, standard sized vinyl sliding doors will save you money. If you are looking for custom doors, or floor-to-ceiling sliding window walls, choose the latest generation aluminum doors, for their higher-end look, thick framing, and solid long lasting feel.
------------
About the Author
Delco Windows and Doors has been serving Toronto Canada since 1989, with door and window replacement and installation. Helping make homes throughout the GTA more energy efficient with an upgraded style.