3 Canadian Window Replacement Rebates for Toronto Homeowners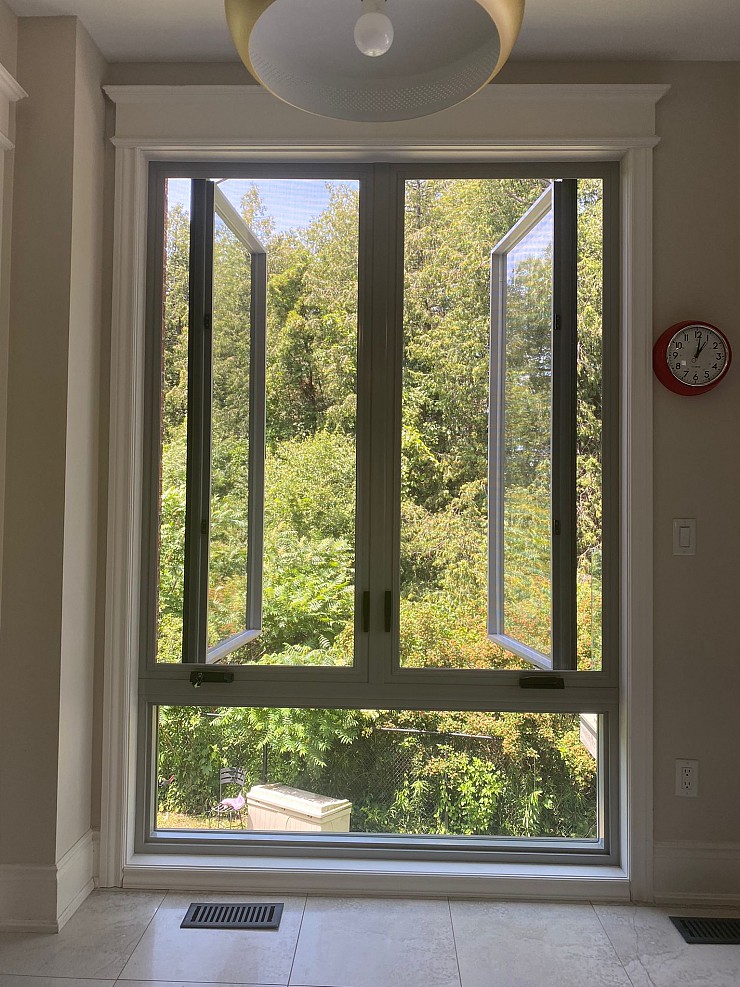 We all know the benefits of window replacement. Whether it is giving your home an updated look, reduced sound, creating a more comfortable warm environment, reduced fading from UV rays, new windows can accomplish all of that. But likely, the biggest benefit is having lower energy bills. Old windows are often inefficient because they have outdated and missing insulating elements, and perhaps cracked seals. New windows have the latest in window technology. If your current windows were installed prior to the year 2000, replacing your windows will have a high payback through power bill savings. Up to 30% of heat and cooling loss can come from inefficient windows.
And the government recognizes this. Not only is there a value for homeowners' power bills, but also environmental benefits like reducing carbon footprint and combating climate change can occur.
Canada's federal and provincial governments are aggressively incentivising homeowners throughout the country to replace their windows with the latest technology. It will benefit Canada as a whole, along with every single homeowner who takes advantage of it.
Rebates, loans and grants
There are fundamental differences between rebates, loans and grants.
Rebates are essentially cash back, after you have purchased and installed replacement windows. They work somewhat like a tax credit. They have documentation requirements and there can sometimes be a long waiting period to receive approval and the money. You turn in your receipts/invoices/proofs-of-purchase from both products (windows) and services (installation) and they can pay later as a reward for doing the project. It is designed to help offset the total costs a homeowner puts out to make their home more energy efficient. This article primarily focuses on available rebates but some grants and loans as well.
Loans are money lent to homeowners doing remodeling that must be paid back, often with an interest rate. Because government incentive loans are designed to encourage use for a greater cause (making homes, a city, or the country of Canada more energy efficient) they often have very low interest rates; subsidized by the government. In most cases the loan comes from a funded program directly. Other times it is administered through private banks, but overseen by a government program.
Grants are similar to rebates. They don't have to be repaid. It is essentially free money to upgrade your home and windows. They have the added benefit over rebates of potentially paying out before you do your project, making your window replacements with possibly no or little up-front costs.
Why do agencies offer rebates?
Rebates work like an incentive. Government agencies are always looking for ways to bring public benefit and show results to justify their existence. And if a program works, by helping reduce carbon emissions, or lowering pollution, or making homes more comfortable yet energy-efficient, it could potentially grow. And in today's society, there is a growing concern for implementing initiatives and programs that combat climate change, at all levels, national, provincial and local.
Rebates are likely the closest way over grants and loans of ensuring that money was actually spent on the task at hand; energy efficient window replacement. Because they require proof of purchase, after the job typically, it has better accountability with tax-supported agencies.
How Rebates Work?
Homeowners should first read up on the requirements. Some rebates require an application before using. Requirements might include: an energy audit of your home, and proof that your current windows are outdated enough. And the new windows must be approved windows, like EnergyStar vinyl replacement windows. Either way, after approval, and after a window replacement job, a homeowner will gather up all applicable invoices, purchase recipes, and contracts showing proof of installation, and send them into the appropriate agency. After a waiting period, either money in the form of a mailed cheque or direct deposit cheque will be sent.
Federal Window Replacement rebates
First and foremost, the Canada Greener Homes Grant can provide over $10,000 to upgrade your windows and doors in your home. It hase certain requirements, including it must be an owner-occupied primary residence. Learn more with the link above.
On the federal Canadian government level, there is one primary program homeowners should look into for replacement window incentives. The Canada Greener Homes grant program works like a hybrid of grants and rebates. It offers up to $5,000 in incentives to help homeowners make their home more energy efficient, like installing high efficiency replacement windows. It starts with signing up first, including banking information and about your house. If approved, as the progress of your window installation continues, you can upload invoices and receive rebates up to that amount.
In addition to the grant for retrofits, there is an additional $600 to help cover the cost of an EnerGuide home energy audit. This is a branded federal program, in which a trained professional can evaluate your house and help make a strategic plan for how to best make your home energy efficient.
To take advantage of both of these federal incentives, visit: https://www.nrcan.gc.ca/energy-efficiency/homes/canada-greener-homes-grant/23441
Ontario Window Replacement Rebates
The province of Ontario used to offer two programs, both The Green Ontario Fund and the Home Energy Conservation Incentive program. Both were popular, and used up the funds early, and have concluded as of the time of this writing. But stay in-the-know with updates from the Ontario provincial government for possible renewal or new homeowner energy conservation programs. Other provinces like Manitoba, Alberta, British Columbia, Quebec and others may offer incentives to homes there.
Toronto Home Energy Loan Program
The Toronto city government offers residents a special loan program to help retrofit their home to be more energy efficient and save on their power bills. This can include many elements from energy efficient replacement windows, to furnace replacement to even electric vehicle charging stations. This is a loan program, meaning it has to be repaid, and at a nominal interest rate of 2%.
It starts with an application on their website at: https://www.toronto.ca/services-payments/water-environment/environmental-grants-incentives/home-energy-loan-program-help/
Followed by an EnerGuide energy assessment and report. Once completed, a request for funding can be made, along with signing any documentation and following the program requirements. This special program has the convenience of allowing homeowners to pay back the loan through their property tax bill as well.
Finding the Right Window Companies Toronto has for Rebates
Searching for window companies Toronto and other nearby GTA cities, can be overwhelming. Not every window company in Toronto has the know-how and expertice to help homeowners navigate the many rebates and government programs. Start with selecting companies that have been doing window installation for over 20 years. Also, they should have their own in-house installers, rather than outsourcing. These "best in" window companies Toronto has, are most able to help you with applications and requirements for programs.
Questions and answers about window replacement rebates
How long does it take to get approved for a rebate?
Every program varies, but typically if the submission of receipts is through the internet, it could be in as little as two weeks to receive rebate money. Some window manufacturers may offer their own rebates. Manufacturer rebates typically pay out in 4-6 weeks with a mailed cheque.
What types of windows qualify?
EnergyStar windows are the standard now for the minimum required rating for energy efficiency. In southern Canada for a window to be rated as EnergyStar, it must have an energy rating (ER) of 25. This is a number that reflects the U-factor, air leakage and the Solar Heat Gain Coefficient. The higher the ER, the more efficient it is. More northerly and colder zones in Canada require even higher ER numbers. This all may seem confusing, so the main element to look for is EnergyStar. The window you are installing earned the EnergyStar label.
These ratings and the approved vendors are administered through Natural Resources Canada (NRCan).
Can I pay someone to apply for me?
Typically, most of the rebate programs now require homeowners to apply on the program website directly, rather than through a vendor. This keeps higher accountability, and reduces the likelihood for high-pressured sales tactics.
What if I signed a window installation agreement, but later I don't get the rebate?
First apply for the rebate, grant or loan, to see what you can qualify for. While you can apply after-the-fact, there is no guarantee of funding availability.
Is there a limit to the rebate amount I can receive?
Yes, for the Federal program, bundling of up to $5,000 in rebates are available, depending on the project. For the Toronto city loan program, there is a limit of $20,000 for the entire home retrofit.
Will these funds be ending soon?
The Ontario provincial program has already ended. There is no word yet on a renewal. This is an example of why homeowners should apply to other rebates and loans as soon as possible, before the allocated funds run out.
If I get one incentive, am I still able to get another incentive?
On paper, the Federal program assumes you are not having any other rebates or grants. If you use the Federal rebate, you can still utilize the Toronto loan program for the difference, depending on the project timeline and scope. If new provincial or city-level rebates become available, it is best to check the fine print and program details to see if the use of one rebate does not allow the use of another. Many government programs try to limit "doubling-up".
Are there municipal-level rebates from the city of Toronto or other GTA cities?
At this time, just the loan program is available, and only to homes located within the Toronto city limits. As for cities like Mississauga, Vaughan, Burlington and others, check your local city government website for possible energy efficiency financial incentive programs.
Take advantage of these government incentives to not only make your home more energy efficient, but save substantially on the out-of-pocket costs. Retrofitting your home with energy efficient replacement windows is not only smart, but more affordable than ever.
------------
About the Author
Delco Windows and Doors has been serving Toronto Canada since 1989, with door and window replacement and installation. Helping make homes throughout the GTA more energy efficient with an upgraded style.