How Much Does It Cost to Replace Double Pane Window?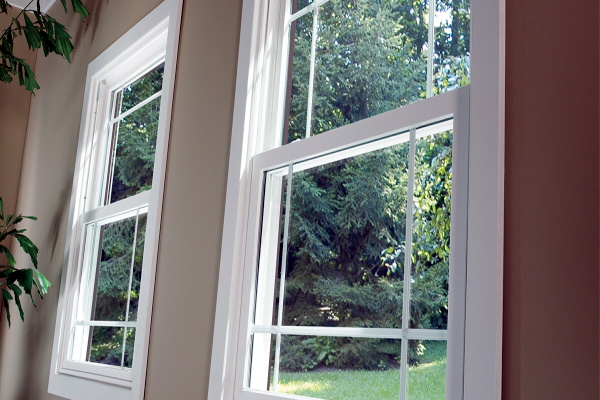 What is a Double Pane Window?
Throughout history, windows were constructed with a single sheet of glass, called a pane. While glass has been made for over 3,500 years, double pane windows are more recent. Using two sheets of glass to separate interior and exterior is more recent within the past couple of hundred years (although some evidence for glass windows can go back to as far as the first century). And at that, windows have always been a single pane. Double pane windows are a much more recent invention. Starting in 1913, and later in the 1930s, with sashes, proper fillers, and insulation, double pane windows became a product that offered substantial energy efficiency benefits over single-pane windows. The vacuum between the panes reduces energy transfer. The extra layer creates a barrier that keeps a better separation, almost twice as much, than a single pane.
And with even further recent advancements, like gas-filled, and triple-pane, the benefits have made a revolution in the energy efficiency of homes. Older homes built before the 1950s likely have only single-pane windows as their standard construction. Yet, even older double pane windows likely have broken seals and outdated materials that cause high energy transfer. Sometimes, it's even worth replacing old double pane windows with single-pane windows.
Cost to Replace Double Pane Window
The cost of a small new single pane window is about $60-$80. This does not include installation costs, which typically are two to three times the price of the window. Yet, double pane windows, with nearly double the energy efficiency, are only slightly more money, yet have long-term residual energy savings.
With the advancement in manufacturing techniques, double pane windows are now the standard for nearly all replacement windows. They use vinyl framing, with mid-grade spacers, seals, and glazing techniques. High-efficiency windows, with special films, gasses, and sizes can be substantially more.
Costs of Replacement Window Installation
You might be asking, how much does a double pane window cost to replace? Replacing an old window is mainly two parts. The window itself, and the installation costs. But there are also other minor costs involved in getting a new window.
Installation costs, which include removing the trim, removing and hauling away the old window, as well as transportation of the new window, insulation, and possible modifications to the window opening can all add up to a substantial cost. Plan on the installation costs being much more than the cost of the window itself.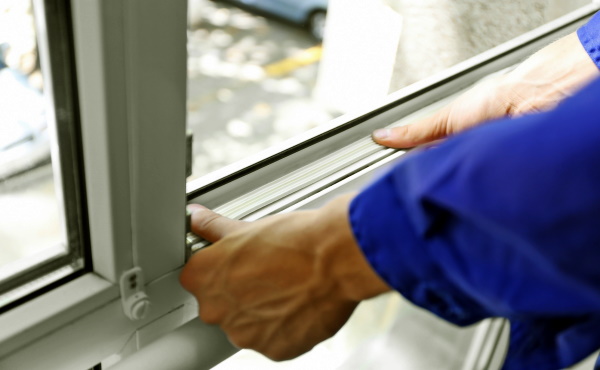 Since the majority of the costs of replacement windows are in the installation costs, it is far worth it to always choose a double pane window over a single pane window.
Sample Replacement Costs
How much do double pane windows cost to replace? There are multiple parts to doing a replacement window job. Some of this includes repairing and cleaning up the sill and window trim after the job. For a large living room window, here are some sample costs:
Double pane window - $250

Basic Installation & minor modifications - $700

Materials and repairs after installation - $100

Permits - $100

Total: $1,150
While there can be a varying price range depending on the replacement window installer, and the age of the home, this is a good anchor to work with.
What is the Difference Between a Double Pane Window and Double Hung Window?
Homeowners, when searching for replacement windows, often get confused by the terms double pane window and double-hung windows. They are vastly different in function and term. A double-pane window refers to the glazing, meaning the number of sheets of glass. Two panes of glass, with a sealed gap between the two, make a double pane window.
Double-hung windows refer to an operable (sliding up and down) window that opens on both ends. The sections that slide up and down are called sashes. The top sash slides down but can lock in place when pushed all the way up. The bottom sash can also slide up to open but can lock in place as well. There are benefits to this function including added ventilation, and security from intruders.
Some homeowners want to know how much double hung replacement windows cost? You must first consider it an upgrade if you are swapping out a fixed window with a double-hung replacement window. This adds value to your home, as they are more desirable. The factor is that a double-hung window will likely cost 20-30% more than a standard sliding or fixed window. Homeowners can certainly get a double-hung window that is also double pane glass in each sash. This is a win-win.
For this article, we are focused on the glazing (number of sheets of glass in a window) however.

Double Pane Window vs Triple Pane Window
Recent developments have led to even triple-pane windows, with three sheets of glass and two vacuum gaps between them. While there are additional energy efficiency benefits of a triple pane window, research has shown that it is ideal for high-end projects with ultra-high-efficiency window installation as the priority over budget. Since double pane windows are now very common, if you are on a budget, sticking with new mid-grade double-pane windows will give you good energy efficiency (although not the highest), with considerable savings in money.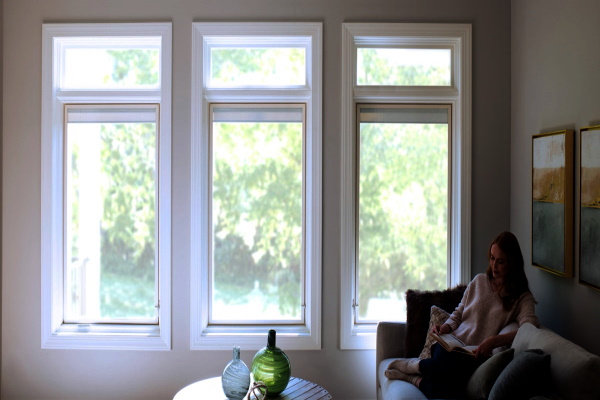 You can read all about the benefits of triple pane windows here.
Benefits of Replacement Windows
A U.S. Department of Energy report shows that swapping out old windows with energy-efficient double-pane windows can lead to a power bill savings averaging $27-$111 per year, per window. With all the windows in a home, those savings could add up.
In addition to power bill savings, there are also benefits of sound reduction, looks, and style that come into play. If you are upgrading your home to a more modern look, replacing your old windows with double-pane windows throughout can have a large benefit in resale value.

Essentials for DIY Window Replacement
Some homeowners who are experienced with construction, and have the proper tools, experience, and skills, could potentially save money on the window installation costs. They would still need to pay money for some materials like flashing and possibly new window trim and paint.
However, if you have not had experience replacing windows before, it is not recommended. Small mistakes, or encountering issues with the opening fit, which is common in window replacements, could end up costing you a lot of extra money of being stuck with an uncovered opening. In addition, you would have to quickly find a trained professional to make up for the mistakes, which can be a long waiting list in today's understaffed market.
We recommend leaving it up to the professionals to get the job done right.
One company, Delco Windows and Doors in Toronto Canada, mentioned that much of their jobs come from homeowners who attempted to do-it-themself, and then encountered a problem halfway through the job and gave up. They often have to go back and correct mistakes like overcuts or wrong window sizes, just to make the project work correctly. In the end, there were no savings and the customer wished they would have simply hired them in the first place.
Using a Window Replacement Contractor for Installing Double Pane Windows
It is highly recommended to hire a window replacement contractor for installing windows. They can measure, and do all the ordering, delivery, installation, hauling, permits, and cleanup. Knowing that your project is under warranty, and if done right, will give you the peace of mind needed to enjoy the window.
Know that the standard process includes:
Measure and consultation

Selection of the new replacement window

Permit filing

Install day

Cleanup

Post-install service (fixes, repairs, warranty)
A contractor should follow these to make the most of your project, with the highest benefit to you, the homeowner.
5 Tips to Keep In Mind When Searching for Window Installers
When you are ready to start searching for window installers, here are some tips:
Look for window installation companies instead of single independent handymen. They offer the full service and warranty that one-man shops simply can't offer

Eliminate new companies. It's best to stick with a window installation company that has been in business for more than 10 years. More than 20 years is even better. They have likely encountered any issue that could happen. They will have the knowledge and experience to handle anything that comes their way. Windows have all kinds of hiding issues that can present problems if they are not experienced.

Stick with companies that focus on windows and doors. These elements are similar and require a focus to be done right. Avoid general construction companies, and handymen that "do everything". Window companies can get it done quickly and get it done right.

Reviews: Look for online reviews, testimonies, and references that are long enough to describe the client's experience with the company. How was the purchase process? How was the after-install care and warranty? Read as many as you can and pay special attention to detailed reviews that truly describe the experience.

Warranty: Stick with companies that warranty both the window and their service. Ideally, a company will warranty their service for at least 1-5 years, and the window will come with a full 1-year warranty, with a possible limited warranty of lifetime or transferable elements, on certain parts of the warranty. Those are the best
Window Replacement; Getting It Done Right
When it comes to window replacement, you want to get it done right the first time. Experienced window installers offer a wide selection of window options. Replacing all of your single pane windows with double pane windows, all at the same time will have the highest benefit. Instead of doing it in phases, which can be disruptive to your home and family (dust, setup, cleaning, noise), it is best to get them done altogether. Plus, the energy savings are highest when all of the windows are of the same standard. Otherwise, the energy will escape out of the other lower efficiency windows at a higher rate than before.
And sticking with well-known businesses that can get it done right the first time will give you assurance and trust. That is worth quite a lot.
Enjoying Your New Double Pane Window
Once you have replaced all of your old single-pane windows with double-pane windows, you can sit and enjoy the benefits:
Quieter living. Less sound intrusion from traffic and noises outside

Less UV damage. Many newer double pane windows come with UV protection, to reduce the deteriorating effects of sunlight on your furniture and interiors.

Lower power bills. Higher insulation and efficiency from the latest double pane window technology.

Modern feel. Have the latest looks with an upgraded home.

Higher resale value. Best of all, you can get back much of the costs with the added value in your home.
Overall, replacing your windows can lead to long-term benefits you can enjoy for years to come.
------------
About the Author
Delco Windows and Doors has been serving Toronto Canada since 1989, with door and window replacement and installation. Helping make homes throughout the GTA more energy efficient with an upgraded style.