A Guide to ER Ratings for Vinyl Windows: Are Vinyl Windows an Energy-Efficient Choice?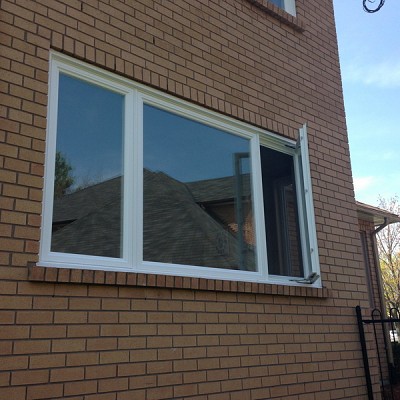 If you're in the market for new or replacement windows, you may have heard of ER ratings for vinyl windows. But what are these ratings, and why should they matter to a homeowner?
Energy efficiency is one of the most important considerations when choosing new or replacement windows. In this guide, we'll break down everything you need to know about ER ratings for vinyl windows and their impact on energy efficiency.
We'll also touch on Energy Star certification and provide some key tips for your best use of energy.
What is ER Rating?
ER Rating is a measure of the energy performance of windows. It stands for Energy Performance Rating. It takes into account factors such as solar radiation and heat gain or loss. Consumers can use ER ratings to compare different vinyl windows to determine which ones are most energy efficient.
Having a higher ER rating means that your window will have better insulation properties. This reduces the amount of air leakage and heat transfer inside your home - thus saving on annual heating and cooling costs.
Benefits of Vinyl Windows with High ER Ratings
High ER ratings for windows offer several benefits beyond just energy savings. From comfort to design and durability to eco-friendliness, there are many reasons why you should consider investing in high-quality vinyl windows.
01. Energy Efficiency and Cost Savings
When it comes to window energy efficiency, vinyl ones with high ER ratings are an excellent choice. According to the Department of Energy, efficient windows can help lower a homeowner's heating and cooling costs by up to 25%.
By reducing heat loss in colder climates or limiting solar heat gain in hotter regions - using low-E glass coatings, you could save money on your monthly utility bills. Plus, choosing Energy Star-certified vinyl windows may qualify you for tax credits or rebates that offer even greater savings.
02. Comfort and Indoor Climate Control
By limiting heat gain or loss, high ER-rated vinyl windows can help improve indoor comfort levels. Compared to single-pane windows, double-glazed tempered glass with a low-E coating is effective in reducing air leakage. That typically causes agitating drafts.
The window panes' design also affects how well they insulate against noise disturbance. This improves considerably when installed the right way. The balance of light and tint as per local climate zones helps optimize comfort through natural lighting while mitigating visible radiation within homes.
03. Durability and Longevity
Vinyl windows with high ER ratings aren't just energy-efficient: they're also durable. The vinyl material used in these windows is known to be highly resistant to wear and tear caused by sunlight or extreme temperatures.
This makes vinyl a popular choice for homeowners who want long-lasting window solutions that are easy to maintain.
04. Maintenance and Ease of Cleaning
Vinyl windows require little maintenance beyond occasional cleaning. Unlike wood or aluminum frames that can rot, chip, warp, or corrode over time due to exposure, vinyl is known for its easy-to-maintain nature.
This means homeowners don't have to worry about painting or caulking. It makes them simpler and less expensive in terms of upkeep costs.
05. Design and Aesthetic Options
One of the great things about vinyl windows with high ER ratings is that they come in a range of styles and colors to suit any homeowner's design preferences.
They can also be customized to match your unique home's exterior or interior decor. Plus, modern vinyl designs offer slim profile frames for better visibility in areas such as picture or bay window arrangements.
06. Noise Reduction Properties
Vinyl windows with high ER ratings can have excellent noise reduction properties. According to a study by the Efficient Windows Collaborative, sound transmission is reduced by up to 30% with these types of windows when compared to standard double-pane glass.
This can be beneficial if you live in a busy area that has high levels of traffic or other outdoor sounds that disturb your indoor peace and quiet.
07. Eco-Friendliness and Sustainability
Vinyl windows with high ER ratings boast eco-friendly benefits as well. Vinyl is a recyclable material that can be repurposed into new products at the end of its lifecycle. This makes it a more sustainable option than non-recyclable materials like aluminum or wood.
Also, these energy-efficient windows help reduce energy consumption and your carbon footprint while keeping your home comfortable in all seasons.
Factors Affecting ER Ratings for Vinyl Windows
Understanding ER ratings is just one aspect to consider when you're thinking about replacing your windows with new ones. To truly make an informed decision and optimize energy efficiency in your home, you need to consider various factors that affect these ratings.
01. U-Factor and Its Impact
U-Factor measures the rate of heat loss through a window. The lower the U-factor rating, the less heat will be lost through windows. To qualify for Energy Star® certification in Canada, a window must have an ER rating of 25 or higher and a U-factor of 1.4 or lower.
A great example: ecoEnergy's retrofit program by Natural Resources Canada provides massive incentives to homeowners upgrading their windows as long as they have an insulation R-value no less than R12 (0<300mm cavity). You can reduce your existing heating bill by up to ~20%.
02. Solar Heat Gain Coefficient (SHGC) and Its Influence
The Solar Heat Gain Coefficient (SHGC) measures how much energy from the sun is transmitted through a window. With a lower SHGC rating, less solar heat enters your home. While higher SHGC windows are better for homes in colder climates to allow for more passive solar heating, lower SHGC windows are preferred in hotter regions where reducing cooling costs is essential.
Installing low-SHGC glazing can save you up to 10-15 percent on cooling costs over non-coated glass. It happens by blocking out most of the ultraviolet radiation that causes rooms to become hotter.
03. Visible Transmittance (VT) and Its Role
Visible transmittance (VT) measures how much visible light passes through a window. It is expressed as a number between 0 and 1, with higher numbers indicating more visible light passing through the window.
Still, it doesn't directly affect energy efficiency. But, VT plays an important role in determining the aesthetics of your home while also balancing energy consumption. Choosing windows based on a suitable SHGC ratio will allow you to make precise decisions, thereby giving you the correct form of functional context.
04. Air Leakage and Its Contribution
Along with the U-factor, air leakage is another critical factor in determining ER ratings for vinyl windows. Air leaks can be costly as they allow warm or cool air to escape your home.
The National Fenestration Rating Council (NFRC) rates windows based on three performance factors: solar heat gain coefficient (SHGC), visible transmittance (VT), and air leakage rating. The lower the rating for this influential mechanism of energy loss- the better.
05. Other Performance Metrics to Consider
As per modern-day requirements and best design practices, you can request "Low-E" or Low Emissivity coatings to be applied inside your window assembly.
This means certain wavelengths of radiation (heat) are diverted away from entering your house, reducing SHGC while maintaining decent levels of transparency-visible light transmittance.
Understanding Energy Star Certification for Vinyl Windows
If you're seeking energy-efficient windows, then a great place to begin your search is with Energy Star certification. Why?
01. Energy Star Criteria for Vinyl Windows
If it has an ENERGY STAR symbol on it, it means that this window will perform well and save you lots of money in the long term. In order to qualify as an ENERGY STAR product, vinyl windows must meet strict criteria established by the Environmental Protection Agency (EPA).
02. Climate Zones and Energy Star Ratings
One common factor in determining these criteria is climate zones. That's because comfortable temperatures can vary significantly throughout North America, depending on different regions.
The government created a series of maps dividing Canada into four climate regions based on average temperatures during the winter months- Atlantic, Central (includes Toronto), Prairies/Mountain, and West Coast.
For example, vinyl windows that are rated highly efficient in one region may not be sufficient when installed elsewhere due to different weather conditions.
Comparing ER Ratings of Leading Vinyl Window Brands
Not all brands are created equal when thinking of energy efficiency in vinyl windows. Let's take a closer look at some of the leading brands on the market today and compare their ER ratings.
01. Brennan Vinyl Windows
Brennan Vinyl Windows is known for its impressive ER ratings, which range from 0.20 to 1.20 depending on the specific model and glass package chosen. These windows include low-e coatings and have high-performance air leakage rating standards set by the NFRC with proper installation. This makes them a great choice to consider when upgrading your home's energy efficiency.
02. NT Vinyl Windows
NT Vinyl Windows offer a range of energy-efficient options with impressive ER ratings. You can receive ratings up to 1.20 depending on the glass packages and models chosen, making our living conditions perfect in Toronto.
With U-factor ratings as low as 0.21 and Solar Heat Gain Coefficient (SHGC) levels of no more than .039, it provides optimal insulation suited for the Canadian climate that can greatly reduce energy costs.
03. Milgard Vinyl Windows
Milgard is another popular vinyl window brand known for its quality and energy efficiency. Most of their product lines meet Energy Star requirements in all climate zones, with ER ratings ranging from 0.17 to 0.34.
Tips for Maximizing Energy Efficiency with Vinyl Windows
If you want to make the most of your vinyl windows' energy efficiency, there are some simple tips that can help.
01. Proper Maintenance and Cleaning
Regular maintenance and cleaning are essential for keeping your vinyl windows in top shape. Clean them with a solution of mild soap and water, using a soft cloth or sponge to avoid scratching the vinyl surface.
Be sure to check the weather stripping around windows regularly for signs of wear or damage; this will keep air leakage at bay.
02. Enhancing Insulation Around Windows
Proper insulation between your windows and exterior walls can help reduce the rate of heat loss and gain in your home. Consider using weather-stripping or caulking around window frames to enhance their insulation properties.
03. Using Window Coverings and Treatments
Window coverings and treatments can help keep your home comfortable year-round. In the winter months, heavier curtains or blinds offer insulation that reduces heat loss.
In warmer months, lighter shades with reflective surfaces help block radiant heat gain from outside.
04. Managing Sunlight and Heat Gain
Direct sunlight can cause unwanted heat gain, which can lead to energy losses in your home's heating and cooling systems. You can manage this by installing quality low-E windows that allow visible light while blocking out solar radiation.
Also, consider exterior shading devices such as awnings or screens to block direct sunlight during peak hours.
Where to Buy ER Rated Vinyl Windows?
If you're in Toronto, Canada, and looking to buy ER-rated vinyl windows, Delco Windows should be your top choice. We offer high-quality energy-efficient vinyl windows that are a perfect fit for any home.
Delco Windows is known for its modern vinyl window designs, which meet the highest Energy Star®-rated standards for energy efficiency. The company provides professional installations as well as value-added services, such as an industry-leading lifetime warranty on its products, - windows and doors.
Choosing new or replacement windows can have a significant bearing on your heating and cooling systems' expenditure and environmental impact. This is why making an informed decision regarding the type of window glass packages you select is critical!
So, are you ready? Contact Delco Windows today and let us help improve the level of effectiveness when it comes to protecting the environment!