Step-by-Step Guide to Measuring Vinyl Windows for Perfect Fit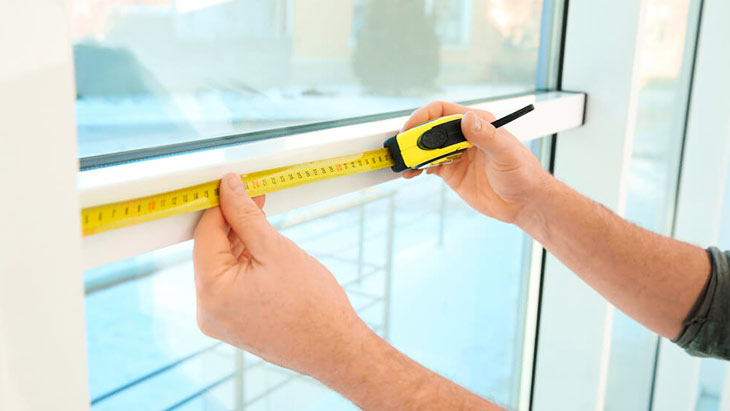 Have you ever faced issues with replacing windows in your home? It can be overwhelming, especially when it comes to measuring vinyl windows. Vinyl windows are an attractive and popular choice for homeowners due to their durability and energy efficiency. However, they only work if measured accurately for a perfect fit.
The importance of measuring vinyl windows cannot be overstated. Abnormal measurements lead to intense frustration, unnecessary expenses, severe damages, or even losing all possible benefits that come with their use.
At Delco Windows & Doors, we care about making sure you have enough knowledge before starting any window-replacement project. In this guide, we'll walk you through how easy it can be once everyone has the right tools and information. So grab your tape measure, and let's get started!

Why Accurate Measurements are Crucial for Vinyl Window Replacement
Inaccurate measurements can cause a lot of issues during vinyl window replacement. If it's too loose or too tight for the frame, you might end up having air leaks that make it difficult to regulate temperatures in your home. Likewise, if the measurement is not precise enough on both ends, it causes a poor fit. It might risk weather seepage, damaging both interiors and exteriors.
The Department of Energy states that utilizing proper installation techniques with high-quality windows could result in long-term energy savings of 30% or more. On average, homeowners can save about $500 a year by properly replacing single-pane windows with vinyl replacements.
Common Mistakes to Avoid
When measuring vinyl replacement windows, there are some typical mistakes that homeowners tend to make. These are easy-to-make errors that can cause major headaches down the line. Avoiding these errors is crucial for a perfect fit and an overall efficient installation process. Some of the most common pitfalls include:
Measuring only one part of the window instead of all three (width, height, and depth).
Forgetting to measure from inside or outside space.
Ignoring differences in measurements taken from different parts.
Not factoring in enough extra measurements considering any potential obstructions.
Preparing for Window Measurement
Before measuring your vinyl windows, it's essential to prepare first. Taking proper care in the preparation stage can ensure accurate measurements and avoid future problems with window replacement. In this section, we'll discuss what you need before starting any measurement projects beyond grabbing a tape measure.
Essential Tools for Measuring Vinyl Windows
To measure your vinyl windows, gather all the necessary tools. You'll need a tape measure, paper, and pencil for taking measurements, a level to check the alignment of framing, and a caulking gun tube with matching caulking. It's instrumental that these essentials are readily available upon measurement.
Safety Precautions to Consider
Before starting, it is crucial to understand that window replacement work can be dangerous. Safety should come first. Use ladders or any other supportive device with extreme caution, and avoid working at heights if possible.
Keep all your necessary tools within reach before beginning the project, as taking the wrong step can lead to serious accidents, damages, and injuries. For example- keep a tool bucket near so that you don't have to take risky steps while measuring windows.
Understanding Different Types of Vinyl Windows
Vinyl windows come in different types and styles, each with unique features that make them suitable for other applications. Understanding these various types can help you determine which one is right for your needs. So let's dive into the world of vinyl windows to learn more about their differences!
Single-Hung Windows
Single-hung vinyl windows are characterized by a fixed top sash and an operable bottom sash. They're one of the most economical options and provide excellent energy efficiency. These windows are suitable for traditional-style homes that require ventilation near ground level or terrace areas. The U.S. Department of Energy suggests replacing single-pane aluminum frames with vinyl frames can save about $126 to $465 per year in heating costs alone.
Double-Hung Windows
In contrast to single-hung vinyl windows, double-hung windows feature two operable sashes and provide better ventilation for a more comfortable indoor environment. In this type of window, both the top and bottom sashes are movable. This design provides better ventilation control, as you can regulate how much air comes in through either end with ease. Due to their classic style, double-hung windows are frequently installed in stylish apartments around Toronto.
Sliding Windows
Sliding vinyl windows are ideal when looking to maximize ventilation and viewing areas. They have at least one operable sash that slides sideways within a track system that prevents any interference from inside or out. These easy-to-use windows preserve energy quite well compared to most traditional models because their efficient seal sizing prevents air infiltration.
Casement Windows
Casement windows are great for homes that require airtight seals. These vinyl windows open and close like doors, using hinges from one side while cranking open at an angle of nearly 90 degrees. They can be right- or left-hinged and provide great energy efficiency, security features, and easy maintenance procedures, which make them attractive to homeowners looking for modern designs with practicality in mind.
Awning Windows
Awning vinyl windows are hinged at the top and swing outward from the bottom. They provide excellent energy efficiency, ventilation, and security and stylishly complement your home's modern exterior architecture. These types of windows are ideal for providing better sunlight exposure to smaller rooms or areas that require more privacy.
Bay and Bow Windows
Bay and bow vinyl windows are known for their ability to add extra living space. The styles typically protrude from the building's exterior while providing maximum natural light into your home. Bay windows come in different angles, whereas bow window designs create curvier outlines using four or five panes joined together at a roughly 10-degree angle. These styles often add value to homes as they enhance curb appeal.
Step-by-Step Guide to Measuring Vinyl Windows
Measuring vinyl windows may seem like a daunting task, but with our step-by-step guide, it can be effortless. In just a few simple steps, armed with nothing more than your trusty tape measure and some basic knowledge, you'll be able to get accurate measurements that ensure your replacement windows fit perfectly.
Step 1: Assessing the Existing Window
Before taking any measurements, it's essential to assess your existing window. This includes checking its overall condition and noting any problems like cracks or rotting frames. Additionally, take note of whether your current windows are hinged on one side or two.
Moreover, check whether you need a full-frame replacement or just an insert-replacement window that fits into your existing frame. These details will come in handy when choosing new vinyl windows, as they might have different dimension requirements based on the type.
Step 2: Measuring the Window Opening
Once you've assessed your existing window, it's time to take measurements. First up, measure the width of your window opening. To do this, simply measure from side to side at three different points: top, middle, and bottom.
Next up is measuring the height of your window opening. Measure from top to bottom at three different points as well; left side (including frame), right side (including frame), and centre without taking case moulds into account.
Lastly, measure depth by measuring how far in or out a replacement vinyl will fit. It can be done by extending the tape measure from the inside jamb till the exterior blind stops, adding half an inch to the measurement, and cutting off excessively while selecting the build size.
Tips for Accurate Measurements and Successful Window Replacement
Accurate measurements are essential when it comes to window replacement. Before removing your old windows, you'll need to record both height and width measurements, as well as verify if your existing window is square.
Documenting measurements beforehand can go a long way toward reducing stress throughout this process once you start measuring each vinyl window opening carefully. It ensures all necessary information, including the size of the gap by measurement, is recorded accurately.
You should also be mindful of the tolerances required while installing a new vinyl replacement model. Understand how much adjustment space is needed to align with visible gaps between sash frame lines, among other things.
Verifying squareness will help ensure that everything fits perfectly during installation; every mistake made at this stage only delays further progress.
Do You Measure Windows from the Inside or Outside?
One of the common questions that arises before measuring vinyl windows is whether to measure them from the inside or the outside. The answer is simple: you need to measure them from both sides for accurate results.
When measuring your window's width, it should be measured on the outside trim edge and also in three places on the inside jamb-to-jamb side. On height measurement, for final accuracy, proceed with measurements on each side of your window—left and right—first taking a central alignment point; this also helps determine an out-of-square window.
Keep in mind that your replacement windows need to fit accurately over existing frames without leaving gaps between panes, so there will be no energy loss.
Can You Reuse Existing Window Frames for Replacement?
When you consider replacement windows, one of the common questions that comes to mind is whether you can reuse existing window frames. The answer, unfortunately, is usually no. Reusing old frames during a window replacement project might seem like a good idea for saving money and time. But it almost always leads to more problems than it solves.
In general, retaining existing frame measurements isn't an ideal choice because new vinyl frames will be specifically designed and manufactured in standard sizes (widths and heights) required for accurate installation and longevity.
The style of the frame must also match those already installed. Otherwise, there would be imperfectly fitting openings around its perimeter while sealing off drafts from outdoor air getting indoors.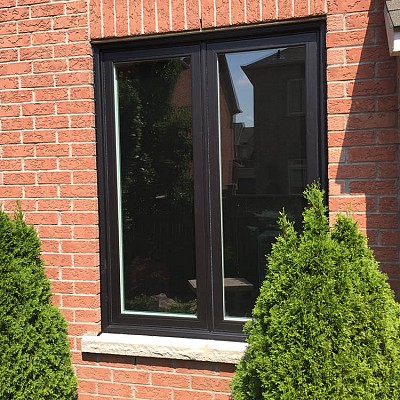 Choosing the Right Replacement Windows Based on Measurements
Measuring vinyl windows correctly is only half the battle. After all of your measurements are taken, you need to select suitable replacement windows. Choosing compatible replacements depends on many factors, including style, frame materials, and finishes.
There are various factors you'll need to consider that impact your decision-making. Let us delve into them!
Understanding Energy Efficiency Ratings
It's an important factor to consider when choosing replacement windows is energy efficiency. Look for products that meet industry standards, like Canada's CSA Energy Performance Ratings. These ratings help you understand how well a window will insulate your home and save on heating costs in harsh winters.
For example, did you know that replacing single-pane windows with modern shatter-resistant double-pane replacements should result in an average of 25% savings on heating bills? Knowing such significant information can guide you toward making informed decisions about which windows are suitable for lowering your energy consumption costs.
According to a study conducted by Consumer Reports (2021), only 5% of existing homes have enough originality when it comes to window dimensions. For this reason alone, there is a high likelihood that you will require customized options.
Hiring Professionals for Window Measurement and Installation
While measuring vinyl windows is essential, it can also be a daunting task for inexperienced individuals. That's where hiring professionals to measure and install your vinyl windows can be an excellent choice. They come equipped with trained eyes and specific tools to carry out precise measurements, thus ensuring a perfect fit. Professionals handle this kind of work every day and have years of experience in window measurement and installation. Delco Windows & Doors will make sure the window replacement project progresses without unnecessary or unforeseen problems.
Improper measurement is a significant contributing factor resulting in energy loss as well as other issues such as moisture damage, drafty homes, or buildings leading to massive expenses, thereby leaving homeowners heartbroken.
At Delco Windows & Doors, our experts use top-of-the-line equipment to measure your windows with accuracy to get a perfect fit during installation. Working with them will help you save yourself from costly errors that arise from incorrect measurements or improper installations.
However good your intentions are, it is always much better to employ skilled professionals. Especially when unsure of any complexity involved, costly mistakes can be avoided while saving tons of time and resources!
According to Energy Star program research statistics: replacing existing single-pane windows can save over $400 per year on energy costs. So don't take chances; choose Delco Windows & Doors today for accurate measurements and hassle-free window replacement services!
Conclusion
In conclusion, proper measurement of vinyl windows plays a significant role in ensuring that you achieve perfection and avoid future frustrations. Accurate measurement guarantees an efficient installation process and better energy efficiency in the home. Also, wrongly measured windows will cost you more money over time due to air leaks or improper performance.
Therefore, before rushing to purchase replacement vinyl windows, ensure that you have taken all necessary measurements accurately by following our step-by-step guide. The experts at Delco Windows & Doors are always ready to help homeowners choose the best fit for their homes based on measurements backed by experience! Contact us today!