5 Ways Hopper Windows Can Improve Your Home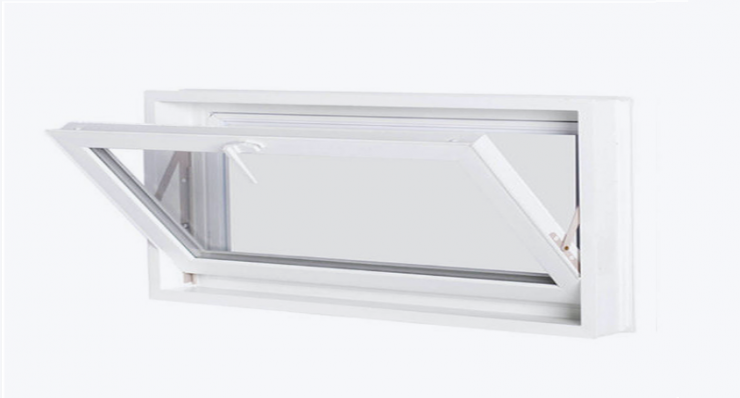 What is a hopper window?
Simply put, a hopper window allows ventilation and light into areas of your home with tight space, and limited wall area. They are typically found in basements and bathrooms, as well as along concrete areas like sidewalks with dirt paths.
Hopper windows operate in a way that allows them to open inside and downward, depending on how they are installed. This function allows for keeping dirt, leaves, and debris from blowing and kicking inside the house, yet allowing airflow and ventilation. If the window is flipped, it can also function as an access window, if the space is large enough. Typically, most older basements were equipped with single-pane picture windows to cover access gaps, to allow minimal light in. Some of these windows were operable, with a metal hand lock, yet often the metal framing of these windows, if older than 40 years, likely are rusted or fused together and can be quite drafty and even cracked.
Newer basement windows, designed for tight spaces, and more advanced openings, are simply called hopper windows.
When should you replace your hopper windows?
Are your basement windows single pane? Is the metal framing rusted or developing mildew? Are there cracks in the glass? Is the opening simply covered by other material like a board? All of these are signs that your basement windows should be replaced. In addition, new windows open and close easily, and are much more energy-efficient.
As for bathroom hopper windows, these typically are more visible. Replacing them will give your home a quick boost in value and looks, as well as make the bathroom more comfortable and less drafty.
Types of Hopper Windows
Basement hopper windows
Basement hopper windows are designed for placement in concrete foundation walls. They often allow screw anchors to be placed in the vinyl framing rather than through flanges, which avoids having to widen the concrete opening. In addition, they are often difficult to reach by hand, because they are near the ceiling of the basement, so the opening handle is at the lowest spot, or simply may require a step stool to reach up and operate. The correct placement of a basement hopper window depends on the preference of each homeowner and what is already there. If there is room to open outward, it would allow easier egress. And it can possibly deter intruders, as well as block debris.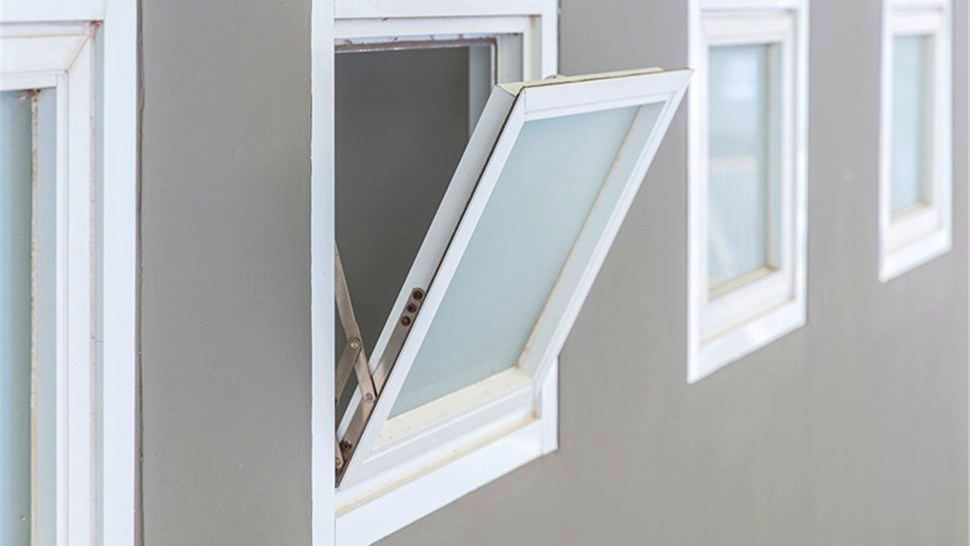 Bathroom hopper windows
Bathroom hopper windows are often placed above shower stalls, tub surrounds, and in small walls in certain sections of the bathroom. They allow for plenty of ventilation when steam and unwanted humidity needs to leave. While they may be the same as a basement hopper window, they typically have a vinyl flange built into the frame, which allows it to be easily replaced in wood-framed homes. You simply cut out the wood, put up the flange into the wall, screw it in place, place framing around it, and finish off the window trip. Easy install. In addition, bathroom hopper windows, if low enough in height, can come with frosted or privacy glass, to keep a bathroom private, yet let the light in.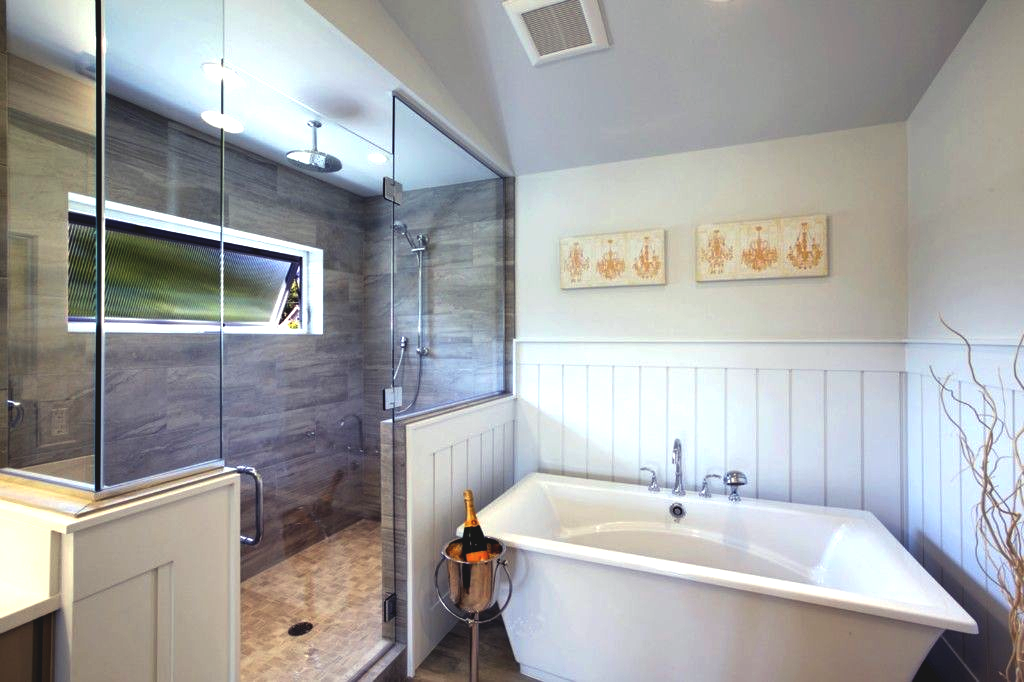 Hopper Window Sizes
A typical basement hopper window is approximately 24 inches tall by 32 inches wide. Some can be larger or smaller, but many basement foundation openings, designed as crawl space access, were made about that size, leaving a going standard for their dimensions. As for bathroom hopper windows, they can have a wider range of sizes, due to their ease of adjusting the opening.
Basement Hopper Window Functions and benefits
Reduces debris from blowing in - By opening the right way, the bottom of the window can "catch" outside debrix before it blows in. Some hopper windows even have screens, and open inside, keeping large objects from coming in.
Reducing basement humidity - basements are notorious for humidity, mold, and mildew. Musty smelling basements often wreak of these smells due to condensation, and stale air. Hopper windows placed in the right locations, with cross-ventilation can allow for the humidity to escape and literally be "blown out".
Ventilation - both in basements and in bathrooms, beyond just humidity, they need airflow to change out the air and provide fresh clean breathable air. This can make for a healthy home. Hopper windows provide just that right amount of ventilation in tight areas that need it most. In addition, furnaces and water heaters, and basement HVAC systems may require operable windows as a secondary ventilation option.
Light - In dark places like basements, adding a hopper window into a boarded or covered foundation opening can make the difference between seeing anything and seeing nothing. They allow natural light to filter in, simply by taking advantage of an opening that was covered up with a crawl space cover, or block.
Operable door - Hopper windows open up, only when you need them, and can be locked from the inside, to provide safety and security when you need it most.
Insulation - Hopper windows are built with energy-efficient frames, and multi-panes to reduce energy leaks, compared with old original glass-paneled plugs and board covers.
Questions About Hopper Windows
Because hopper windows are not typical windows, many homeowners are not sure about the sizes and functions of these unique windows. Hopper windows are designed to fit into areas with limited wall space and provide specific ventilation and light functions for dark areas. Their opening function serves as a way for limited access and debris filtration.
Can a hopper window be an egress window?
Egress windows function as safety escapes during emergencies like fires, floods, and earthquakes. Having a basement egress window is often a requirement for having inhabitable living space in a finished basement area. It is essential to have a window that is big enough to easily crawl out and escape, and likewise, for a first responder to enter if a rescue has to occur. While the entire surface of a hopper window can be operable, and save space compared with a single hung window, by its nature, it is built towards the top of the basement ceiling, leaving difficult access to actually crawl up and use it. Egress windows often have requirements for dimension minimums and distance from the floor, along with a window well space and ladder access with a pop-out cover.
Typically basement hopper windows, because they are usually less than 3 feet in width and height, do not qualify in most construction and zoning codes as an escape window. There are however larger hopper windows of custom sizes that could potentially serve as an egress window.
How can I make a hopper window an egress window?
While this can be a possibility, it is not recommended. This is because there are many other window types that you can use to better serve that function. First, the foundation wall opening needs to be tall enough to have its bottom within a certain distance of the floor. Many codes require 48" or even less of the base sill. Once you make an opening that tall, other kinds of windows like "pop-out" windows and single hung sliders are more functional to cover that height of space. However, if you simply want to make a hopper window more accessible for an "unofficial" egress window as an additional backup, adding steps or a ladder to the wall may help to function for that need. Then make sure that the hopper window opens up in a way to easily open up and allow escape. This is an inexpensive workaround, as long as you ensure that other windows in the basement meet your egress requirements.
What are the costs of hopper windows?
Hopper windows are inexpensive, as they usually come in standard sizes. They typically are priced $100-$200 off the shelf, before installation. Double that price with the installation labor. As you can see, they are a great value, to add additional light and ventilation in needed areas.
How can I measure for a hopper window?
For basement walls, it is essential that you measure the dimensions of height and width precisely, and order a window that is slightly smaller than the opening, to avoid cutting concrete. Trim and filler can be used with concrete screw anchors to make the window fit perfectly.
For bathroom hopper windows, measure the current opening and order a size that is nearly identical, for minimal filling and cutting of the openings. Many hopper windows, if small enough, can fit between existing studs.
How can a hopper window be installed?
For bathrooms, hopper windows can be installed just like most other windows, and they have fewer moving parts than casement windows or sliders.
For basements, you can also get one designed for wood stud walls, and trim the flange to fit snugly in a concrete foundation opening for easier installation.
Better yet, go through your local window and door installation company, which can quickly and efficiently remove the old windows and install new ones in a matter of hours. The time savings and peace of mind knowing your windows are installed right will save you hundreds of dollars in down-the-road costs.
Why hopper windows are an essential window in most houses
If your home is an older home, with either a finished or unfinished basement, having hopper windows will truly make a well-equipped basement with plenty of light, airflow, and humidity removal to keep your home clean, breathable and safe for years to come. It will help make these drab areas look upgraded and modern. And as for bathrooms, hopper windows will make for plenty of light, in these small spaces. Take advantage of hopper windows' ease-of-use and low cost. Obtain replacement hopper windows soon for an upgraded home that functions well.
------------
About the Author
Delco Windows and Doors has been serving Toronto Canada since 1989, with door and window replacement and installation. Helping make homes throughout the GTA more energy efficient with an upgraded style.