How to Find Basement Window Replacement Cost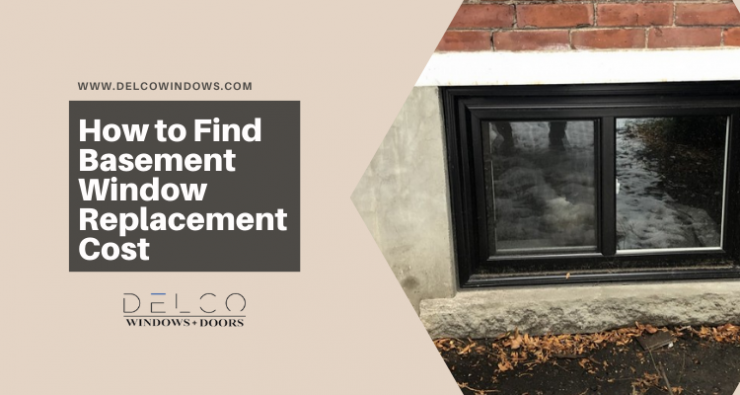 Basements can be a hidden treasure within your home. Whether you envision a great room, a place for hanging out and movies, a man cave, creating a full living space, a rentable unit, or simply to accommodate your laundry and utility areas, basements can provide the necessary space to see this vision into a reality.
But oftentimes, basements can feel drafty, cold, drab, and even scary.
In this article, we are going to look at how to plan and cost several basement window replacement projects.
Window replacement with your basement windows is a good starting point for a basement remodel. Why? Often, original basement windows are huge energy suckers, due to being single pane, as well as old frame technology. If your home was built before 2000, chances are your basement windows are costing you money, and need to be replaced, especially if you want to utilize your basement for living activities.
There is one problem, however; basement windows, by their nature, are typically placed in concrete foundation walls, making them difficult to adjust. You cannot simply change sizes, or enlarge the window for full use, without the possibility of major construction. Finding an affordable basement window installation cost requires you to understand your current basement options as they exist now.
For starters, examine all of your basement openings. There are typically three types of openings in your basement footing walls:
Ventilation openings - These openings tend to be small, and are usually covered by a metal or mesh grate. These are common in unfinished basements. However, if you are planning to finish off your unfinished basement into a living area, these ventilation openings can be good options for placing hopper windows or using them as a starting place for constructing an egress window. Start with the current ventilation openings you have. It will save money, and likely not compromise the structural integrity of your foundation walls.
Basement hopper windows - Windows that may already exist inside your basement likely are hopper windows; . . . simple windows that are typically a small rectangle, and operable to squeeze a small person through for absolute emergency access. However, older hopper windows are quite ugly and will need to be replaced if you want to make the basement feel like home. Often, there are many similar or identical size hopper windows off-the-shelf at home improvement stores as well as through window installation companies. Replacing them can be as simple as building up framing on the sills if the window is smaller, or simply trimming the flange if needed.
Basement egress windows - Egress windows are not just the window itself, but a full system of escape. It is the largest of these opening types. Egress windows involve a dug-out window well on the exterior, with a large enough window and opening to comfortably crawl out and escape due to an emergency like fire or flood. Many local municipal codes determine the size necessary to be considered egress, but typically require the bottom of the window to be within a certain height from the ground,(often within 42") and the window crawl-out area to be of a certain width, like 36" from the wall, along with a ladder to crawl out. They may also require a minimum of square feet of crawl-through space. Basement egress windows are the most costly of these openings to install if the work has not been done yet.
Enlarging the opening size for larger windows - Let's face it. Larger windows bring in more light and can make a basement safer, as well as feel more like the other common areas in your home. But enlarging the concrete opening can be a costly endeavor.
Now, let's look at two major factors that drive basement replacement window costs:
Concrete cutting a basement window opening -
This is a big, messy job. It often requires the use of large wet saws with diamond blades, demolition hammers, as well as a jackhammer to finish the job. And often, rebar is present, needing to be cut. Also, in rare cases, there could be piping or electrical embedded in the wall, requiring additional adjustments. When all finished, the opening needs to be sawed and sanded down to a smooth finish, with rounded corners. This is not usually a "do-it-yourself" project unless you have the know-how and experience in concrete and masonry.
If your basement wall is made of cinderblocks, this can potentially make it easier to "pop out" piece by piece after cutting through the mortar and rebar. But be prepared to have the right tools either way.
Ways to keep the cost down in window opening concrete cutting: Be precise with the type of window you want to install. If you are willing to stick with the same width (many egress codes require a minimum of 22-28 inches window width), you can save money and time. So if your window opening already meets that minimum width, it is easier and less costly to stick with the same width, but greatly expand the height. Then find a similar or custom order window that will match that size. Plus, just as importantly, keeping the width the same will likely not affect the load-bearing coverage of the stem walls. If you want to widen the opening, you may want to ask a structural engineer for their opinion. Remember; focus on height, not width. If you can, by all means, keep the width the same.
Exterior ground excavation -
Enlarging your basement window opening could require excavation of the ground on the exterior outside the proposed opening. If you are planning to construct an egress window, most likely you will need to excavate a large amount of soil. And be prepared for surprises; . . . gas lines, power lines, landscape irrigation, large rocks, expansive soil. Plan for these surprises in costing out this project.
Ground excavation can use either an excavator tractor (rentable at many home improvement stores), or by hand with shovels, picks and jackhammers and lots of manual labor. Either way, be prepared to find a place to use the excess soil. We recommend doing the excavation first, before the concrete cutting. This is important. It will give space to do exterior saw cutting, and will make it easier to remove the large concrete chunks. The last thing you want is for those pieces to fall inside the basement, making it even harder to move them out.
If you do any additional excavation, especially for basement egress windows, you will want to plan for retaining the soil in the window well. There are many solutions for this, including the use of cinderblocks, prefab window well inserts, or custom concrete. Many inserts can give a modern look, have fabulous style, using corrugated metal for a solid new feel.
How to find basement window installation costs
Once you've decided the size of your desired basement replacement window, and what will be needed regarding concrete cutting and excavation, the next step is to decide how you will get it done.
Costs of hiring a general contractor for basement replacement windows
This is likely the most costly, but the least amount of work on your part. General contractors are especially helpful for large complex projects, especially if it is going to be a new egress window, and you suspect any possible surprises.
Costs of hiring foundation, excavation, or concrete specialists for basement replacement windows
Construction folks who have experience in excavation and concrete and have time on the side can save you a lot of money over hiring a general building contractor. They can still coordinate laborers for the grunt work, but handle the complicated work of concrete cutting.
Costs of DIY basement replacement windows
While it may seem like you could save a lot of money doing it yourself, if it requires cutting concrete, or a lot of excavation, you might want to think again. Any mistake could cost you, along with all of the tool and blade rentals.
If, however, you simply want to keep your window opening the same size, swapping out the old basement hopper window with a new modern basement hopper vinyl window could be done. Just be sure it is slightly smaller than the current one, and be willing to build up the sides, or trim off the flange.
Basement window choices
When it comes to the actual window, you have many choices. Small windows can stay with hopper windows. They are readily available, and fairly standard. But it is good to pick one or two openings in your basement to have nicer window styles like crank operable casement windows, classic double-hung windows, single-hung windows, or even high-end European tilt-and-turn windows.
Actual costs of windows can range as low as $100 for basement hopper windows, to as high as $1,000+ for quality high-efficiency vinyl windows. Window installation companies can help you not only select the right window for the function you need but can do the installation, once the opening and window well are all prepared. They can quickly install, and have it done in a day.
With this setup, a recommended cost-effective solution for building out all of your basement windows would be to hire a foundation and concrete specialist to coordinate all of the excavation, soil retainment, and concrete cutting. Then hire a window installation company to come in and install all the windows, quickly, in a day. This brings a good balance of cost savings, along with speed, and takes you out of the difficult position of doing the work yourself.
If going with single-hung windows, make sure the opening panel is at the bottom of the window, closer to the ground. For double-hung windows, it can be either. And casement windows should be able to open up all the way. This will provide the largest square feet of opening space for safety and emergency access while keeping the basement window cost down.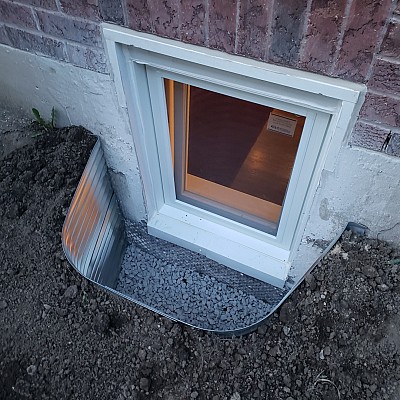 How to estimate the cost of basement window well enlargement
Search for home improvement pros in the areas of masonry, foundations, excavation, concrete cutting. Resources like HomeStars, Yelp, HomeAdvisor, and even Craigslist and Facebook. Show them. Do measurements. Check your local building codes for egress requirements.
One suggestion is to start with one window. It is easy for them to plan and do. One basement bedroom project we know of, enlarged an already-existing basement hopper window opening, into a full-sized egress window, complete with cinder block retaining wall, ladder, plexiglass removable cover, drainage system, and a beautiful new single-hung vinyl window, for $6,000. This was a good all-in-one package, done by a concrete cutting guy, and his helper, in four days.
If it is simply swapping out windows with new ones, it can all be done in a day.
Are you considering coordinating the basement replacement window project yourself? If you want to install an egress window yourself, here is a sample cost chart that could provide a helpful starting point:
Excavation (2 days labor): Two laborers each at $200 a day, $800 total
Cinder Block retaining wall: $450 blocks, cement, and labor of experience laborer or Masoner
Rental of tools (jackhammer, wet saw, sander, other): $250 a day, for 2 days (plan for surprises) $500 total
Diamond blades for concrete saw: $75 each. 3. $225
Labor for concrete removal and clean up: 1 day. $200
Purchase of large basement replacement window: $250
Installation of the window: $400
Window well plexiglass cover: $150
Window crawl out ladder: $75
Other miscellaneous basement window costs (drainage gravel, parts, tools, delivery, etc.): $250
Total self-coordinated sample budget of egress basement window project: $3,300
As you can see, this is a lot to coordinate, but if you have the time and energy to be fully involved in this, and supervising and purchasing, you could potentially save a lot of money, especially if you can install an egress window yourself.
Sample basement window plan:
If you are planning to either make a full live-in unit, such as a rentable unit for VRBO and Airbnb using your basement, you have many aspects to plan, especially in regards to plumbing, sump pumps, and of course, windows.
Don't skimp on the basement windows. Basements are already a little drab and undesirable. Why not make yours fun and warm and inviting?
When planning out your basement window costs and design, keep these in mind:
Be sure to plan to construct a full emergency escape egress window for every inhabitable bedroom within your basement. You may also want to have one more egress window for the common area, such as a basement kitchen. If your basement has a "daylight" section, meaning part of the basement floor is level with the ground outside, typically found in areas with homes built on hills and elevation, then having your common area egress window or entrance door placed there makes the most sense. There would be no need to build retaining walls or have excavation.
Pick operable (opening) windows when you can. It allows for ventilation. Hopper and casement windows require the least space, as they don't slide. Slider windows, single and double hung require a large window surface area because the two panels only allow for no more than one half of the window to be an opening at any given time.
When factoring in all of the costs of basement replacement windows, make the most of what you already have, to keep costs down. Stick with current-sized openings for all windows in rooms like bathrooms, closets, and most common area windows. Build egress windows only when it makes sense like in the most visible areas, and any inhabitable bedrooms (rooms designed for long-term overnight sleeping)
When finished, you will have a basement that has a modern look, is energy efficient, free of cold drafts, and well ventilated. Basement replacement windows can be one of the best return on investments of any home improvement project. Simply replacing the windows can turn a drab dungeon, into the focal point of your home.
------------
About the Author
Delco Windows and Doors has been serving Toronto Canada since 1989, with door and window replacement and installation. Helping make homes throughout the GTA more energy efficient with an upgraded style.