Window Installation Checklist Before and After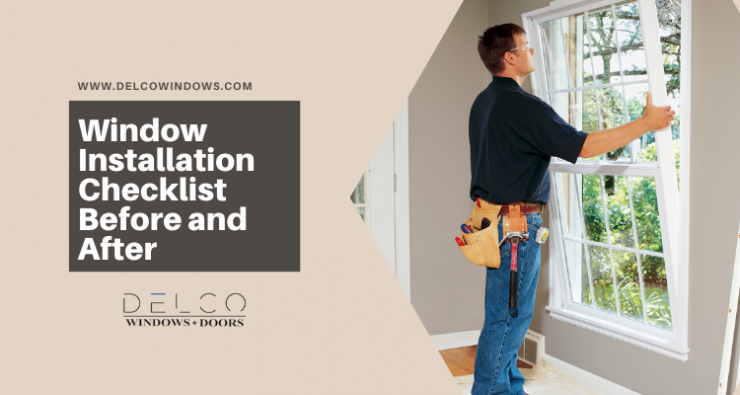 There are many steps to consider when installing new windows. If you are going through a door and window installation company, here are the steps to expect, each having a checklist of their own.
1. Pre-purchase checklist
Before purchasing and agreeing to an installation contract, it is best to come to the window showroom prepared with these:
Design preferences - What is important to you in a replacement window? Rank the reasons for your planned window replacement project in order. These may include: Ultra-High-efficiency. Fashion and looks. Matching with existing house architecture. Increasing your house value. Preparing your home for sale. Changing the function of the window. Adding more light.
Budget - How open is your budget for window replacement? Are you willing to spend extra money to have larger windows? Would you like to invest in new window technologies like advanced films?
Photos - Have some photos of your home and its windows handy, stored on your smartphone. When you go out to look at windows in a showroom or compare with other homes, it helps to relook at the windows you already have
Assess any current damage - Take a quick look through all of the windows you have. Is there water damage? Cracked sills? How about the condition of the trim? Knowing this will all help when planning and meeting with a window replacement consultant.
2. Consultation checklist
Window installation companies usually follow standard steps, to keep the process from consultation to follow up simple and smooth. Your selected window installation company should be willing to do a full free consultation. After you have called, visited, or inquired of a replacement window consultation, here is a checklist of what to expect:
House visit - A window installation sales specialist will visit your home, in-person. This gives them a chance to assess fully your situation
Design preferences - Roof shape. Neighborhood feels. Architectural style. Colors, sizes, and window functions. Be ready to express your design preferences.
Access - The consultant will analyze all of the windows for ease of access. How high up are they? Are some easily accessible from the inside? Are there major trees or bushes blocking the way?
Measurements - This is the most important part, especially if you are going to stick with similar or same-sized windows for keeping on budget. The consultant will measure both horizontal and vertical measurements, usually in multiple spots of each window, and label each window location on a diagram
Framing assessment - Understanding the framing condition and needs for each window will give a better idea of any adjustments needed to make the new window fit well, without compromising the structure of the home
Discussion of window options - sizes, glass films, function, (hung, slider, casement, etc). Will all be discussed with you
Wait for proposal or quote - Some consultations can give a ball-park price figure on the spot or may need a day or two to complete a price quote for you to review. If you need to make adjustments to the quote after, be sure to discuss it with the consultant before signing off on it. Once agreed to, the windows will be custom-made to order for your sizes, which is hard to reverse that process.

3. Preparing for the Window Installation
During the time leading up to, or the day of, this follow this window installation checklist to be fully prepared:
Trim bushes - Make it easy to access the window. This includes tree branches.
Clear off the driveway - The closer they can park their trucks, the easier and faster the job can happen.
Power - Ensure access to electric power.
Noise - Be prepared for noise disruption. If you have babies or someone in the home who sleeps during the day, or needs quiet space, you should plan accordingly.

4. During the window installation
The installation crew will arrive and first, greet you, and ask where to store their trucks, tools, and construction waste. They may also want to be pointed out where outdoor power receptacles are at.
After this, the same installation checklist typically exists for each window:
Re-measure each window to match the window they have assigned for each space
Removal of exterior trim
Removal of interior window coverings (blinds, curtains, and possibly finished window sill)
Removal of sliding panels, if any, to make some windows lighter for removal
Trimming some siding and framing for a cleaner "pop-out"
Pop-out the window, with pry bars and tools
Doing the 2nd measure to match with the new window
Additional trimming or framing to adjust to the differences in size
Flashing: Once the rough opening is ideal for the new window, placing window flashing tape inside the frame. This adds a waterproof sloped exit for water and protects the framing of the house
Placing in the new window
Fixing the new window to the frame, with screws in the flange, or other methods
Fill-ins: With caulking and filler, seal all the gaps remaining
Put on the exterior trim. This may involve adjusting the size or new paint
Caulking the trim
Restoring the window coverings and interior
Cleanup: Debris, dust, nails, all will be cleaned up

5. After Window Installation
Ensuring a good window install requires these essential steps from the installation crew:
Final exterior inspection
Testing for leaks, drafts, and sounds
Testing of operation
Square and level
Does it match your design proposal
Put back in order:, especially the interior decor, and window coverings; are they put back in order, the way they were before the install?
Paint: Does any component, like the interior window sills, or siding need a touch-up of pain from scratches arising from construction? The installation crew may need to schedule a separate time for this or work out an arrangement with you, the owner
Clean windows: Did any of the windows get soiled from debris, fingerprints, paint, or caulk during construction? You should have nice clean windows after the install, as they are brand new
Debrix cleanup: A 2nd walk-through from the crew member in charge should ensure there are now nails, paint chips, wood pieces, too much sawdust, or other debris laying around

6. Final follow-up
A few days or a week later, you should receive a phone call or letter asking if you have any questions or concerns
A final bill, if it wasn't paid in full, you should receive
Reviews: Be sure to leave reviews on websites like HomeStars, Yelp, Google Reviews, and others of your experience with your window installation company. Did they follow a window installation checklist like this? It will make for an easy and smooth install for both you and them
Knowing and following a before and after window installation checklist will give you peace of mind to know what to expect from a team that replaces your windows. You will not be caught by surprises, and your installers will have an organized guide to go off of. Then you'll be able to enjoy your new windows for years to come; . . . confident that it was done right.
------------
About the Author
Delco Windows and Doors has been serving Toronto Canada since 1989, with door and window replacement and installation. Helping make homes throughout the GTA more energy efficient with an upgraded style.