Best Window Replacement Companies in Toronto
So you want to replace those old windows with new energy efficient windows.
You want to make your home solid and insulated from Toronto's climate.
Window replacement can be a daunting task. There are not only many choices of windows, but also window installers. Picking the right company to install your window is essential for having long-term satisfaction with the job.
Searching for Toronto Windows Replacement
For starters, always make sure you are searching your local area. Some searches can default to Canada-Wide, or even worse, the States. Make sure to mention Toronto in your internet searches. Toronto windows replacement will help narrow down providers that actually offer windows replacment within Toronto and the GTA. It will save you the hassle of having to sift through manyh results from outside the area. While the search can sometimes be overwhelming, check out these tips below to make it easy and organized to find the right window installers.
Using the Right Search Terms
Replacement windows Toronto is one of the top services to look for, as it includes the product, and the locality, Toronto. General search phrases can leave you confused over the service area they serve. To narrow down a search, you may even want to get ranking or reviews related results like reviews of best replacement windows Toronto. This may give few results, but they will be most relevant if you are a Toronto homeowner, and want to see what other people say about replacement windows Toronto companies.
Narrowing Down the List of Window Installers
Finding the best window installers for your window replacement job involves several aspects. Most of these can be found for free, online with a simple search and sort.
When choosing a window installer, look for companies that:
Offer windows and installation
Warrantee their work
Offer follow-up service
Offer financing
Have been in business for a long time (10+ years is a good benchmark)
Have good customer review ratings
When it comes to ratings, HomeStars is a good start. This website showcases independent customer reviews of service companies, and is well accepted in the Toronto and GTA region of Canada.
A good method is to start with the stars rating. 1-10, with 10 being best. HomeStars breaks their star rating both into the 1-10 scale, and an exact percentage (like 86%).
But star ratings, which are common on many review websites across the internet, like Google Reviews, Yelp and HomeStars, is not the only thing you should look at. Go into and read the actual customer reviews. What do they say? How was their experience? Here are some questions you'll want to look ask:
Promptness: Was the window company timely with their quotes, service and work?
Pricing: Did the customer feel the pricing was fair and competitive?
Quality: Was the quality of installation and finish work done correctly and good order?
Professionalism: Was the company and staff professional in their work and communication?
Products: Were the windows of high-quality, and what was ordered?
Are they a manufacturer? Window installation companies that actually make windows themselves, right here in Canada, can be hard to find. Delco Windows & Doors for example, has a full operation, right in Toronto, with a manufacturing team, sales and service, and of course, installation. Look for companies like these.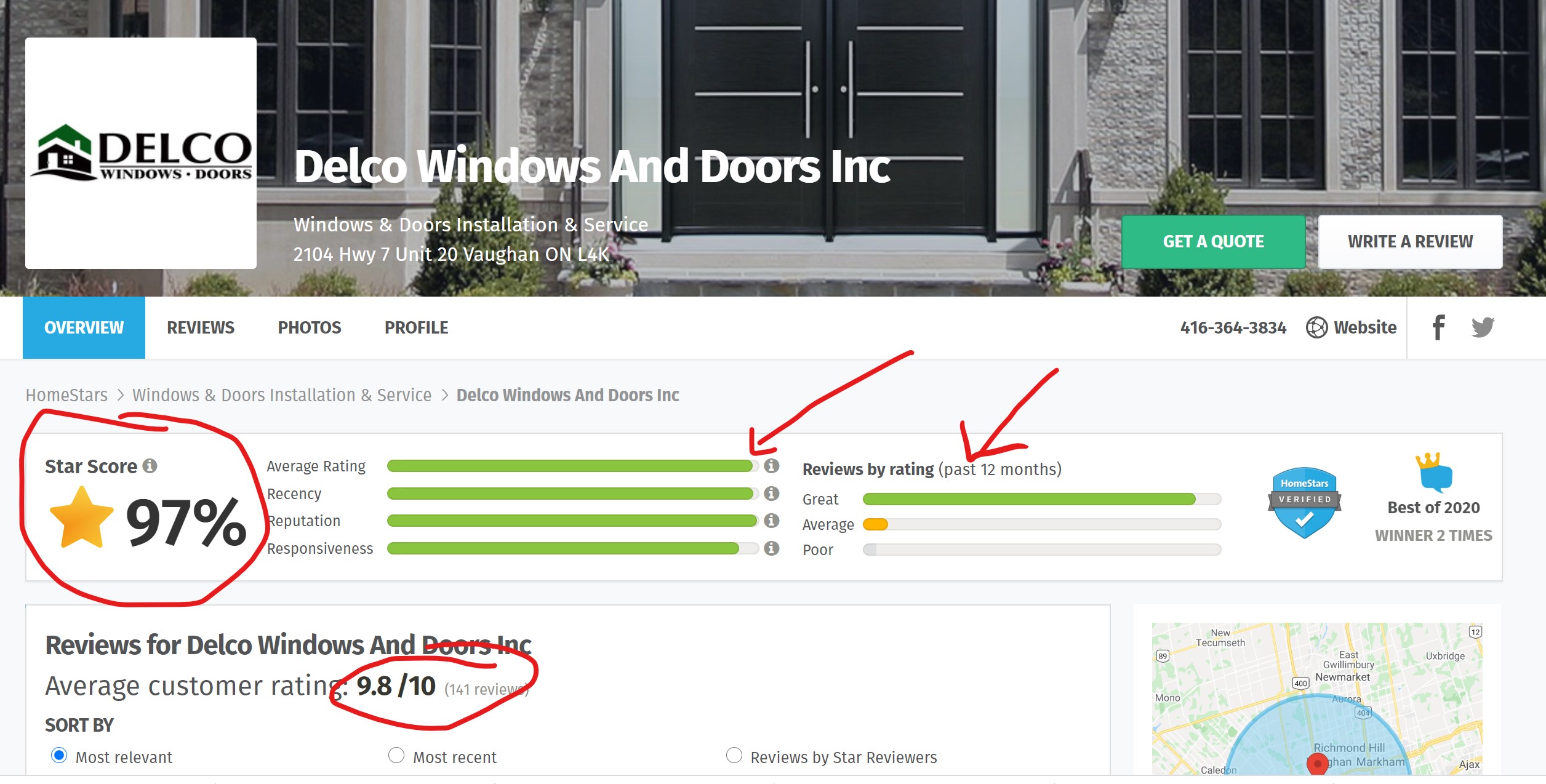 Also, another tip, is to look for companies that respond to the reviews. Not just the extreme negative ones.
We all know that there are customers out there that are never satisfied. So often, we tend to ignore those, or simply read them for entertainment. But also, short, positive reviews may not be very helpful either.
Also, How to know if the reviews are real? Read some of them. Many positive reviews, with little to no commentary, and many spelling and grammar errors, often are fake. Also, do these reviews have photos, or company responses with them. These are more likely real. A review website like HomeStars has many protections in place to ensure that the reviews are likely actual customers of the window company.
Look for good commentary with lots of detail. How did they like the windows? How long was the time between quote and installation? What was their opinion of the owner, management and staff? And most importantly: Would they come back and order services again?
Example of a helpful positive review: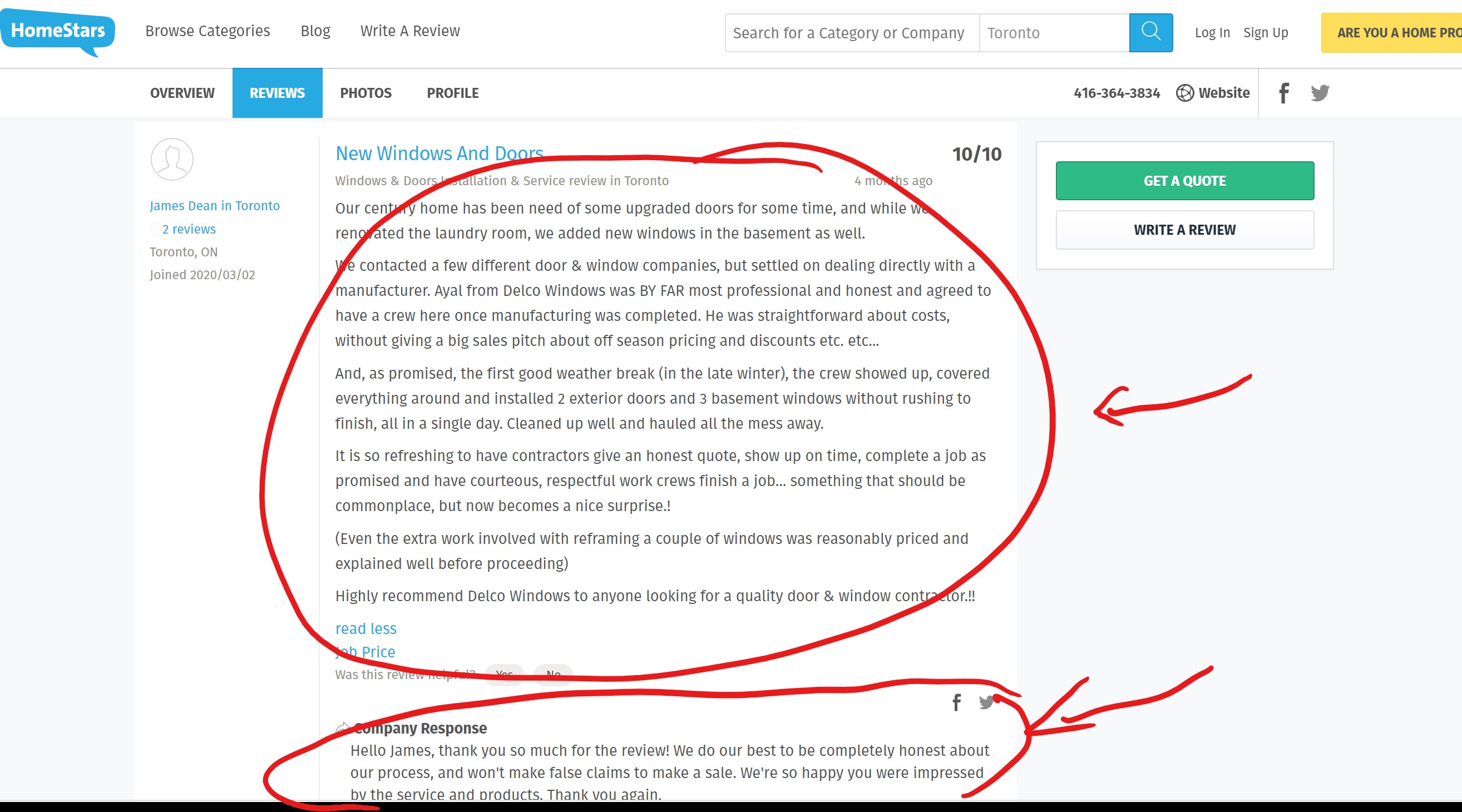 Look for details, lots of commentary, names, specifics. How did they handle the window job?
Also, look for company responses. They may not be on every review, but if you see none of them, it tells you that the company is not very responsive.
What to do about negative reviews?
As mentioned before, some customers are never satisfied. And, there are bound to be negative reviews sometimes. However, just like in positive reviews, look at the commentary and see if the company responded. People make mistakes, and often, good companies learn from them.
Example of a moderate review
Often, a positive review may have recommendations for improved service. And sometimes, the company has reconciled any concerns or issues. Look for that. If a company has these, this actually may be the best reason to choose them. They are real. They have real customers. They may make mistakes, but they make things right.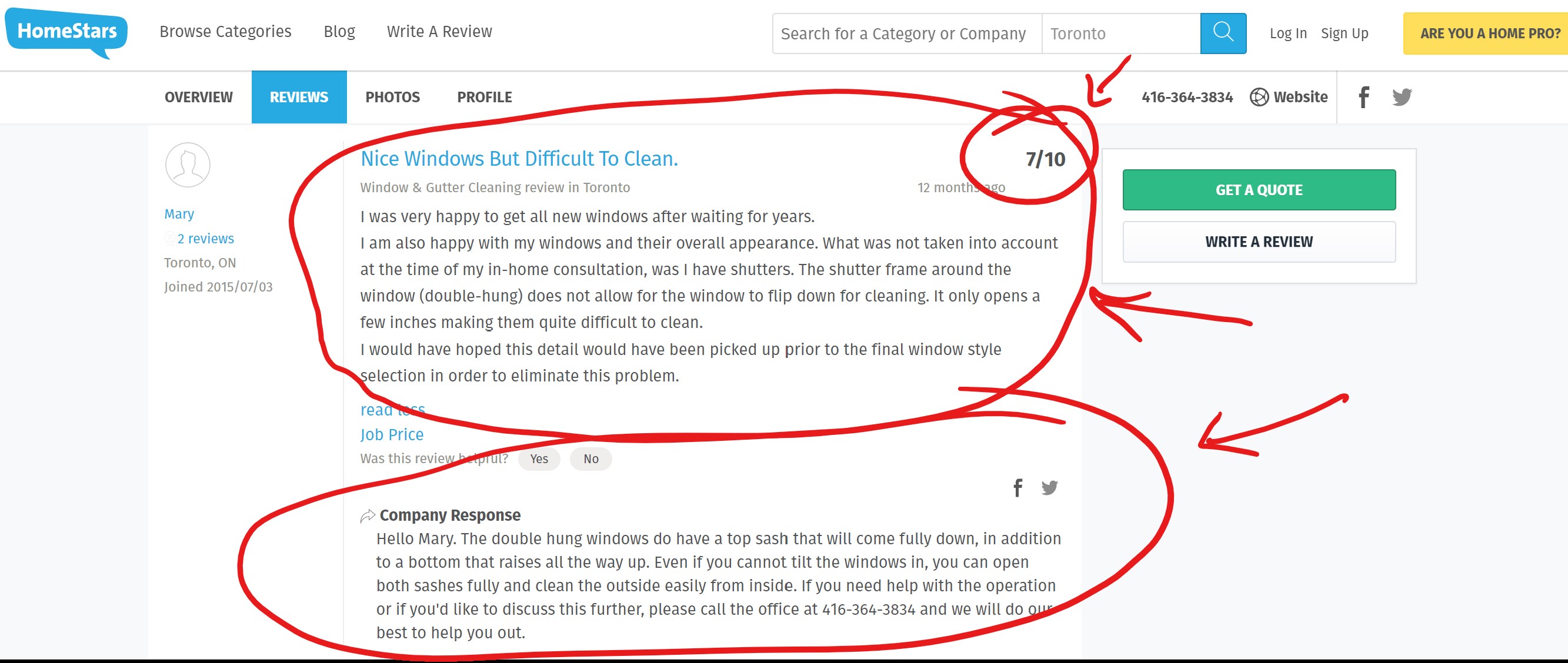 Also, some review websites highlight the most helpful positive and negative reviews. These can help you summarize quickly what customers are really saying about them.
Number of reviews: While this is not a true indicator of the number of customers or jobs a company has performed, it is a good indicator of the general volume and experience a window company may have. Some small companies have many reviews, simply because they push customers more towards leaving these reviews. Other companies may have excellent service and prices, but don't have a good system in place to encourage reviews. Look for companies that already have over 100 reviews. You will know that they have plenty of experience, and there are few house designs, window sizes, and unique situations that they haven't faced.
Right from HomeStars, here are some of the top window installation companies in the GTA:

Delco Windows and Doors – 97%
An impressive 30+ years of experience, plus the highest rating in this list, Delco Windows & Doors has a reputation in Toronto for being one of the longest-running window companies in the GTA. They manufacture their own windows, and offer full warranties, as well as follow-up service. And because of their size and scale, they have some of the lowest prices in Ontario for window replacement. It is something they do day-in and day-out.

Hi Tech Energy Windows – 93%
Customers rate this company, primarily based out of Winnipeg, as high customer service for remodelling options. If your window needs custom framing, or reengineering of the of the studs or walls, or has last-minute "issues" that are discovered, Hi-Tech seems to have the experienced construction team to get the job done quickly, and done right. They have an excellent website with helpful window resources, as well as good company responses on HomeStars.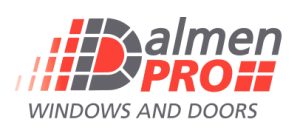 Dalmen Pro Windows and Doors - 91%
Best combined services. If you are looking for a provider that does both doors and windows (often, both are best to be replaced at the same time) Dalmen scores high among customers looking for doors. This Canadian manufacturer has high ratings across many installation services.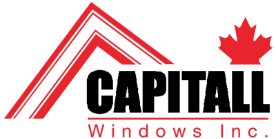 Capitall Windows Inc. – 90%
Capitall, based mainly in Ottawa, scores high among customes for followup and after-installation service. Sometimes window installation can leave minor issues that need a 2nd visit. Capitall's customer service team does a good job with this and resolving any issues that may arise.

Ecoline Windows – 87%
Best selection of triple pane and ultra high-efficiency custom windows. Based primarily in Winnipeg, Ecoline, rightfully so, focusses on windows that keep warmth in and cold out. Customers that have a special project need for a unique window, that is triple pane, give good reviews for Ecoline. On HomeStars, they have good company responses to many customer reviews.
Overall, if you live in the Toronto area, and are looking to replace your windows, you have many companies to choose from. Pick a company that has much experience, and follows up with their customers to make sure they are happy. Online reviews will help you make that right choice, so you can enjoy a warm, energy efficient home that your family will cherish for years to come.
--------------------------------------
Mary Smits is a writer for home improvement and energy efficiency topics in the fine homecrafting industry throughout Canada and the USA.
----------------------------------------